We are officially halfway through the Summer split, and Top Esports and Victory Five continue to hold onto the top two spots in the league.
Every other position on the table has been tumultuous. Invictus Gaming and Royal Never Give Up slumped, while heavyweights JD Gaming and FunPlus Phoenix rose this week.
---
Week 5 results
Edward Gaming 0 – 2 Dominus Esports
Victory Five 1 – 2 FunPlus Phoenix
LNG Esports 0 – 2 Bilibili Gaming
Team WE 2 – 1 Royal Never Give Up
Invictus Gaming 2 – 1 Dominus Esports
Suning 2 – 0 LGD Gaming
Rogue Warriors 1 – 2 Oh My God
Team WE 1 – 2 JD Gaming
Top Esports 2 – 0 LNG Esports
Vici Gaming 2 – 1 eStar
Edward Gaming 2 – 0 Rogue Warriors
JD Gaming 2 – 0 Invictus Gaming
Victory Five 2 – 0 eStar
Royal Never Give Up 1 – 2 FunPlus Phoenix
---
Match of the week: Royal Never Give Up vs FunPlus Phoenix
After dropping a close series to Invicuts Gaming the week before, FunPlus Phoenix bounced back with a 2-1 win over Victory 5, and had more to show against Royal Never Give Up.
RNG on the other hand, are on a losing streak, and changed things up by starting Chen "GALA" Wei over Lu "Betty" Yu-Hung at bot.
They also weren't afraid to change up their draft with a surprise Nocturne jungle pick, who received buffs in the recent patch 10.13 that increased his clear speed, and could therefore match Graves.
With Nocturne and Twisted Fate in the draft, their combined ultimates were difficult to deal with. Whenever FPX were split up the map, RNG used Paranoia to blindside their opponents followed by Destiny to provide full vision.
Even though RNG could not secure Mountain Soul, they did take three Barons and held onto their gold lead for a 40-minute win.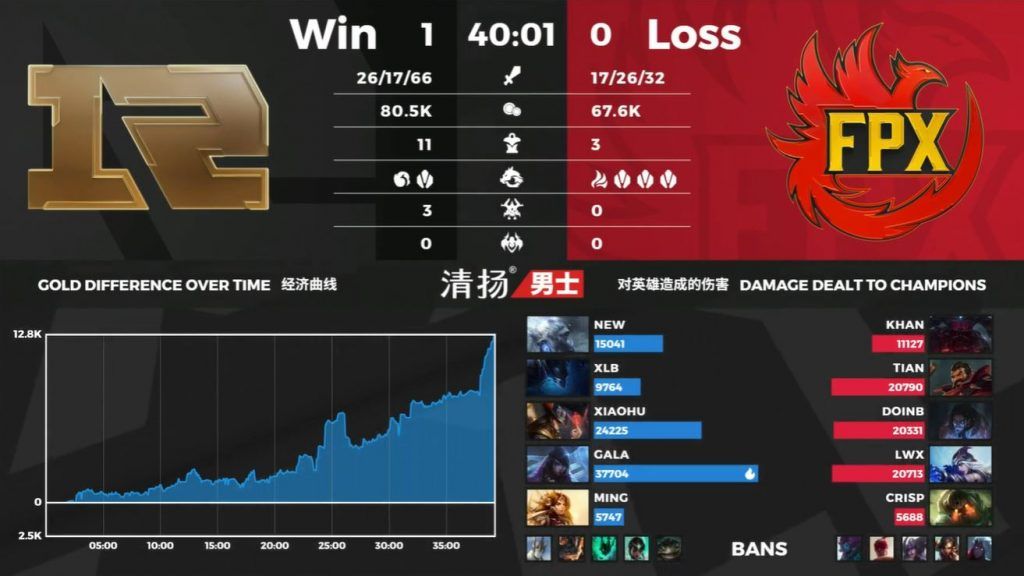 Game two was RNG's to take. They again showed a really strong early game led by jungler Li "XLB" Xiao-Long on Lee Sin. Their scaling bot lane comprising Kai'sa was also astute, and pulled away from the turret whenever FPX wanted to commit a 4-man dive.
By playing defensively, they bought time for backup to arrive, and turned the tables on FPX to lead five kills to one.
Things looked good for RNG until the late game. A misplayed team fight around Baron pit resulted in the deaths of their jungler and AD carry, which meant FPX could take Baron buff freely.
From then on, FPX out maneuvered RNG by utilizing their burst damage from Gao "Tian" Tian-Liang's Graves and the AoE from Kim "Doinb" Tae-sang's Rumble. Together, FPX swung the game around to even out the series.
---
---
Drafting a front to back team composition, RNG in game three relied on Ornn, Sett and Lee Sin for engage. FPX on the other hand, drafted to their strengths — Doinb on Karma, and Khan on a carry top laner, Kayle.
This meant that RNG needed time to scale, and could only play around Lee Sin's and Syndra's burst from early to mid game, while FPX was all about outputting damage whilst supported by AP Karma and Nautilus.
The fight around Fire Dragon was a reflection of the entire game. FPX was an oiled, coordinated unit that simply outplayed RNG.
As their coordinate crumbled, so did their win conditions, as FPX made quick work of RNG for a 26-minute win.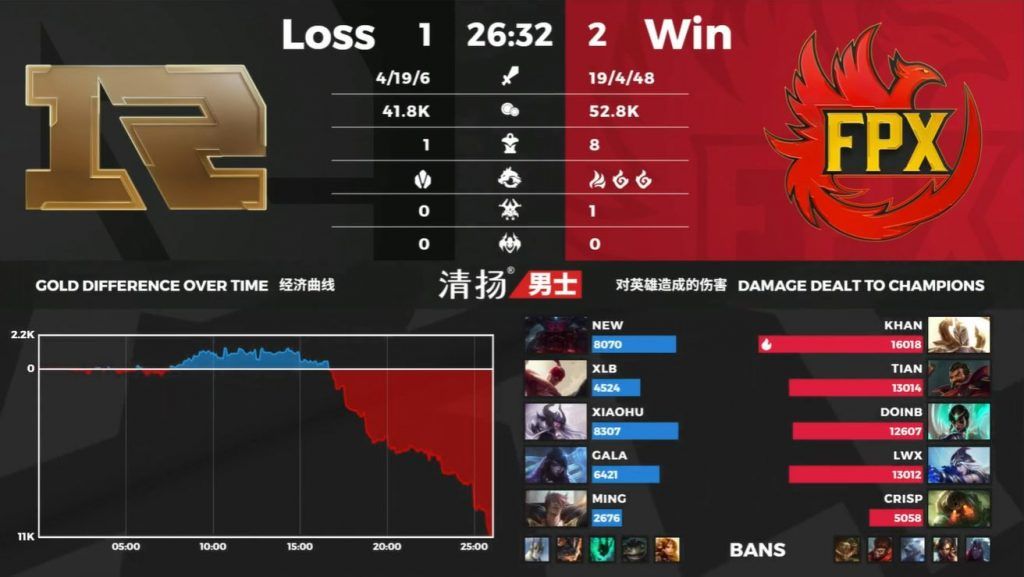 ---
Player of the week: Seo "Kanavi" Jin-hyeok
JD Gaming might have had a shaky start to the season, dropping matches to Top Esports and Royal Never Give Up, but have since returned to form in this 2-0 week.
Despite losing the first game to Team WE, jungler Seo "Kanavi" Jin-hyeok put his carry pants on to lead the reverse sweep. Boasting a 90% kill participation in game two and three, he was a stable force in team fights who could make plays but also peel for his carries.
---
Standings
1. Top Esports (7-0)
2. Victory Five (6-2)
3. FunPlus Phoenix (5-2)
4. JD Gaming (5-2)
5. Team WE (5-3)
6. Suning (5-3)
7. Invictus Gaming (5-3)
8. LGD Gaming (4-2)
9. Royal Never Give Up (4-4)
10. Vici Gaming (3-3)
11. Edward Gaming (3-4)
12. Oh My God (3-4)
13. Bilibili Gaming (2-4)
14. eStar (2-6)
15. LNG Esports (2-6)
16. Dominus Esports (1-7)
17. Rogue Warriors (0-7)
READ MORE: JDG coach Homme: 'Even though we were Spring champions, our team is still not champion material'