Victory Five faced their greatest hurdle this week against Royal Never Give Up, and proved that they are not a fluke with a solid 2-0 victory.
Maintaining their second place standing behind the undefeated Top Esports, how far can this refreshed lineup go?
---
Week 4 results
Victory Five 2 – 0 Vici Gaming
Royal Never Give Up 2 – 1 eStar
JD Gaming 2 – 0 Dominus Esports
LGD Gaming 2 – 1 Invictus Gaming
Oh My God 2 – 0 LNG Esports
Top Esports 2 – 0 Bilibili Gaming
Victory Five 2 – 0 Royal Never Give Up
Invicuts Gaming 2 – 1 FunPlus Phoenix
Team WE 2 – 0 Rogue Warriors
Edward Gaming 1 – 2 Top Esports
Suning 2 – 1 Dominus Esports
FunPlus Phoenix 2 – 0 eStar
Vici Gaming 2 – 1 LNG Esports
Rogue Warriors 1 – 2 JD Gaming
---
Match of the week: JD Gaming vs Rogue Warriors
With 94 total kills in this three-game series, JDG vs RW was an entertaining, bloodthirsty match.
Even though Rogue Warriors lost the series, they finally got their first game win in the LPL — against the 2020 LPL Spring Champions.
On the other side, JDG were determined to make Week 4 count after losing to RNG and TES in Week 2 and 3.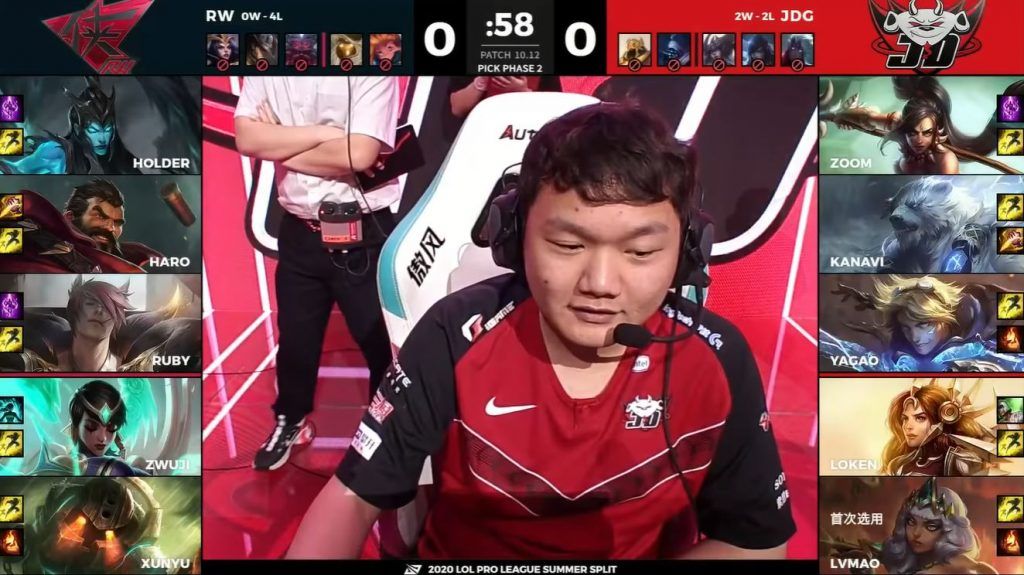 Choosing a champion who had zero presence in the Mid-Season Cup, JDG last picked Qiyana for mid laner Zeng "Yagao" Qi on red side. They also prioritized the revamped Volibear who received buffs on patch 10.12.
Roaming before opposing mid laner Lee "Ruby" Sol-min could respond, Yagao entered bot lane's skirmish at the right place, right time. Together with Seo "Kanavi" Jin-hyeok on Nidalee, they burst down targets for three kills in the early game.
In later stages of the game, Qiyana with Leona packed crowd control that were very punishing. They locked up targets, and sent RW scattering at every corner.
Due to their team composition's penchant for non-stop skirmishing, JDG ended game one with 34 kills in 24 minutes to RW's eight.
Last picking for Yagao again on red side in game two, JDG surprised with mid lane Sylas to go up against Azir. RW on the other hand, packed more CC into their draft, especially with Ashe and Thresh bot. For RW at least, these champions proved much more reliable.
Mei "ZWuJi" Hong-Hu's Enchanted Crystal Arrows and Le "Ley" Yi's Death Sentence were two major reasons why RW managed to get early leads.
Not completely out of the game, Kanavi stole Baron at 22 minutes. With his team, they killed four of RW's members which not only narrowed the gold difference, but also put themselves ahead with additional objectives.
Securing three dragons and a second Baron, JDG were in command. Unfortunately, the last tussle before Ocean Dragon Soul did not play out the way they intended.
RW picked off Zuo "LvMao" Ming-Hao's Taric before Cosmic Radiance could kick in. A superb Flay by Ley confirmed a second kill onto Zhang "Zoom" Xing-Ran's Mordekaiser. One final fight at top side jungle sealed the deal for RW as they evened up the series.
---
---
Relying on their trusty support, JDG drafted LvMao's championship winning Bard in a high stakes game three.
Even in kills, JDG started to run away with the game near the 15 minute mark. A clutch Tempered Fate by LvMao halted RW's engage and bought time for his team to collapse for three kills.
Zoom on Wukong was a valuable pick too. Ahead in CS, kills and items, no one could match him in a side lane, not even Bae "Holder" Jae-cheol on Volibear who stacked armor.
A straightforward victory, JDG bounced back in Week 4 by winning both their series against Rogue Warriors and Bilibili Gaming.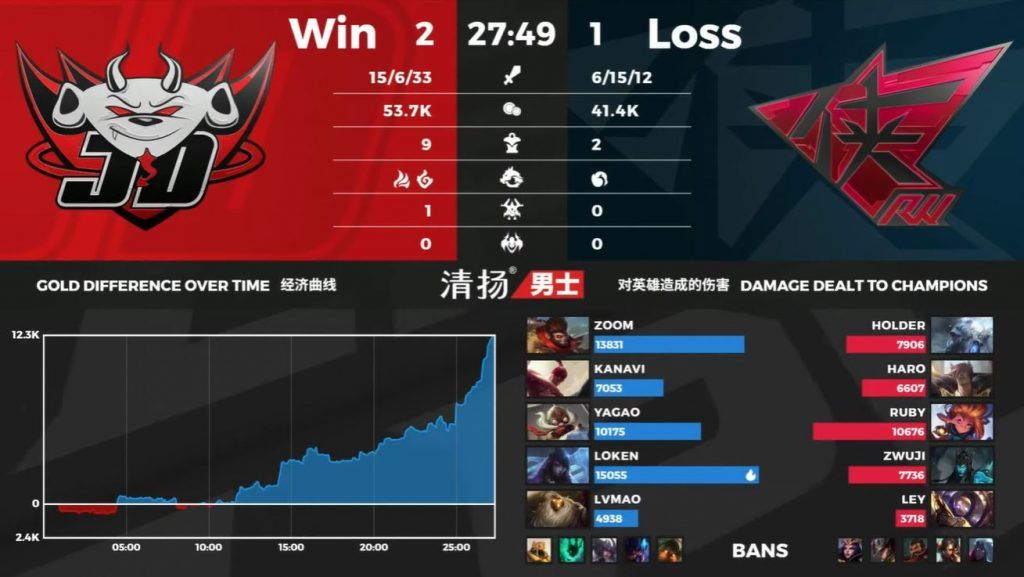 ---
Player of the week: Guo "ppgod" Peng
Rookie of the week Guo "ppgod" Peng is becoming more well-known among LoL esports fans not only because of his skills, but also for his choice of in-game name.
A great Thresh player, he has an 85.7% win rate on this champion, and used him to great effect against RNG.
Last place in 2020 LPL Spring without a single match win, Victory Five refreshed their roster for summer and have been within top three for the last four weeks.
---
Standings
1. Top Esports (6-0)
2. Victory Five (5-1)
3. LGD Gaming (4-1)
4. Team WE (4-2)
5. Invictus Gaming (4-2)
6. Royal Never Give Up (4-2)
7. Suning (4-3)
8. FunPlus Phoenix (3-2)
9. JD Gaming (3-2)
10. Edward Gaming (2-3)
11. Vici Gaming (2-3)
12. eStar (2-4)
13. Oh My God (2-4)
14. LNG Esports (2-4)
15. Bilibili Gaming (1-4)
16. Rogue Warriors (0-5)
17. Dominus Esports (0-6)
READ MORE: Off the Rift with Top Esports' Karsa