The LPL 2020 Summer Split kicked into full gear for week 2 with 14 games played throughout the week. A highly competitive week saw only Mid-Season Cup champions, Top Esports, emerge with a 100% win rate, finishing both of their series 2-0.
Invictus Gaming bounced back after losing to Team WE in their match against Suning. In the process, they also hit 10,000 total kills as a team, topping the charts.
True to their play style, their thirst for blood far exceed other teams. Edward Gaming in second place trail by more than 800 kills.
---
Week 2 results
Victory Five 2 – 1 Oh My God
LGD Gaming 2 -1 eStar
LNG Esports 2 – 1 FunPlus Phoenix
Top Esports 2 – 0 Rogue Warriors
Vici Gaming 0 – 2 Royal Never Give Up
Suning 0 – 2 JD Gaming
eStar 2 – 0 Dominus Esports
Team WE 2 – 0 Invictus Gaming
Royal Never Give Up 0 – 2 LNG Esports
FunPlus Phoenix 2 – 0 Bilibili Gaming
Victory Five 1 – 2 LGD Gaming
Edward Gaming 2 – 0 Oh My God
Suning 0 – 2 Invictus Gaming
Top Esports 2 – 0 JD Gaming
---
Match of the week: JD Gaming vs Top Esports
Fans were treated to a 2020 Spring final rematch at the end of the week. Both JDG and TES had won their first series, and were looking for a second victory to start off Summer on solid footing.
In game one, JDG took a risk with off meta pick, Kyan jungle, who received a series of buffs in season ten but hasn't seen much pro play.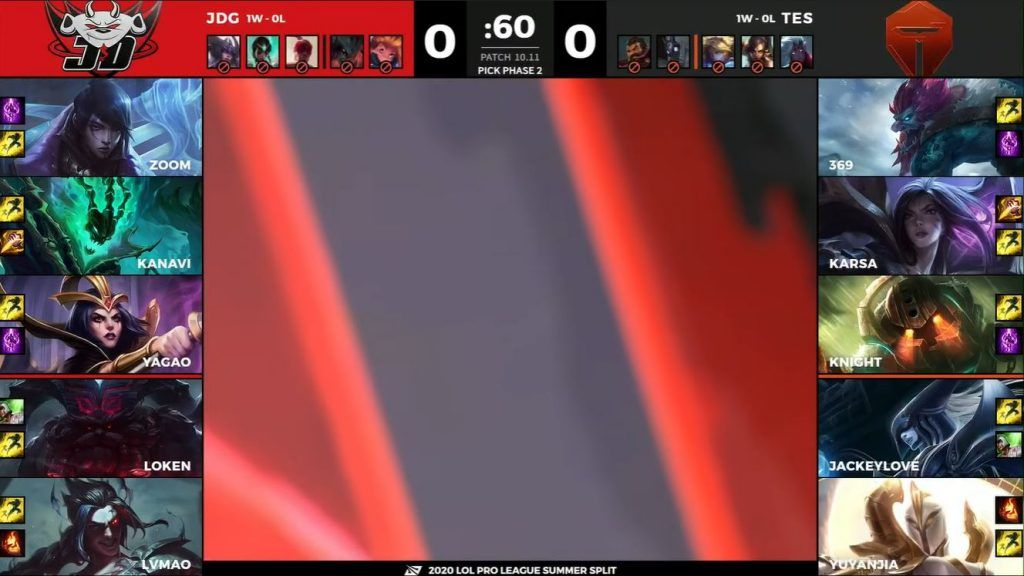 TES responded with their own surprise: Kayle top to match Ornn's scaling.
Proactive in the early game, Hung "Karsa" Hao-Hsuan on Trundle visited top lane at level three for first blood.
In the second skirmish at top side river, he barely escaped death thanks to his team mates Bai "369" Jia-Hao and Zhuo "knight" Ding who rotated over to help. Due to JDG's extended chase, TES gained two additional kills.
Even though JDG secured the first two dragons in response, TES kept the kill count up. By 17 minutes, 369 on Kayle had four kills — the most in the game.
Carrying his team, they obtained two infernal dragons and Baron to finish off JDG in under 24 minutes in a heavily one-sided game.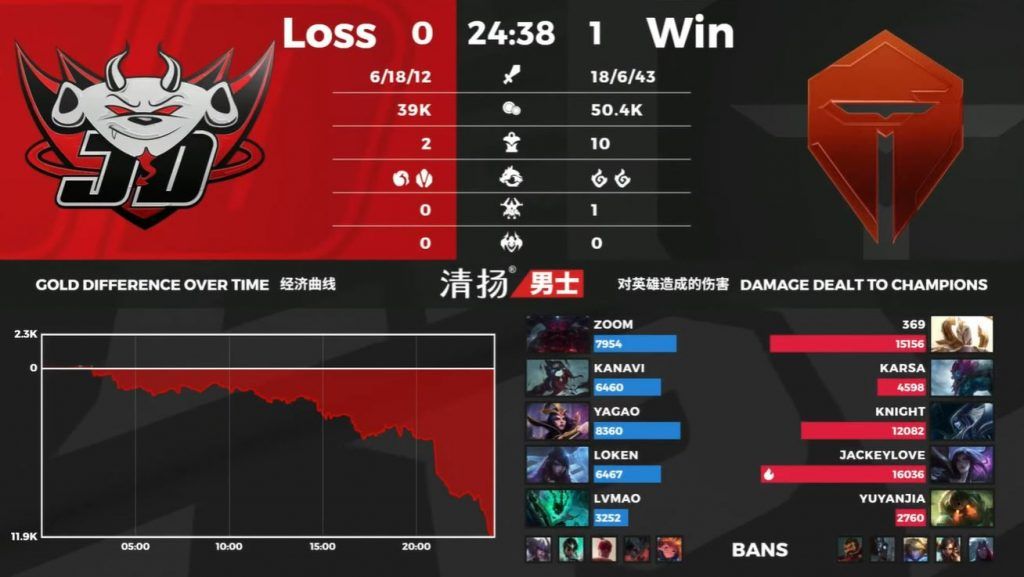 Changing things up, JDG drafted a more meta centered team composition in game two with Zeng "Yagao" Qi's signature Azir leading the charge. Zuo "LvMao" Ming-Hao also got his hands on his championship-winning Bard.
---
---
Another curious pick in top lane, TES opted for Sion to go up against Wukong. A match up we don't commonly see, 369 farmed, stacked armor and did not die to Cyclone.
A much closer game that went bloodless for the first 14 minutes, JDG used the tools they had to make proactive moves on the map. A deadly accurate Enchanted Crystal Arrow by Lee "LokeN" Dong-wook across half the map picked off knight for first blood.
Despite the gold lead, Yu "JackeyLove" Wen-Bo started to ramp up on Ezreal the moment Manamune was completed and gained three kills.
The power of Ezreal and Yuumi from mid to late game posed a real threat to JDG, because in the hands of JackeyLove, he was hard to lock down. Plus, Yuumi gave him infinite sustain.
Untouched in team fights, JackeyLove increased his kill count to ten in 24 minutes. However, TES got greedy, overstepped their 1-4 Baron buff push, and got aced at the edge of JDG's base.
The only thing that achieved was to delay TES' victory. When 369 saw LokeN out of position, he immediately charged in with Sion's Unstoppable Onslaught. Maintaining full HP thanks to Yuumi, JackeyLove cleaned house on Ezreal for the series win.
---
Player of the week: Song "Rookie" Eui-jin
Earning two MVPs this week was IG mid laner Song "Rookie" Eui-jin. The most consistent player on the squad, his performance on Orianna has been unparalleled.
A roam by Su "Southwind" Zhi-Lin on Nautilus at level five caught Xiang "Angel" Tao offguard.
Despite the countergank by Lê "SofM" Quang Duy, Rookie used the extra movement speed from Dissonance to narrowly dodge Lee Sin's Sonic Wave by wrapping behind him.
On Zoe in game two, every Sleepy Trouble Bubble Rookie threw caught key targets on the map.
In the mid game, he turned the tides for IG by roaming to bot for a clutch catch onto Aphelios. Thanks to his team's decisive follow up, he came off that play with a triple kill.
---
Standings
1. Top Esports (2-0)
2. LGD Gaming (2-0)
3. Team WE (2-1)
3. Victory Five (2-1)
5. Royal Never Give Up (2-1)
6. LNG Esports (2-1)
7. Suning (2-2)
8. Edward Gaming (1-1)
8. eStar (1-1)
8. FunPlus Phoenix (1-1)
11. Invictus Gaming (1-1)
11. JD Gaming (1-1)
11. Vici Gaming (1-1)
14. Rogue Warriors (0-1)
15. Bilibili Gaming (0-2)
15. Dominus Esports (0-2)
17. Oh My God (0-3)
READ MORE: LPL Summer Week 1: Suning start strong