With 17 teams and hundreds of games to be played over ten weeks, China's League of Legends Pro League (LPL) kicked off the 2020 Summer Split on June 5 with three days of matches.
Though a short week, Week 1 already saw the first pentakill of the season by Royal Never Give Up bot laner Lu "Betty" Yu-Hung on Miss Fortune in their first game against Oh My God.
Victory Five, with a revamped roster, also managed to win their first series in the LPL against Dominus Esports after finishing 0-16 in Spring.
---
Week 1 results
Edward Gaming 1 – 2 Team WE
Suning 2 – 0 LNG Esports
Victory Five 2 – 0 Dominus Esports
Royal Never Give Up 2 – 0 Oh My God
Team WE 1 – 2 Suning
Vici Gaming 2 – 0 Bilibili Gaming
---
Match of the week: Team WE vs Suning
After causing an upset in the opening match of the season by claiming a 2-1 victory over Edward Gaming, Team WE were riding on momentum.
Both teams drafted strong team fighting compositions in game one. WE had three champions with stuns, and Ornn for a long range engage. SN wanted to burst champions down with Renekton and Syndra, as well as layer Jarvan's and Miss Fortune's ultimates.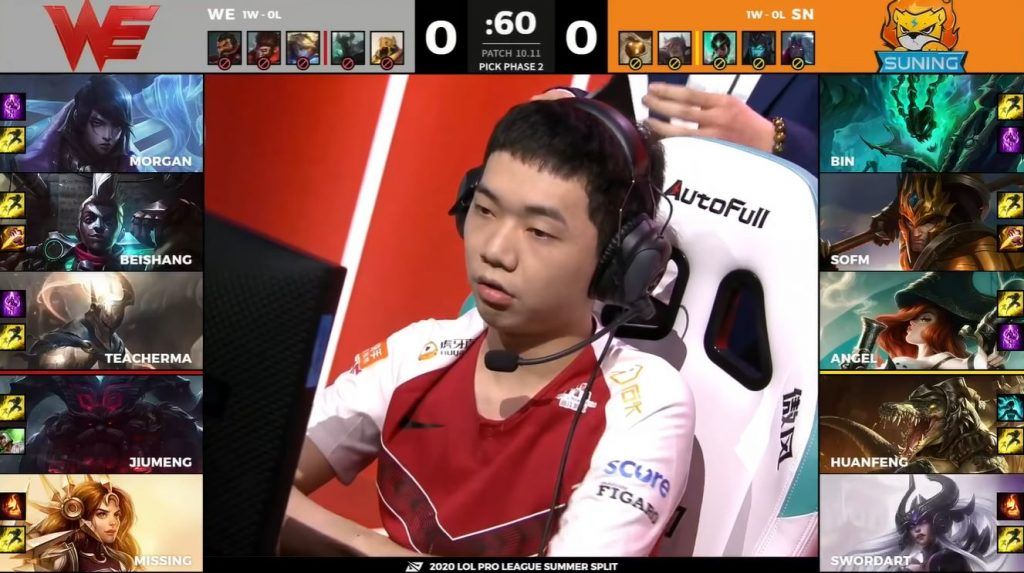 WE utilized Pantheon's Garnd Skyfall in the early game for two kills in a row. Jiang "Teacherma" Chen rotated to top for first blood at ten minutes, and again at thirteen minutes when Lou "Missing" Yun-Feng caught Hu "SwordArt" Shuo-Chieh in rotation.
Because WE focused top side, SN were able to secure the first two dragons — but not for long. Up in gold, WE took command of the game. They secured the subsequent two infernal dragons and won every fight up until the second Baron spawned.
If there's one thing you can count on, is LPL teams challenging and fighting around Baron.
SN found the fight they were looking for in the jungle, causing WE to over commit. Even though WE lost Baron and SN had a chance to comeback, Tang "huanfeng" Huan-Feng overstpped too far down mid lane.
Getting a key pick off the ADC, WE plowed down mid with three infernal dragons under their belt for the game win.
Drafting around Teacherma's signature pick, Aurelion Sol, WE went up against SN's double scaling lanes comprising Kassadin mid and Aphelios bot in game two, and SwordArt on Bard.
Even though WE started the first 13 minutes of the game the same way they did in game one, a smart, faster rotation by SN towards their strong side of the map at top with Renekton reaped three kills.
WE responded by securing three dragons on the bot side, and wrestled back control during the mid game by playing front to back.
---
---
When both teams contested the fifth dragon of the game, an infernal, this was when WE fell apart, and Xiang "Angel" Tao's Kassadin came online with two completed core items.
A fantastic team fight by SN aced WE, and allowed them to take a free Baron to even up the series 1-1.
The final game was, as expected, hard fought, intense and the longest one of the series, ending in 40 minutes after six dragons were downed in total.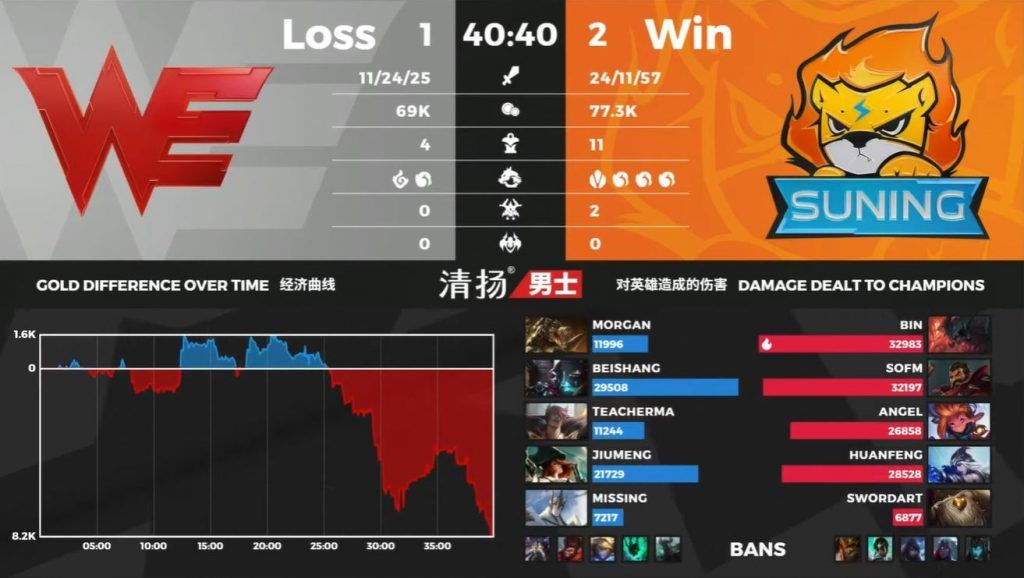 The gold graph is characteristic of WE in game two, where they played to their solid mid game team composition and found a lead, but SN once again turned things around towards the late game.
Putting on his carry pants, Lê "SofM" Quang Duy shone on Graves. Holding a 3/0/0 KDA, even though his team mate went down, he drew the attention of three members of WE around the dragon pit.
Escaping over the wall, he bought enough time for his team to regroup and punish WE for positional mistakes.
Another turning point came just five minutes later. WE thought they got the jump onto Bin's Aatrox, but an Enchanted Crystal Arrow from across the map by huanfeng hit Park "Morgan" Gi-tae dead on. Following up on the chain CC by his team mates, SofM increased his kill count to six.
Once SN secured the Ocean Soul and Baron buff, they downed all the structures in WE's base for the match win, with the MVP going to SofM for his performance on Graves.
---
Player of the week: Li "Mole" Hao-Yan
Victory Five's first win of the season against Dominus Esports revealed the potential of this new squad.
Together, they were proactive throughout the game, finding picks and supporting each other.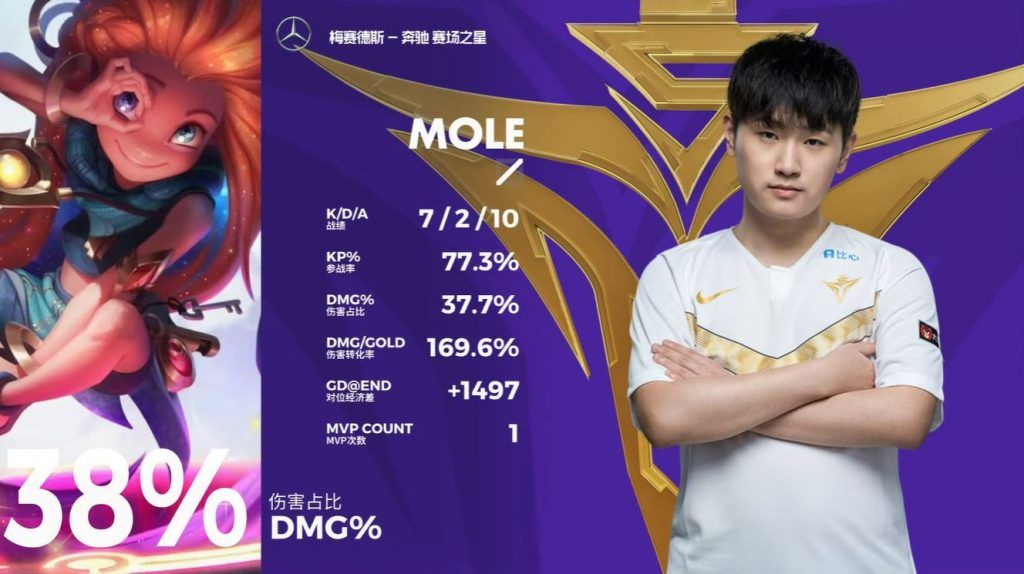 Li "Mole" Hao-Yan on Zoe dealt nearly 40% of his team's total damage to champions, finding picks onto enemy champions or controlling the battle ground with Sleepy Trouble Bubble so that AD carry Lee "SamD" Jae-hoon could stack Kalista's spears.
---
Standings
1, Suning (2-0)
2. Royal Never Give Up (1-0)
2. Vici Gaming (1-0)
2. Victory Five (1-0)
5. Team WE (1-1)
6. eStar Gaming (0-0)
6. FunPlus Phoenix (0-0)
6. Invictus Gaming (0-0)
6. JD Gaming (0-0)
6. Rogue Warriors (0-0)
6. Top Esports (0-0)
13. Edward Gaming (0-1)
14. Bilibili Gaming (0-1)
14. Dominus Esports (0-1)
14. LNG Esports (0-1)
14. Oh My God (0-1)
READ MORE: LPL 2020 Summer Split pre-season power rankings: Top Esports start on top