The final week of the LPL Spring Split saw seven middle of the pack teams fighting for the last spot in the playoffs, while the top seven teams fought for playoff seeding.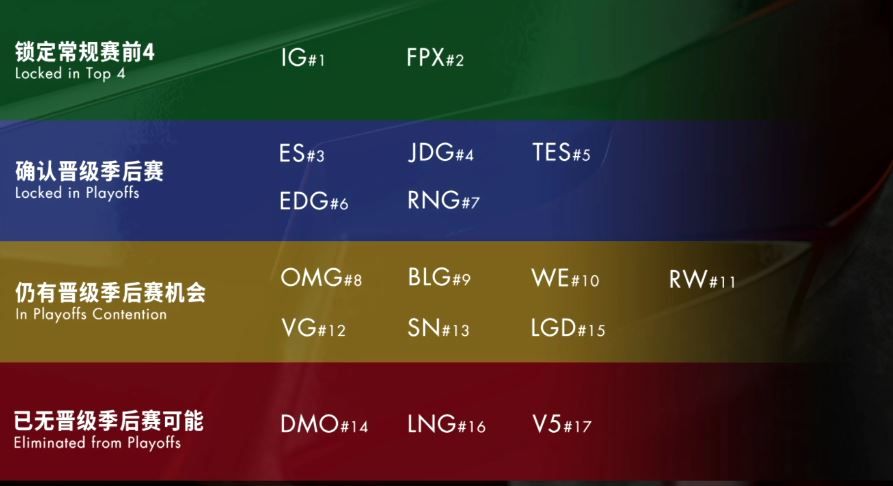 On the final day, it came down to Team WE and Oh My God, but after a hard-fought series, Team WE emerged victorious, grabbing the eighth spot on the leaderboard and the final playoff spot.
Meanwhile, JD Gaming had another perfect week, defeating Rogue Warriors, Dominus Esports and LGD Gaming 2-0, and finishing the season strong with a 7-series win streak.
At the top of the leaderboards, Top Esports managed to upset FunPlus Phoenix, letting JD Gaming secure second place over the reigning World Champions, while Invictus Gaming topped the rankings.
---
Week 7 results
Oh My God 0 – 2 eStar
LNG Esports 0 – 2 Royal Never Give Up
Top Esports 2 – 0 Victory Five
Rogue Warriors 0 – 2 JD Gaming
Suning 2 – 1 Vici Gaming
Bilibili Gaming 2 – 0 LGD Gaming
Oh My God 0 – 2 Edward Gaming
Royal Never Give Up 0 – 2 Dominus Esports
Invictus Gaming 2 – 1 Team WE
Bilibili Gaming 2 – 0 Victory Five
FunPlus Phoenix 2 – 0 LGD Gaming
Top Esports 2 – 0 eStar
LNG Esports 2 – 1 Team WE
JD Gaming 2 – 0 Dominus Esports
Invictus Gaming 2 – 0 Edward Gaming
Vici Gaming 2 – 0 Victory Five
Rogue Warriors 1 – 2 FunPlus Phoenix
Suning 2 – 1 Royal Never Give Up
JD Gaming 2 – 0 LGD Gaming
Team WE 2 – 1 Edward Gaming
LNG Esports 1 – 2 Invictus Gaming
Rogue Warriors 2 – 1 LGD Gaming
Oh My God 1 – 2 Team WE
FunPlus Phoenix 0 – 2 Top Esports
---
Match of the week: FunPlus Phoenix vs Top Esports
In the final match of the regular season, both teams were fighting for seeding. A win for FPX would mean securing second place, while a win for TES would push them to fourth, giving them a bye into the quarterfinals.
One key difference for TES was the addition of Yu "JackeyLove" Wen-Bo in bot lane. Officially with the team since early April, he only started on the main roster in this last week of the LPL.
Game one's early game played out according to the drafts. FPX extended advantages on the top side as Kim "GimGoon" Han-saem's Mordekaiser provided wave clear and lane priority. With jungler Gao "Tian" Tian-Liang and mid laner Kim "Doinb" Tae-sang, they consistently pressured Bai "369" Jia-Hao's Aatrox.
In turn, TES traded on the bot side, rotating their jungler Hung "Karsa" Hao-Hsuan and mid laner Zhuo "knight" Ding for a double kill.
When it came to the mid game, FPX was in full control. Utilizing Blitzcrank, Rumble and lethality Varus, they found picks and long-range snipes. Utilizing their numbers and range advantage, they downed four towers to TES' one, and held onto a gold lead.
Mid to late game team fights also went in FPX's favor thanks to Liu "Crisp" Qing-Song's Blitzcrank hooks. Isolating Liang "yuyanjia" Jia-Yuan on Thresh, FPX forced TES into a 4v5. With only knight left standing, FPX easily took the first Baron.
---
---
It wasn't until 35 minutes in that TES found the fight they were looking for. While JackeyLove got caught, a flash and a Dark Passage over the wall by yuyanjia saved his life.
Stealing Mordekaiser's Death Realm, knight took Doinb's Rumble with him. When knight emerged victorious, it was three against one. Not knowing whether to collapse on him or disengage, FPX's bot laners ran away after Tian's Guardian Angel popped.
To no avail, Lin "Lwx" Wei-Xiang's Varus still fell to knight after he gave chase. With 20 stacks on Mejai's, knight turned a crucial team fight around for TES to stay in the game.
Holding on to their gold lead, TES secured Baron and Elder Dragon before making the final push into FPX's base 53 minutes into the game.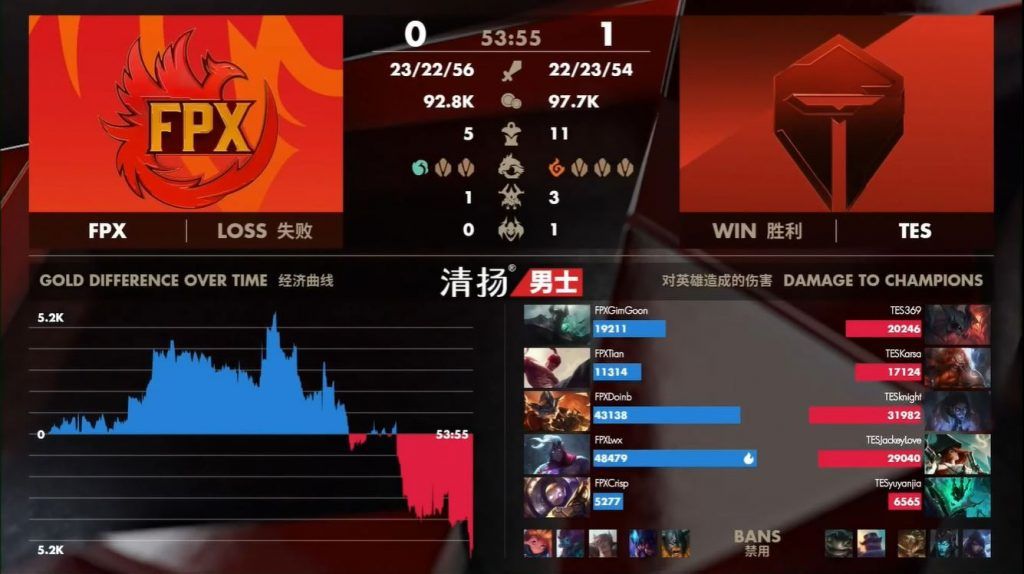 With completely different drafts in game two, TES were the ones to make the early moves. A well-time teleport by knight to top lane quickly turned the tides on Tian's gank, nailing first blood.
As a team, TES also managed to secure the first three dragons of the game. Nonetheless, FPX remained on par with an extra tower and slight CS advantages. They even overtook the gold lead at 21 minutes after sneaking an early Baron, and later on, denied the first Ocean Dragon Soul.
On their second attempt, TES eventually nabbed Soul Point, and from there it went downhill for FPX. Leaving JackeyLove in the back line untouched in team fights, he easily dealt the most damage in game two and earned the MVP.
With that, for the first time this Spring Split, TES handed FPX their first 2-0 loss. If this is what Top Esports looks like with JackeyLove, we can definitely expect more from this squad in the playoffs.
---
Player of the week: Seo "Kanavi" Jin-hyeok
Former substitute jungler for Griffin in 2019, Kanavi was on loan to JD Gaming for the second half of the year before joining them permanently for the 2020 Spring Split.
Despite a shaky start to the season, JD Gaming bounced back, winning all their matches from Week 5 onward. Kanavi put his carry pants on, and earned four MVPs in their last four series, propelling JD Gaming to finish in second.
With a carry play style comprising Kindred, Sylas, Nidalee and Lee Sin in his champion pool, he has almost equal gold share with his top and mid laners.
Scoring the highest overall kill participation on his team at 77.3% this split, Kanavi usually ganks early before putting himself in the thick of the action with his team from mid to late game.
---
Final Standings (playoff teams in bold)
1. Invictus Gaming (14-2)
2. JD Gaming (12-4)
3. FunPlus Phoenix (12-4)
4. Top Esports (11-5)
5. eStar (11-5)
6. Edward Gaming (9-7)
7. Royal Never Give Up (8-8)
8. Team WE (8-8)
9. Vici Gaming (7-9)
10. Bilibili Gaming (7-9)
11. Suning (7-9)
12. Oh My God (7-9)
13. Rogue Warriors (7-9)
14. Dominus Esports (6-10)
15. LGD Gaming (5-11)
16. LNG Esports (5-11)
17. Victory Five (0-16)
READ MORE: This is how eStar took a team of Development League players to the top of the LPL