eStar has been the surprise story of LPL Spring so far.
Despite only joining the LPL this year, and all but one of their players coming from China's League of Legends Development League (LDL), the underdog team managed to upset reigning World Champions FunPlus Phoenix in week one, and this week, they took down 2018 World Champions Invictus Gaming in convincing fashion.
---
Week 4 Results
Top Esports 2 – 0 Dominus Esports
Vici Gaming 1 – 2 Edward Gaming
Invictus Gaming 0 – 2 eStar
Rogue Warriors 1 – 2 Team WE
Suning 2 – 1 LNG Esports
Oh My God 2 – 0 Victory Five
Top Esports 2 – 0 JD Gaming
FunPlus Phoenix 2 – 1 Bilibili Gaming
Rogue Warriors 0 – 2 Dominus Esports
Suning 1 – 2 Team WE
Vici Gaming 2 – 0 LGD Gaming
FunPlus Phoenix 2 – 1 Oh My God
LNG Esports 1 – 2 eStar
JD Gaming 0 – 2 Royal Never Give Up
LGD Gaming 2 – 0 Victory Five
Bilibili Gaming 2 – 1 Team WE
Suning 0 – 2 Invictus Gaming
eStar 2 – 0 Dominus Esports
Top Esports 2 – 0 Oh My God
Royal Never Give Up 2 – 1 Edward Gaming
---
Match of the Week: Invictus Gaming vs eStar
eStar handed Invictus Gaming their first loss of the season this week in two straight games.
As a team, they have an aggressive but calculated playstyle. eStar have also displayed high team fight synergy marked by solid communication and clean execution, much like Griffin in the LCK in 2018.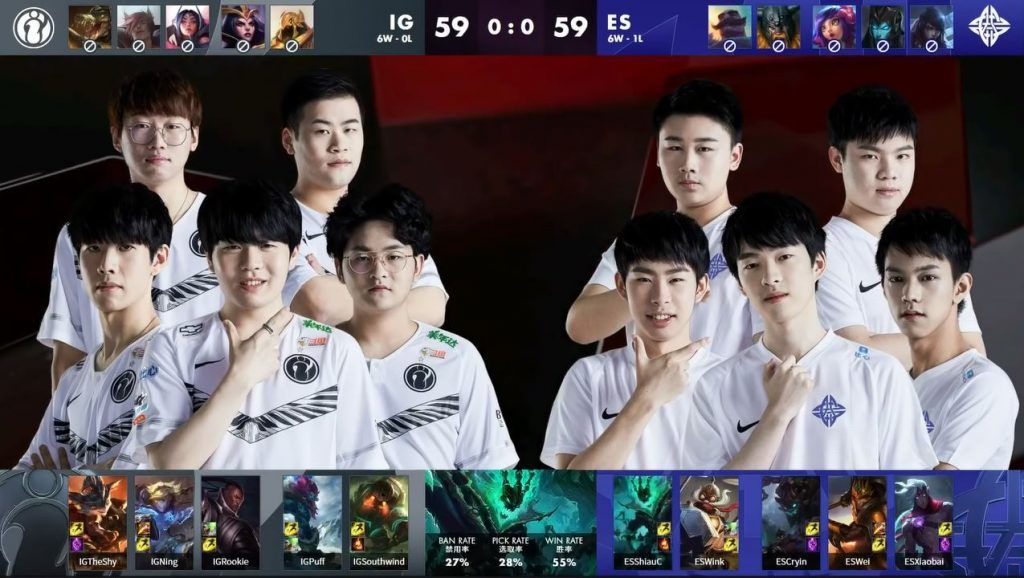 Choosing Maokai as a surprising, non-meta third pick on red side, eStar's plan was to match him against Rumble in a solo lane. In team fights, Maokai's crowd control would prove to be extremely useful.
Catastrophe struck iG swiftly at level one. Rushing red and blue buff, Yan "Wei" Yang-Wei on Jarvan visited iG's bot lane when they were pushed up.
To secure both kills on iG's AD carry and support, Liu "ShiauC" Chia-Hao landed an amazing Thresh hook that predicted Su "Southwind" Zhi-Lin's flash.
Despite iG dropping two early kills, they still had a chance to come back. The tipping point however, was when they initiated a fight at bot in between two turrets.
Even though Song "Rookie" Eui-jin on Lucian opened with a kill onto Yuan "Cryin" Cheng-Wei's Corki, the rest of the fight did not go according to iG's plan. ShiauC landed another deadly accurate hook onto Rookie while he was backing off, and secured a return kill for his team.
On Maokai, Yang "Xiaobai" Zhong-He teleported onto eStar's first outer bot turret, sandwiching iG. Nature's Grasp hit the remaining three members as they fell to eStar in a 4v5.
Aside from Nautilus, iG lacked reliable hard crowd control and a strong frontline. They could not win any fights against eStar's team composition, and only managed to grab two kills to eStar's 18 at the end of game one.
---
---
As expected, iG changed things up in game two with a team composition that gave them more tools to take fights. However, eStar overhauled their team composition too, and activated full-on assault mode with Renekton, Elise, Pantheon, Syndra, and Blitzcrank.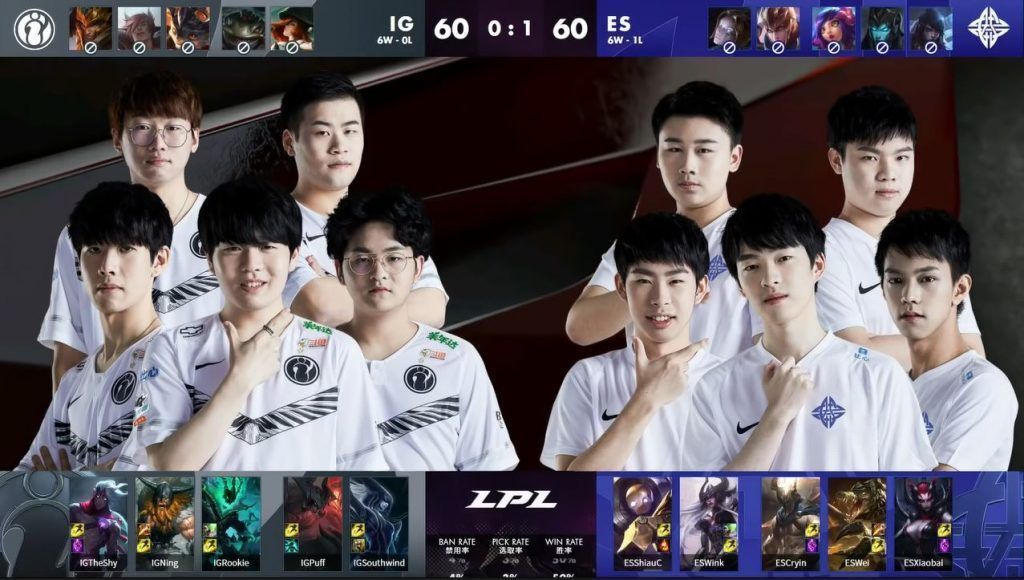 Aside from Blitzcrank, every champion in their draft had a stun. They also chose very strong early game champions, signaling their intention to close the series quickly.
eStar hammered iG in lane, rotated around the map and used Pantheon's ultimate Grand Starfall to outnumber side lanes.
eStar were relentless and racked up 35 kills in the 32 minute game against just four for iG, proving why they deserve to be on top of the table.
---
Player of the Week: Zhuo "knight" Ding
With victories over Dominus Esports, JD Gaming and Oh My God, Top Esports made a huge jump up the standings, going from 11th to fourth.
Much of their success this week can be attributed to knight, who nabbed three MVPs.
At the age of 19, the young TES mid laner demonstrated his versatility with two different play styles in their series against JD Gaming on control mage Viktor and front line Pantheon.
Alone in mid lane, JDG decided to pull a 4-man dive under tower in game one. Knight timed his flash well and avoided Haymaker's range.
He bought time for his team mates to collapse and turn the situation around, snatching three kills. With that, TES pushed forward with a gold lead, and the game.
---
Standings
1. eStar (9-1)
2. Invictus Gaming (7-1)
3. FunPlus Phoenix (7-2)
4. Top Esports (6-3)
5. Royal Never Give Up (5-3)
6. JD Gaming (5-4)
7. Oh My God (5-4)
8. Team WE (5-4)
9. Edward Gaming (4-4)
10. LNG Esports (4-4)
11. Suning (4-5)
12. Vici Gaming (3-6)
13. Bilibili Gaming (3-6)
14. Rogue Warriors (3-6)
15. LGD Gaming (2-6)
16. Dominus Esports (2-7)
17. Victory Five (0-8)
READ MORE: Asura 1v2s Weiyan and Crazy thanks to the power of the Ocean Soul