Riot Games has revealed the full details of its highly-anticipated 2020 Mid-Season Cup (MSC), which will feature the top four teams of both the League of Legends Pro League (LPL) and League of Legends Champions Korea (LCK).
---
Format
The MSC group stage will be in a single round-robin format, with best-of-one matches from all teams.
The semifinals and finals will both be best-of-five series. All BO5s will be in Blind Pick for the first games, with the rest of the series played in Draft Pick.
Riot also announced that tournament ping will be standardized to a range of 30-40m/s.
---
Groups
Group A
T1 (LCK champions)
Top Esports
FunPlus Phoenix
DAMWON Gaming
Group B
JD Gaming (LPL champions)
Gen.G
Dragon X
Invictus Gaming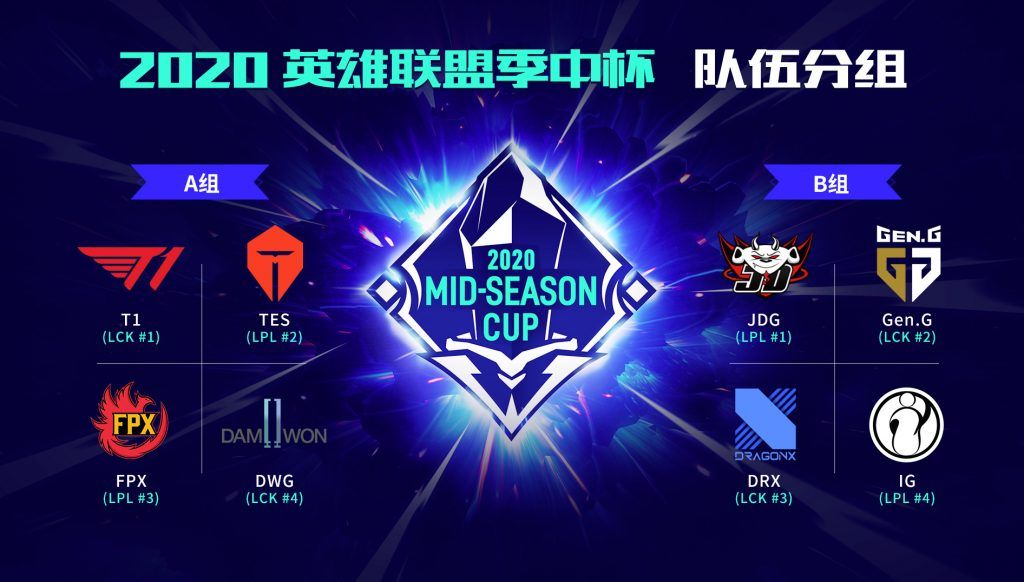 ---
---
Schedule
The MSC will kick off with a fiery battle between reigning Worlds champions FunPlus Phoenix and T1 on May 28 at 3:00 p.m. GMT+8.
Here is the full schedule of the groups stage (all times in GMT+8)
Group Stage Day 1 (May 28)
3:00 p.m. – FunPlus Phoenix vs T1
4:00 p.m. – Top Esports vs DAMWON Gaming
5:00 p.m. – T1 vs DAMWON Gaming
6:00 p.m. – Top Esports vs FunPlus Phoenix
7:00 p.m. – DAMWON Gaming vs FunPlus Phoenix
8:00 p.m. – T1 vs Top Esports
Group Stage Day 2 (May 29)
3:00 p.m. – JD Gaming vs Gen.G
4:00 p.m. – Invictus Gaming vs DragonX
5:00 p.m. – DragonX vs Gen.G
6:00 p.m. – JD Gaming vs Invictus Gaming
7:00 p.m. – Gen.G vs Invictus Gaming
8:00 p.m. – DragonX vs JD Gaming
The top two teams from each group will advance to the semifinals to secure a spot for the finals. Semifinals will start at 1:00 p.m. GMT+8, while the finals will immediately follow the next day at 5:00 p.m. GMT+8.
Semifinals Day 3 (May 30)
Group A #1 vs Group B #2
Group B #1 vs Group A #2
Finals Day 4 (May 31)
Winner of semifinals match 1 vs winner of semifinals match 2
---
Prize Pool
The tournament will feature a US$600,000 prize pool and the winners will be crowned as the first Mid-Season Cup champions.
---
Where to watch
The 2020 Mid-Season Cup will be played in each league's respective venues — the LoL Park in South Korea for the LCK and the LPL Arena in Shanghai, China for the LPL. Live audiences will not be permitted in both stages, however, but Summoners can catch all the action online.
---
The Mid-Season Cup's semifinals and finals will coincide with the Mid-Season Streamathon, a two-day, non-stop, global marathon live stream which aims to raise funds for COVID-19 relief.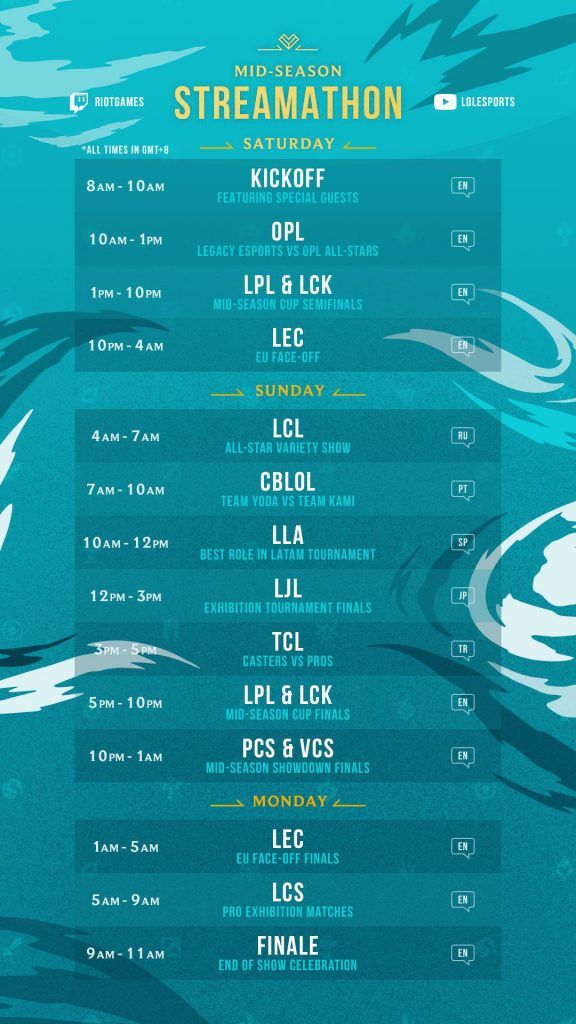 Both of these online events are the product of Riot Games' efforts to fill in the gap of the canceled international event the 2020 Mid-Season Invitational (MSI).
READ MORE: The best of the LCK and LPL will face off in Riot's Mid-Season Cup