Week 1 of the League of Legends Champions Korea (LCK) featured an amazing showing from KT Rolster's AD carry, Oh "Noah" Hyeon-taek.
Despite going up against 2021 LCK Spring champions DWG KIA, KT Noah and the Rolster squad defiantly swept the favored super team.
Why this series against DWG KIA was important to KT Noah
While every team in the LCK is gearing up to face DWG KIA in the regular season, KT Rolster's first Summer series against the Spring kings had a bit of history to it.
In the final week of 2021 LCK Spring, KT Rolster suffered a hard 2-1 loss against Heo "ShowMaker" Su and the DK squad, and lost any chance of making it to the Spring playoffs.
KT Noah was one of the players who took the loss personally. The young substitute managed to grab game one with his killer Samira, but DK's AD carry Jang "Ghost" Yong-Jun on Tristana and Senna in the next two games had shut him down.
After the tragic defeat, Noah wept a few tears on camera, and vowed to redeem himself in Summer.
"After I got beaten up by Senna at that time, I practiced Senna a lot," said KT Noah. "I'm going to clap DK with my Senna."
---
---
KT Noah on Senna was Ghost's worst nightmare
After KT dominated game one with mid laner Kim "Dove" Jae-yeon on Sylas, Noah stepped up to the plate in game two with his new and improved Senna.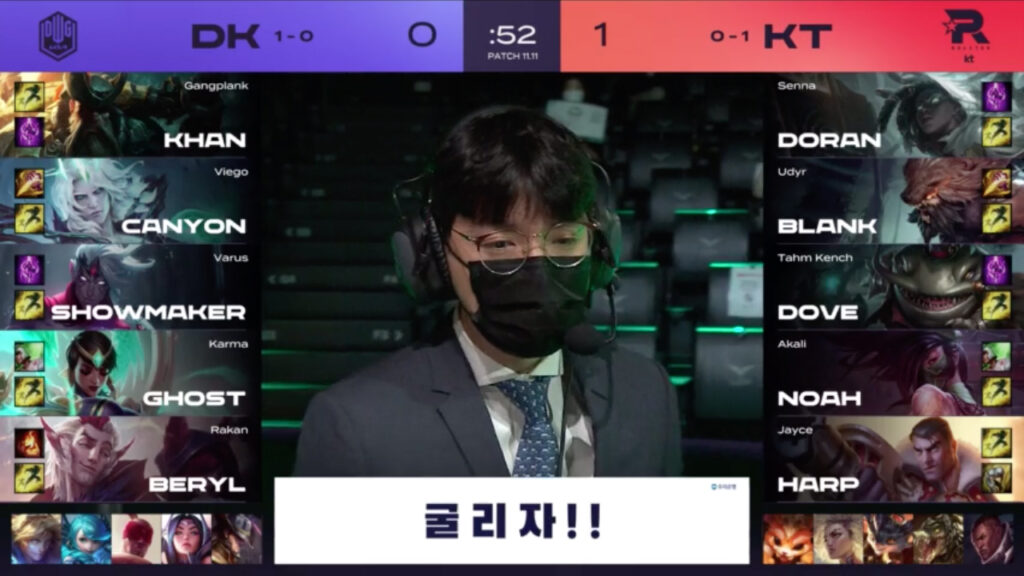 The Senna player did not hold back against his DK rival. Just three minutes in, the bot lane initiated a tower dive with Kang "Blank" Sun-gu's Udyr and grabbed first blood on Ghost.
Even though it was his first match in the LCK, support player Lee "Harp" Ji-yoong was the perfect wingman to Noah.
Using Tahm Kench's Abyssal Voyage (R), the young gun duo caught the DWG KIA ADC alone in the bot lane. With Harp taking all the turret aggro, Noah's Senna went to town on Ghost, rooting him with Last Embrace (W) and executing him with Dawning Shadow (R) and an auto-attack.
Harp and Noah were also the initiators of the final fight. The duo flanked with another Abyssal Voyage, and got an easy pick on Ghost.
Working off the 4v5 advantage, the rest of KT clashed with DK for a few more kills to open up the base. With a creep wave marching in from the bot lane, KT went straight for the Nexus and closed the series out 2-0.
KT Rolster now holds a 1-1 record and will face Gen.G on June 16 at 7 p.m. GMT+8.
You can catch the action live on the official LCK Twitch and YouTube channel.
READ MORE: The new T1 gaming facility lets you take selfies with Faker