Hong Kong-based organization, Talon Esports, had to fight hard at every stage of the inaugural Pacific Championship Series playoffs en route to their Finals matchup against favored first seed, Machi Esports.
Talon ended the regular season below Machi Esports and ahq eSports Club as the third seed for the playoffs. They started the playoffs with a convincing win over Nova Esports, and followed it up in Round 2 with a reverse sweep over ahq in an arduous series to book their spot in the semifinals.
In the semifinals they fell to Machi 2-3, and had to defeat AHQ again in the lower bracket semifinals in another grueling 5-game series.
True to form, the final against Machi went the distance as well, but in the end, it was Talon that persevered, winning 3-2.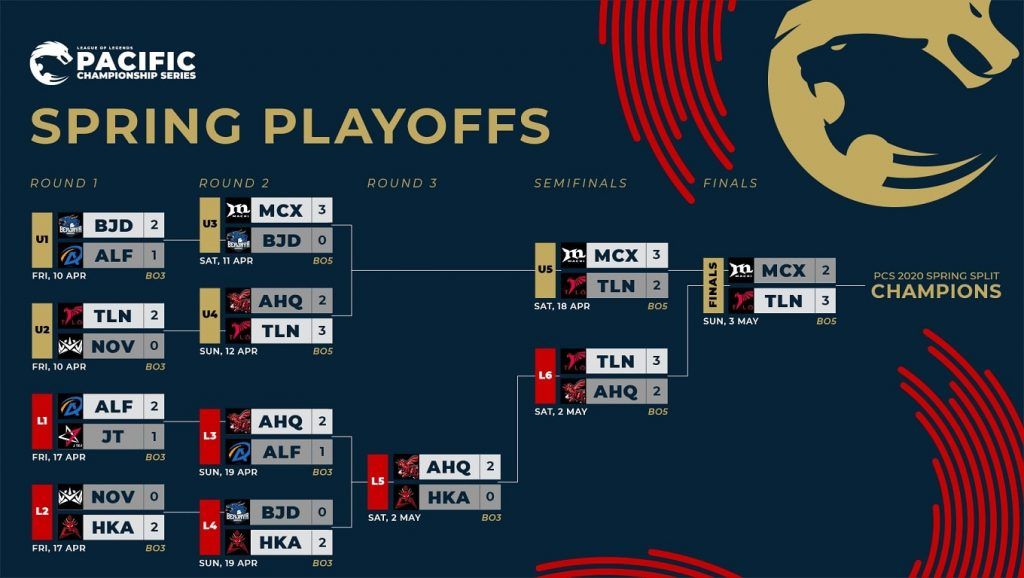 ---
Game one
Talon put together a strong early to mid game team composition comprising of carries Synda, Miss Fortune and Jayce. Machi on the other hand, had more flexibility when it came to team fights, and went with Corki for late game insurance, so it boiled down to draft execution for both teams.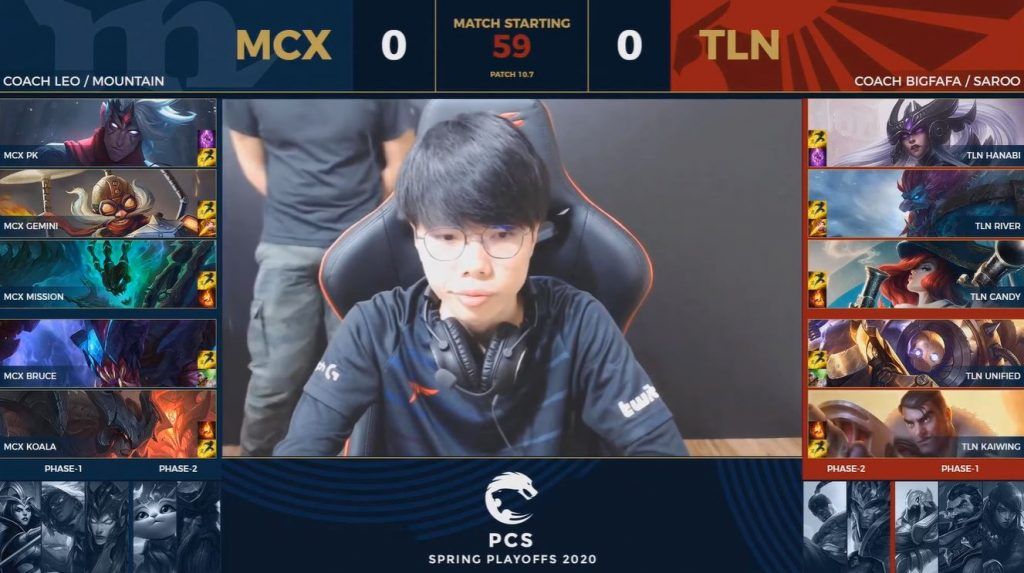 Even though Talon had more kills in the early game, Machi pulled ahead in turrets, and eventually racked up three fire dragons. They overpowered Talon's lineup in team fights, and took game one when Chen "Mission" Hsiao-Hsien came up big on Corki, ending the game deathless with a 7/0/4 KDA.
---
Game two
Talon's fighting spirit was on full display in game two. Kim "Candy" Seung-ju went all-in on Pantheon when he hit his power spike at level three. Dishing out his full combo, he solo killed Mission's Orianna in mid lane for first blood.
Keeping up the aggression, Talon's early game power was undisputed. They held onto a gold lead by finding picks across the map, downing two more towers than Machi and got themselves two dragons.
A risky Baron call at 21 minutes, however, halted all momentum. Four members fell, leaving only Candy with the buff. Nonetheless, Talon pushed forward and downed the second Baron of the game after Ling "Kaiwing" Kai Wing's Death Sentence found 2 kills onto Mordekaiser and Miss Fortune.
They went on to fight for Ocean Soul and a third Baron before downing Machi's Nexus 39 minutes into the game to tie up the series.
---
---
Game three
Switching things up in game three, Machi picked up the pace in the early game. Hsieh "PK" Yu-Ting on Maokai made every effort to harass Talon's backline, successfully flanking them in lane and around an early dragon to help his team get ahead in gold.
Unfortunately, that was all Machi could do. Talon secured every objective in the game, accumulating four dragons and the Mountain Soul, Baron and Elder Dragon.
Kim "River" Dong-woo put on another fantastic performance on Graves as he did previously in the semifinals against ahq. His combined damage with the rest of his team was too much for Machi to withstand, as Talon took game three to go up 2-1.
---
Game four
First picking Graves on blue side, it was Machi's turn to put together a draft that output tons of damage without needing a true tank.
A jungler who can solo dragons and secure objectives, Huang "Gemini" Chu-Xuan on Graves was equally effective. A more objective-oriented game, there were only 10 kills in 35 minutes, with Machi never letting go of their gold lead.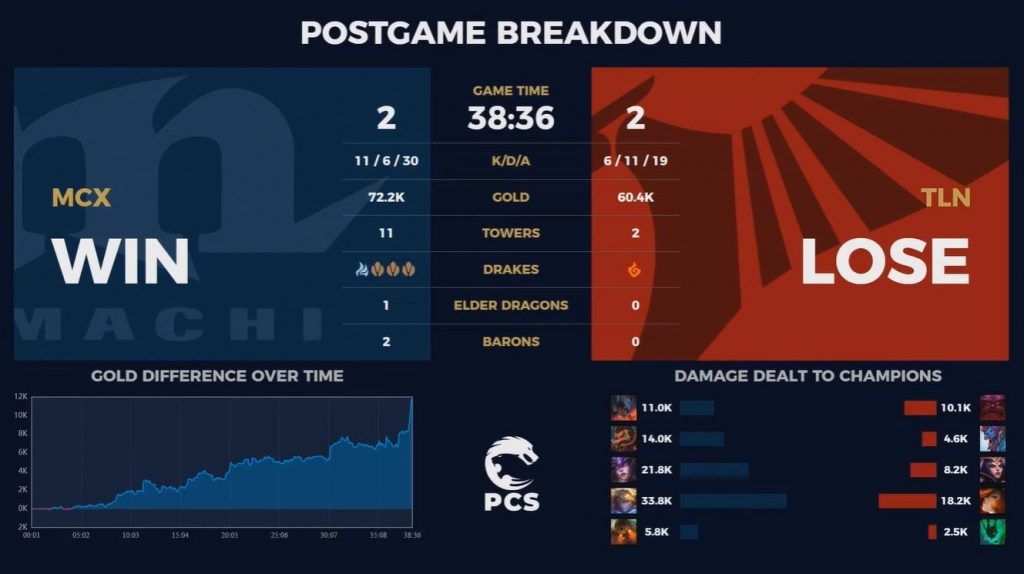 Once Mountain Soul, Elder Dragon and Baron went the way of Machi, they demolished Talon's base to tie up the score and take it to a decisive game five.
---
Game five
With everything on the line, Machi decided to ban Graves on red side in game five. They also managed to pick up Ornn and Aphelios, two top tier champions in the meta.
On blue side, Talon first picked Varus as their AD carry, and chose Pantheon early in their draft. In the hands of Candy, they were planning to out-rotate Machi in the early game with Grand Starfall, like they did in game two.
As Fire Dragon spawned in the mid game, both teams grouped to contest the valuable objective. A beautiful deny, Kaiwing on Braum used Unbreakable to stop Call of the Forge God.
After losing their primary engage, Machi tried to follow up with their secondary engage, Pop Blossom, but were uncoordinated in their effort. As Mission's Neeko flashed in, the rest of Machi were already backing off, so they regrettably lost their lives, the fight, and the objective.
In a final battle around dragon, River on Lee Sin stole the Mountain Dragon right under Machi's nose to secure Soul. A perfectly executed Dragon's Rage into Grand Starfall from Candy burst down Chiu "Bruce" Chih-Chun's Aphelios for the kill. Without their key damage dealer, Machi crumbled to pieces.
Staying true to their motto, Talon made Machi bleed crimson this series for the 3-2 Spring Split championship win.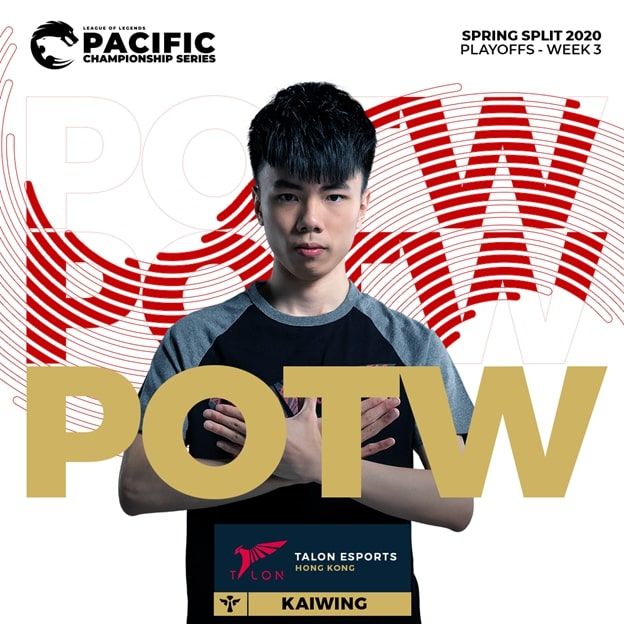 For his outstanding performances on Blitzcrank, Thresh and Braum, Kaiwing was awarded Player of the Week.
READ MORE: Riot may be planning an LPL vs LCK online tournament to replace MSI