Sad news, TL fans.
Joshua "Jatt" Leesman has officially announced his resignation from Team Liquid. His time in the squad was his first-ever venture into coaching a competitive League of Legends team.
Jatt's official statement and reasons
In Jatt's official statement, he mentioned that the resignation was solely his decision, and expressed his thoughts to Team Liquid co-CEO Steve Arhancet.
While the departure was sudden, the former head coach looks back fondly at their achievements over the past year such as attending Worlds 2020 and winning the new LCS Lock-In tournament.
Jatt helped lead the team to a 15-3 season in 2020 LCS Summer, the org's best regular season record in history.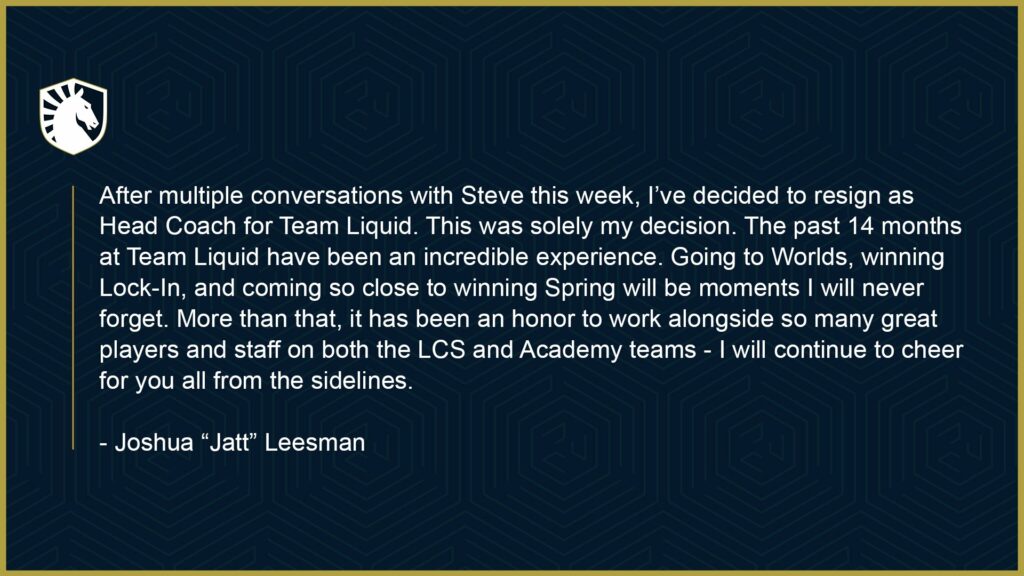 During the live Q&A session, Arhancet provided more clarity on what led to the resignation.
Team Liquid struggled to break ground in 2021 LCS Summer with an opening day loss against TSM. The coaching staff had a conversation with top laner Barney "Alphari" Morris that was not handled in a proper way.
"From that conversation, there was a different interpretation of events between both Barney and Josh," said the TL co-CEO. "This continued to be an issue and it was not resolved immediately."
In light of the concerns about Alphari, the team and coaching staff sat down and decided to give Alphari a personal break until June 27 to help him assess his player motivation. Thomas "Jenkins" Tran will continue to play as the starting top laner until further notice.
On June 22, Jatt opted to resign, and Arhancet accepted his resignation.
---
---
Kold steps in as head coach and Santorin takes a break
Moving forward, strategic coach Jonas "Kold" Andersen has stepped in as the interim head coach with Albert "H4xDefender" Ong acting as assistant coach.
As for Team Liquid's players, Lucas "Santorin" Larsen is taking a break from competitive play to rest and seek help for his health issues. While not much was said about his condition, Arhancet and Kang "Dodo" Jun-hyeok mentioned that migraines were a persistent symptom.
"For Santorin, we want to make sure that his health comes first," said Dodo. "He's a competitor, and was powering through the whole Summer even with the pain almost everyday. In the most recent weeks, the pain has become worse which is why it was brought up to the surface."
With Santorin taking some time away, Jonathan "Armao" Armao will take over as Team Liquid's starting jungler for at least this weekend.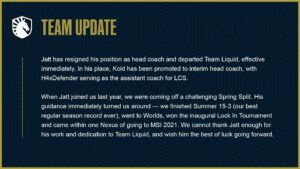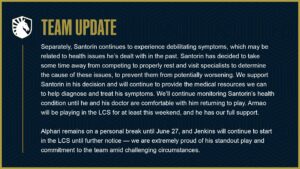 Team Liquid will face Evil Geniuses on June 26 at 6 a.m. GMT+8.
Catch the action live on the official LCS Twitch and YouTube channels.
READ MORE: TSM Spica spills his secrets to building Nidalee like a pro