The League of Legends World Championship (Worlds) 2020 Group Stage has finally concluded. The competition started with 22 teams in the Play-Ins and 16 teams in the Group Stage, and now only eight teams remain on the road to the Summoner's Cup.
Three teams from the LPL, three teams from the LCK, and two teams from the LEC will headline this year's Worlds 2020 Quarterfinals.
---
Where to watch Worlds 2020
Riot Games' English broadcasting channels for Worlds 2020 are:
Additionally, fans can also watch games in their local languages like Korean via AfreecaTV, Chinese via bilibili, and even in Vietnamese via Nonolive.
---
Worlds 2020 Quarterfinals format
After the Group Stage comes the Knockout Stage. The first part of the Knockout stage is the Quarterfinals, where the top two teams from each of the four Groups will face each other off. These eight teams will play in a best-of-five series where the winning team will advance to the Semifinals.
Similar to the Group Stage, this year's Quarterfinal match-ups were determined through a draw. Fans will be witnessing BO5s of LPL vs LPL through Suning and JD Gaming and LCK vs LCK through DAMWON Gaming and DRX.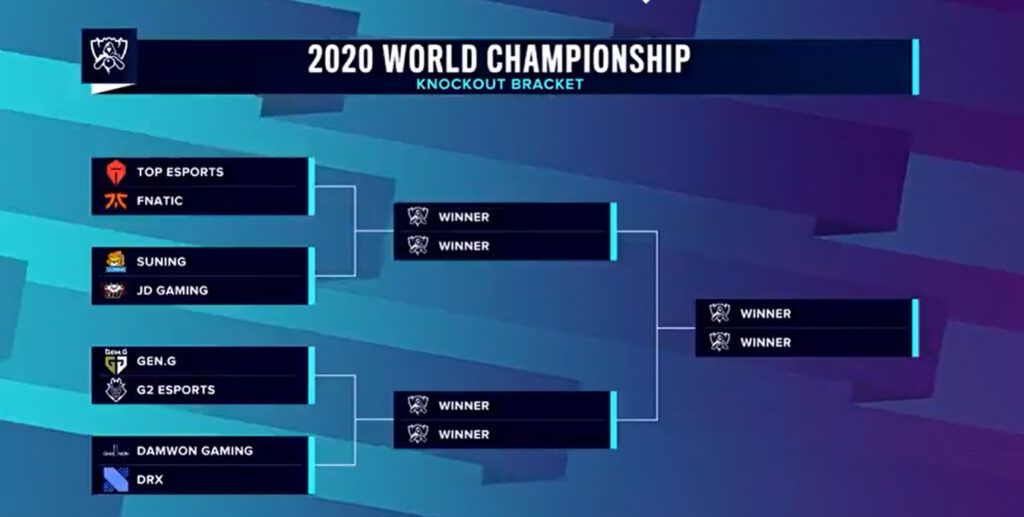 ---
---
Worlds 2020 Quarterfinals Schedule
Expect the weekend to be filled with intense League of Legends esports action as Quarterfinals is scheduled to run from Thursday to Sunday. The first game is a must-watch especially for LCK fans since the 1st and 2nd seed teams of their Summer Playoffs have been pitted in a thrilling BO5 series.
All games begin at 6 p.m. GMT+8.
October 15 – DAMWON Gaming vs DRX
October 16 – Suning vs JD Gaming
October 17 – Top Esports vs Fnatic
October 18 – Gen.G vs G2 Esports
Only four teams will move to the Semifinals to secure their slot for the Worlds 2020 Finals on October 31.
October 24 – TBD vs TBD
October 25 – TBD vs TBD
October 31 – TBD vs TBD
Note that Worlds will take one-week breaks after the Quarterfinals and the Semifinals.
Meanwhile, Singapore's most successful LoL pro player and coach Wong "Chawy" Xing Lei shared his picks and predictions for the Worlds 2020 Quarterfinals. Top Esports, JD Gaming, G2 Esports, and DAMWON Gaming will proceed to the Semifinals according to Chawy.
READ MORE: Illusion Broken: A closer look at how Riot used AR to turn an empty room into the Worlds 2020 stage