Day 3 of the League of Legends World Championship (Worlds 2021) featured a strong showing from Park "Ruler" Jae-hyuk and Gen.G.
Looking to bounce back from an earlier loss against MAD Lions, Gen.G Ruler and the boys rallied together to secure a win over Team Liquid. The AD carry played an assist-heavy Miss Fortune that delivered a flurry of bullets from the backline.
Heading into the second round robin of the Group Stage, Gen.G currently holds a 2-1 record in Group D.
---
Gen.G Ruler still gets nervous when playing on the Worlds stage
Despite being a frequent Worlds attendee, Gen.G Ruler revealed that he's not a "highly motivated player", and believes that this mindset stems from his Worlds 2017 championship win.
"When I won Worlds, I actually didn't have a set goal for that tournament, and then I was able to win the title," said Gen.G Ruler in a press conference. "This time around, I thought to myself to give it a go without setting any goals."
At the same time, he also wanted to alleviate the stress of playing on the Worlds 2021 stage, for Ruler admits that stage jitters are unavoidable.
"I still get nervous every time. Usually, I would feel a lot more comfortable once the game starts, but these days, I feel a little bit nervous in-game as well," continued the Gen.G player.
---
---
The Gen.G player talks about facing former teammate CoreJJ at Worlds 2021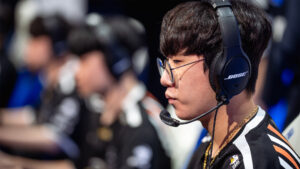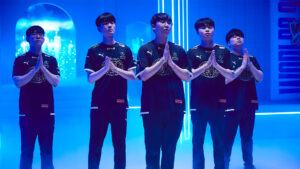 In the match against Team Liquid, Gen.G Ruler faced his former teammate, Jo "CoreJJ" Yong-in, in the bot lane. The two players were part of the Samsung Galaxy squad that hoisted the Worlds trophy in 2017.
When asked about the reunion matchup on the Worlds 2021 stage, he mentioned that the current meta doesn't really offer any "fighting back and forth" during the laning phase.
Looking ahead to their second match against Team Liquid and CoreJJ, Ruler is ready to bring the mayhem.
"I still have one more game to play against CoreJJ. Next time, I will make sure that I clap him," said Ruler.
Gen.G will face MAD Lions on October 18 at 7 p.m. GMT+8 on Day 3 of the Worlds 2021 Group Stage.
Follow ONE Esports on Facebook for more League news, guides, and highlights.
READ MORE: 100T Abbedagge: 'I'm thankful to Riot for fulfilling the script to play Faker'