Since 2017, the LJL was granted a Play-In Stage spot at the Mid-Season Invitational and Worlds. However, they've never made it out to the Group Stage — until today.
On Day 3 of the Worlds 2021 Play-In Stage, DetonatioN FocusMe made history.
In a tie-breaker match against LCS' third seed Cloud9 to determine who would secure first place in Group B, the League of Legends Japan League representatives were the ones who came out top.
---
---
LJL representatives DetonatioN FocusMe will debut in the Group Stage for the first time at an international LoL esports event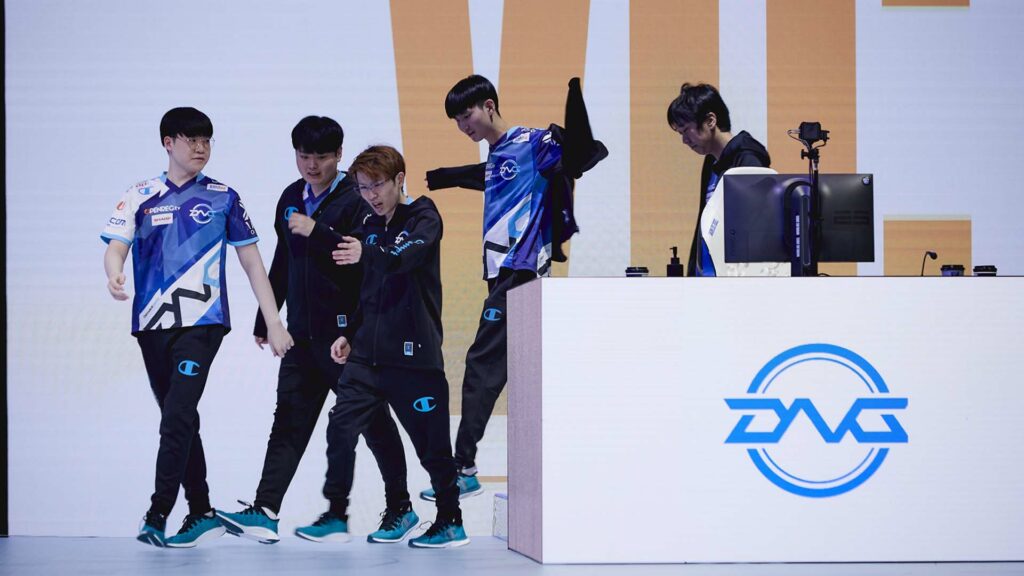 After four years competing on the global stage, with multiple representatives, including DFM themselves returning on various occasions, the LJL started 0-4 in the Play-In Stage in 2017, to 4-1 to qualify for Groups.
In Group B, the only game they dropped was against Cloud9 on Day 1. Against Galatasaray Esports, Unicorns of Love, and even PCS represetatnatives Beyond Gaming, who were expected to give them a hard time, DFM prevailed.
Tied 3-1, both Cloud9 and DetonatioN FocusMe were forced to play a tiebreaker to determine which team clinches first place and go straight into Groups, and which team would be competing in the best-of-five Play-In Knockout Stage.
In the early game, DetonatioN FocusMe traded kills for objectives. As such, Cloud9 were the ones to secure the first two dragons, keeping the gold tight between both teams.
At the 12-minute mark however, things shifted in DFM's favor after top laner Shunsuke "Evi" Murase on Sett set up a trap with Yang "Gaeng" Gwang-woo's support Leona. Baiting in three Cloud9 members into the bush, a last second Haymaker demolished their health bars, resulting in two kills for the LJL reps.
Still, because the stakes were high, both teams were cautious going into the late game as the gold evened up once again. In a key moment at Elder Dragon 33 minutes in, DetonatioN FocusMe creatively wrapped around Cloud9's jungle instead of taking them head-on.
With Evi and Gaeng leading the charge, they kept their backline safe, and did not fully commit until after Jesper "Zven" Svenningsen's Miss Fortune Bullet Time ultimate was used. From that point on, DetonatioN FocusMe knew that they had the game in the bag.
After Elder Dragon, they nabbed Baron for one last push into Cloud9's base to close it out at 36:46, 20 kills to 12, and made LJL history.
The Play-In Knockout Stage continues tomorrow starting at 7 p.m. GMT+8. Watch the 2021 World Championship matches live on Riot Games' official channels on Twitch and YouTube.
READ MORE: DFM Evi's thumbs up poses at Worlds outshine Faker's by a mile