The League of Legends Championship Series (LCS) saw impeccable performances from its teams in the 2021 season.
100 Thieves won their first-ever LCS Championship and Cloud9 had a miracle run in the Worlds 2021 Group Stage, but nothing felt more anime than the underdog story of Juan Arturo "Contractz" Garcia.
From almost going unsigned in January to slotting in as Evil Geniuses' hotshot jungler in LCS and Academy, Contractz never gave up on proving himself.
In an interview with ONE Esports, Contractz reveals how his year at Evil Geniuses became the perfect backdrop for his redemption arc in his professional League of Legends career.
---
How Evil Geniuses gave Contractz a platform to hone his skills
Heading back to Academy
Contractz's journey with Evil Geniuses began at the start of 2021. After a one-year stint on 100 Thieves, the jungler almost missed out on the season after 100T started to rebuild its LCS roster around a former Golden Guardians quartet.
"I'm pretty sure I almost didn't have a team this year," said Contractz. "This was the last Academy spot available so I'm just thankful that Evil Geniuses gave me the chance."
While moving to an Academy roster can be seen as a step down in an LCS player's career, Contractz recognized it as an opportunity to improve in a new environment.
The jungler entered Academy as a veteran with a fresh perspective. Previously taking on a leadership role on 100T's Academy roster just a year ago, the new recruit was ready to become the voice of a team again.
Despite finishing last in 2021 Spring, Evil Geniuses Academy found their pace in the offseason. They took second place at Giant Slayer Gauntlet and qualified for the LCS Proving Grounds Spring, where they finished fourth overall.
Finding his place on Evil Geniuses' LCS lineup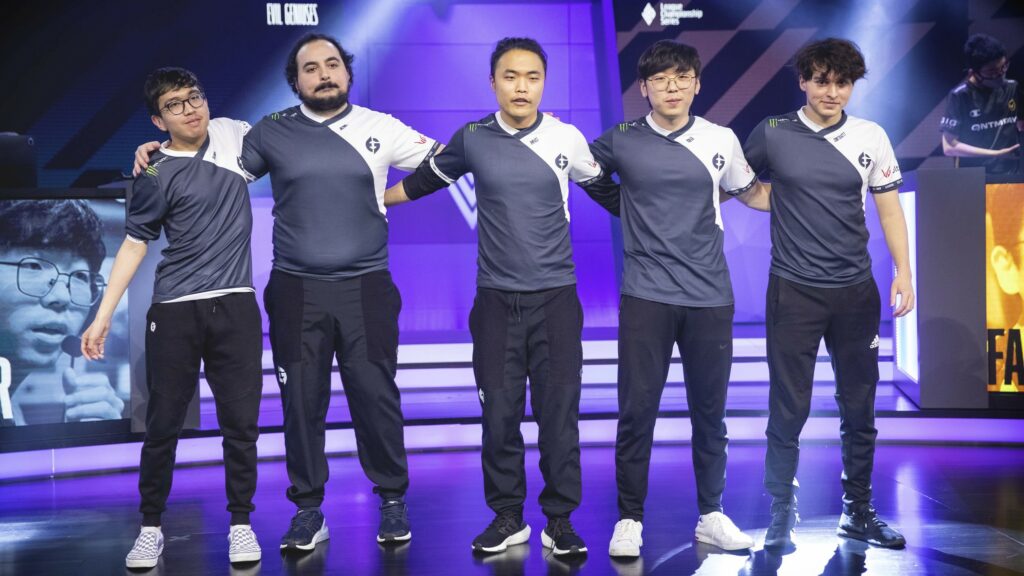 After playing against other League of Legends development rosters, it became apparent that Contractz was a player of a higher caliber. Evil Geniuses was set on giving him a well-deserved return to the LCS stage.
"At first, it was just kind of rewarding good play since I've been playing well in Academy," said the jungler. "They wanted to give me a chance to see how I'd do in the LCS."
From there, Contractz started to practice with the LCS roster before the Summer Split. Once the Split began, he was given one day of LCS scrims every week to build his confidence and chemistry with the team.
In professional League of Legends, the jungler is the core of the team while the chosen sixth man usually plays a laning role. In the case of Contractz, he and Evil Geniuses established a way to field two junglers throughout the 2021 LCS Summer Split.
"The biggest thing is just having good communication with your teammates, just talking in-game and out of game about how you want to play," said Contractz. "You have to try really hard to get on the same page."
In terms of gameplay, he gave recognition to teammates Daniele "Jiizuke" Di Mauro and Jeong "Impact" Eon-young who helped him actualize his role as a sixth man.
"If I'm playing with strong laners like Impact and Jiizuke, I'm able to take advantage of that small lead that they get and snowball from that," said the jungler. "I had a pretty good connection with Jiizuke, so it's pretty easy to bounce ideas off each other and just figure out how we wanted to play."
Contractz's addition proved to be a success, with all four of his regular season appearances churning out wins for Evil Geniuses.
The jungler also saw more starting positions in their run for the 2021 LCS Championship, which featured a strong 3-1 win against Dignitas.
A man of two leagues
While Contractz saw LCS as a league that had stable gameplay and experienced competition, Academy was a place where he could grow and improve on communication.
"I was able to take half of the year in Academy and really transition that into the LCS," said Contractz. "As you can see, I was playing a lot better than I have in the past. I was just able to progress myself as a person and as a player."
When asked about giving advice to players in a similar situation, he recommended taking on those LCS-level opportunities and making them worthwhile.
"You just have to remember to hone in on things you want to focus on as a player because if you lose track of your goals, it's going to be pretty hard bouncing back between two teams," said the League of Legends jungler.
---
---
Contractz's biggest highlight in LCS 2021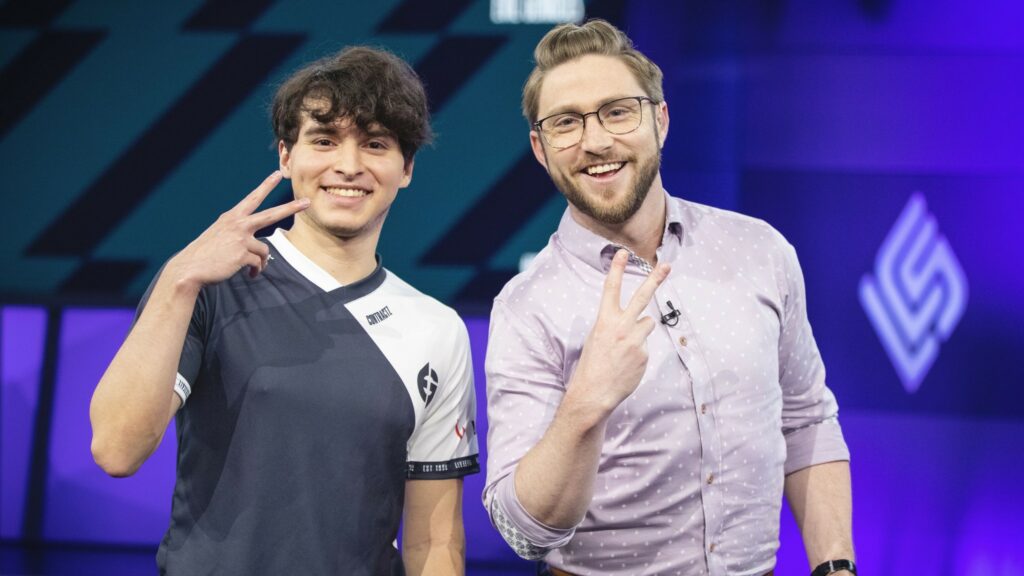 Looking back at his stellar Summer run as Evil Geniuses' secret weapon, Contractz pointed to his first LCS game as the best highlight of the 2021 season.
"It was my first game on the LCS stage in two years," he mentioned. "It was like Homecoming. It was just good to be back and realize that this is where I belong."
Ready to re-establish himself as an LCS player, the jungler played a killer Diana against TSM and grabbed Player of the Game with a 6/0/12 KDA and 94.7% kill participation.
---
The role of anime in his professional League of Legends career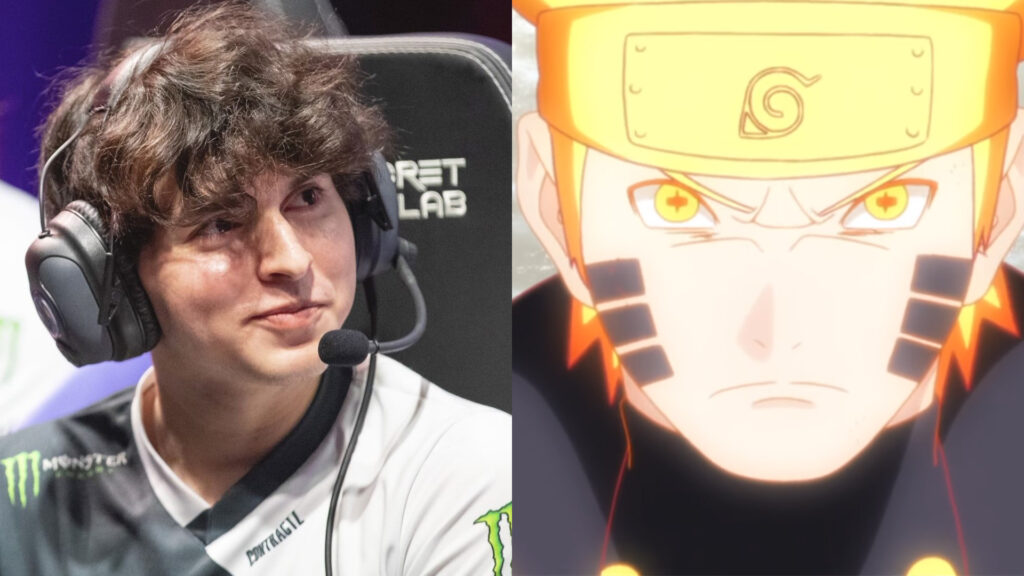 How does pro League of Legends and anime intertwine?
Though it's been quite a while since he's posted about his favorite shonen, Contractz confirmed that he's a diehard anime fan.
His love for anime began back when he was sixteen. As a fresh recruit of Cloud9 circa 2016, he learned about anime from former teammates Hai "Hai" Du Lam and Johnny "Altec" Ru, and never looked back.
"I started my career at the same time I started watching anime. I definitely have a lot of inspiration from anime," said Contractz. "Honestly, my life wouldn't be the same without it. I'd be a different person, as weird as it sounds."
Being a big fan of Naruto, he took the main character's catchphrase of Dattebayo or "Believe it!" to heart throughout his career, saying that he never gave up and always looked at situations in a positive way.
"I'm always shooting for the top. MSI, Worlds, all that. It's all in my plan. I don't worry too much about stats. I just want wins," added the League of Legends pro.
Being one of the first anime fans in LCS
While his love for optimistic shonen heroes is more of a kept secret nowadays, Contractz was honored to hear people recognizing his return to LCS as a real-life anime story.
"It's my redemption arc so it's kind of cool that people still remember that I'm a weeb. I stopped tweeting about it for a bit, but it's nice that people still know my roots," said the anime enthusiast.
Contractz was proud to say that he's one of the first weebs of LCS alongside Nickolas "Hakuho" Surgent. The jungler even mentioned that he watched 800 episodes of One Piece in just a month.
Anime and manga recommendations
Contractz stuck to his roots when recommending anime, naming classics like One Piece, Naruto, and Fullmetal Alchemist. Other titles that he brought up in passing include Death Note, Mob Psycho 100, and Black Clover.
As for manga, his all-time favorite is Yasuhisa Hara's Kingdom.
---
What's next for Contractz?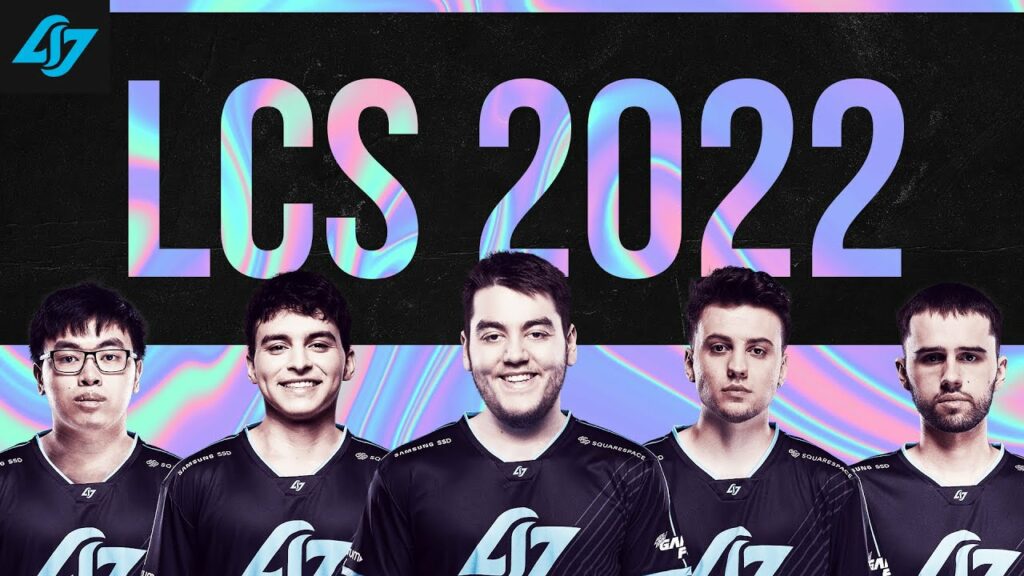 After making a splash as Evil Geniuses' substitute superstar in 2021, things have gone full circle for Contractz and his redemption arc. He now returns to LCS in 2022 as the starting jungler of Counter Logic Gaming.
Though he's parted ways with EG, he thanked the org for helping him become a better pro League of Legends player.
"Nothing but love for everyone I worked with at Evil Geniuses. I'm grateful they believed in me and gave me a chance when no one else did," stated Contractz in a tweet.
You can catch Contractz and CLG in the LCS Lock-in 2022, which starts on January 14, 2022.
Follow ONE Esports on Facebook for more League of Legends news, guides, and highlights.
READ MORE: 2021 LCS offseason roster change tracker: Players, coaches, and timeline