Day 2 of the League of Legends World Championship (Worlds 2021) Group Stage featured a dominating performance from Felix "Abbedagge" Braun and 100 Thieves.
The NA squad grabbed a convincing win over LJL representative DetonatioN FocusMe, with Abbedagge's Ryze being a key factor in chasing down retreating enemies and closing out team fights.
Securing their first victory of the Group Stage, 100 Thieves now holds a 1-1 record in Group B.
---
Abbedagge talks about his upcoming match with Faker
Prior to Worlds 2021, Abbedagge made rounds as a world-class mid laner when he was part of Schalke 04's miracle run in the 2020 LEC Summer Split.
For his outstanding efforts, casters and fellow players nicknamed him "Fakerdagge".
Now attending Worlds 2021 with LCS team 100 Thieves, the stars have aligned for Abbedagge to finally lock horns with none other than T1's legendary Lee "Faker" Sang-hyeok.
"I'm thankful to Riot for fulfilling the script," Abbedagge told Laure Valée during the broadcast interview. "It's my first time at Worlds and Faker made it as well. They obviously had to put us in the same group."
The 100 Thieves player shares his thoughts about Korean mid laners
The 100T player also mentioned that his mid lane competition in Group B are all Korean players.
Aside from Faker whom he has yet to face, Abbedagge has played against Edward Gaming's Lee "Scout" Ye-chan and DetonatioN FocusMe's Lee "Aria" Ga-eul.
"The best Korean mid laners are always really strong so it's definitely a challenge. This is the place where you can prove yourself and I'm looking forward to prove more that I belong here," he said.
---
---
The Worlds rookie wants to make NA proud at Worlds 2021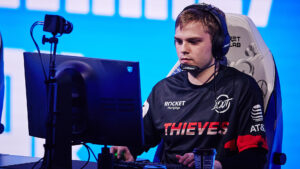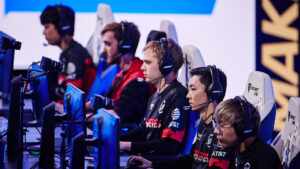 Gracing the Worlds stage for the first time in his career, Abbedagge shared that he has the usual "stage jitters" and is still adjusting to the new environment.
Regardless of his status as a Worlds rookie, the 100T player is looking to put himself on the map as a top contender.
"I'm confident that I'll perform well in the next couple of games. We want to make NA proud so it's important for us to all do well," said Abbedagge.
100 Thieves will face T1 on October 14 at 2 a.m. GMT+8 in Day 3 of the Worlds 2021 Group Stage.
Follow ONE Esports on Facebook for more League news, guides, and highlights.
READ MORE: Is Team Liquid's CoreJJ a huge Blackpink fan? Here's proof