After successfully pulling off its first global-scale Dragon Ball FighterZ –World Tour tournament, Bandai Namco Entertainment is already looking to do a second round.
The Dragon Ball FighterZ — World Tour 2019/2020, will run from end-June 2019 to early 2020 and kicks off with the CEO Fighting Game Championships on June 28.
The World Tour will feature three selection formats to pick the Top 16 players, with finalists competing for the crown at the Dragon Ball FighterZ — World Tour Red Bull Finals in France.
The first format will select players who have collected the most points during the World Tour at Saga and Tenkaichi events. Notably, there will be more Tenkaichi events as these are offline tournaments. 12 spots for the finals are open for gamers who prefer to compete in this ranked system.
The first Tenkaichi event will be the aforementioned CEO Fighting Game Championships. Gamers keen on participating can register here.
As for the second format, it consists of the three Saga Events that will take place at EVO, Dragon Ball FighterZ — World Tour Red Bull Saga Spain, and Dragon Ball FighterZ — World Tour Red Bull Saga Japan. All three are winner-takes-all events, granting the champ a spot in the finals.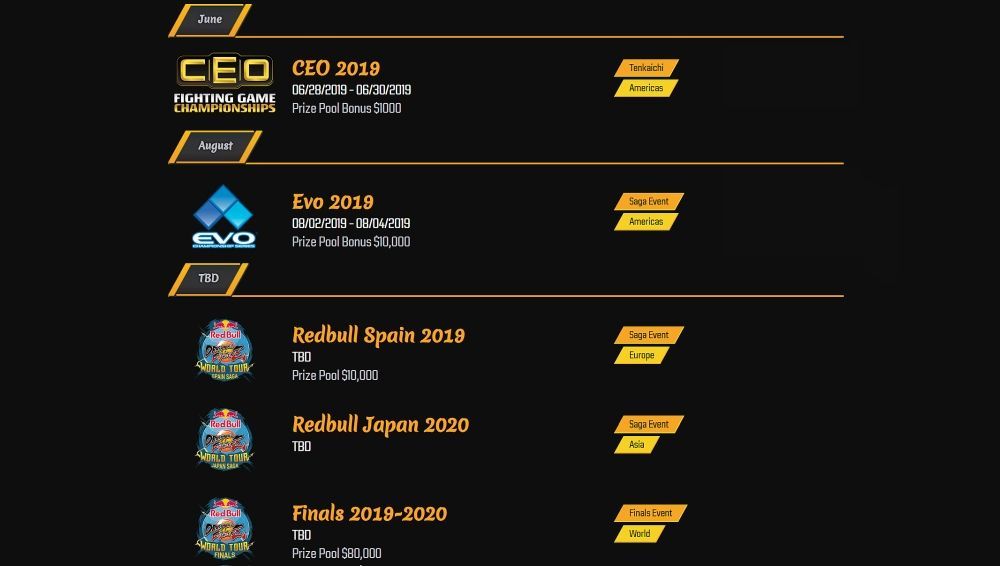 Gamers who missed out on the first two can still compete for a single spot in the Finals during the Last Chance Qualifier. This match-up will be hosted in France, one day before the Grand Final.
More details will be coming out soon, specifically on other Tenkaichi events.
READ ALSO: Shang Tsung player CaptainFluffles wins Thaiger Uppercut's MK11 event