Participating anew at the International Consumer Electronics Show (CES) 2020, Intel showcased a number of next-gen hardware at its Performance Workshop. Among them is the highly anticipated new entry for its compact, but powerful "Next Unit of Computing" (NUC) line — the Intel Ghost Canyon NUC.
Officially named the Intel NUC 9 Extreme, the Ghost Canyon NUC is next in line for Intel's concept designs for high-performance micro- or mini-tower PCs. The NUC line was originally introduced in 2012 and were originally based on the 2nd-Gen Intel Core (Sandy Bridge) chipsets.
Following the previous-generation Skull and Hades Canyon NUCs, Ghost Canyon is opting to do things differently. This primarily revolves around introducing an important re-design for the innovative product line. Key to this is the more modular design it uses, offering power users plenty of opportunities to upgrade.
Unlike previous high-performance Intel NUC entries that come in a ultra-slim micro-tower, the Ghost Canyon features a larger form-factor and full-sized backplane. The unit itself looks more like an external GPU accelerator than a tower.
The Ghost Canyon NUC's 5-liter chassis can accommodate an 8-inch, desktop-class GPU. There's also room for high-performance RAM and advanced compact cooling systems.
With this design, Intel is introducing a truly customizable high-performance system for mini-PC enthusiasts. It's a promising idea for gamers who don't want to be confined to oversized desktop PCs and laptops to enjoy high-spec performance. (In contrast, the original NUC right up to the Comet Lake-U range were meant for daily computing tasks.)
---
---
That's not to say that the base specs aren't already impressive. Intel managed to pack in the 9th Generation Intel Core chipset (up to i9-9980HK processor — 8C/16T) and a mainboard that comes with:
Dual-Channel SODIMM DDR4-2666+ RAMs (up to 64GB)
2x M.2 NVMe slots
1x Intel Optane port
1x PCIe x16 slot
Mixed I/O ports array: 2x Thunderbolt 3 ports, 2x Intel Gigabit LAN jacks, 1x HDMI 2.0a input, 1x SDXC slot, 4x USB 3.1 Gen2 connectors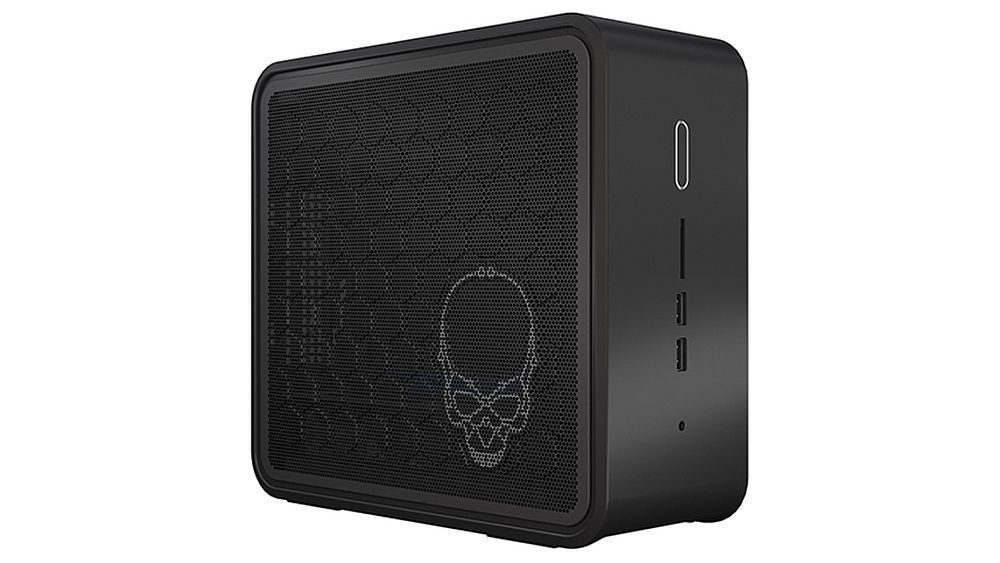 The Ghost Canyon NUC system is available as a complete kit, as well as only the Compute Element, which integrates the essential CPU, memory, and storage components in one removable piece.
Learn more about the Intel Ghost Canyon here.
READ MORE: Asus debuts the ROG Swift 360Hz, a crazy fast gaming monitor, at CES 2020