The OGA Dota PIT Minor is quickly turning into an unpredictable event.
Indonesian team Boom ID gave us one last upset against Ninjas in Pajamas before the playoff round, while Alliance and RNG advance as favorites of the tournament, with both teams going 3–0 during the group stages.
In game one, NiP's Enigma pick trumped BOOM's Tidehunter which helped them win most of the team fights. But in game two, BOOM went with the Dragon Knight-Lifestealer combo, which stumped NiP and tied the series. BOOM fired on all cylinders in the final game, as they breezed through NiP's defenses and took an upset victory.
Alliance versus Majestic in Group B was a highly anticipated matchup as both teams had shown strong performances in the first two days of the group stages.
Majestic managed to pull off their "Sven with a Hand of Midas strategy" in game one; while in game two, Alliance fought back with a Storm Spirit-Lifestealer combo which proved successful.
The third game, however, had Majestic on the back foot for the duration of the match as Omar "Madara" Dabachach's Morphling saw little pressure during the early game and proceeded to torment enemy support heroes with a quickly farmed Ethereal blade, giving Alliance the win as well as top spot of the group.
Gambit's dismal performance continued, with them failing against RNG despite managing to take the second game off the Chinese team. The CIS team managed to erase a 14,000-gold lead from RNG and did better in team fights.
Game three looked promising as well, with Gambit poised to claim their first series win, having lead for the majority of the match. This was until RNG kited and finished off Gambit's core heroes, Ursa and Templar Assassin, claiming the victory and Group A's top spot.
The last series of the day had EHOME battling FWD. Despite Arif "MSS" Anwar's amazing Rubick performance, stealing multiple ultimates throughout the match, EHOME's Wraith King-Omniknight combo outlasted their North American rivals, finally winning at the 57-minute mark in game three. EHOME took the series, 2-1.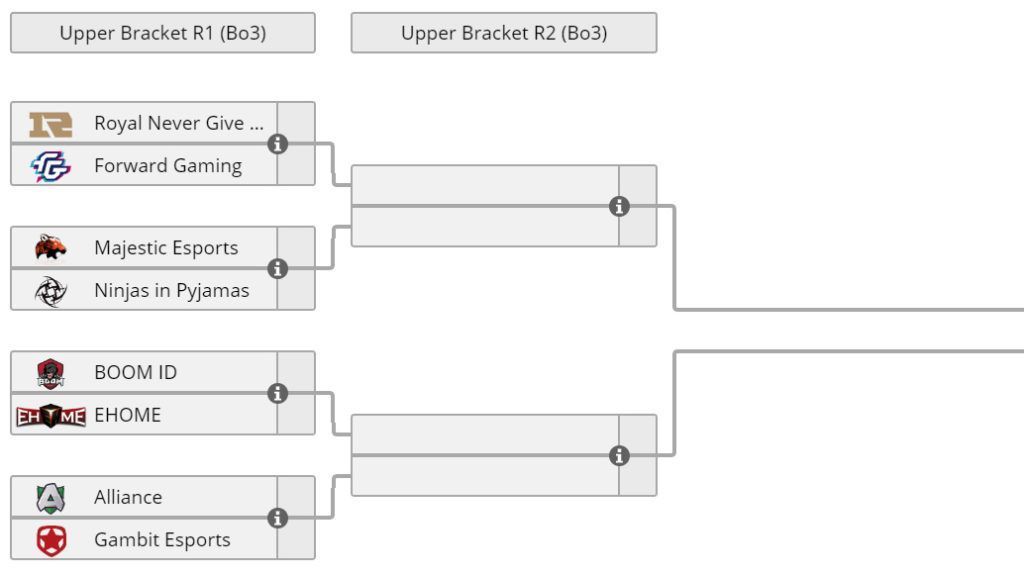 With the group stages over, we have our playoff bracket set, games start on April 25 and will be streamed here.