Streamer Zack "ZLaner" Lane recently tested out the new C58 class in Call of Duty: Warzone.
His favorite weapon, the CR-56 AMAX, now packs less power after a series of nerfs. And so, the controller god went looking for a solid alternative in the long-range assault rifle category.
While the FARA 83 stands as a popular pick for having no recoil, ZLaner stuck with the C58 for its striking similarities to the AMAX. The streamer labeled it as a Cold War version of the AMAX that mimicked its recoil pattern.
Details of ZLaner's C58 class in Call of Duty: Warzone
ZLaner showcased the C58 class as a damage-heavy AR that can take out opponents from any distance.
As for the C58 class attachments, the STANAG 55 Rnd magazine allows players to reload faster as if they have the Sleight of Hand perk. The magazine also provides 10 more bullets compared to the AMAX, giving you some leeway with your sprays.
The streamer slotted in an Airborne Elastic Wrap for added control, but also suggested trying out the Serpent Wrap if you need more mobility.
In the video, ZLaner was an absolute unit on the new Warzone AR, grabbing two victories with an average of over 20 kills and 6,500 damage.
---
---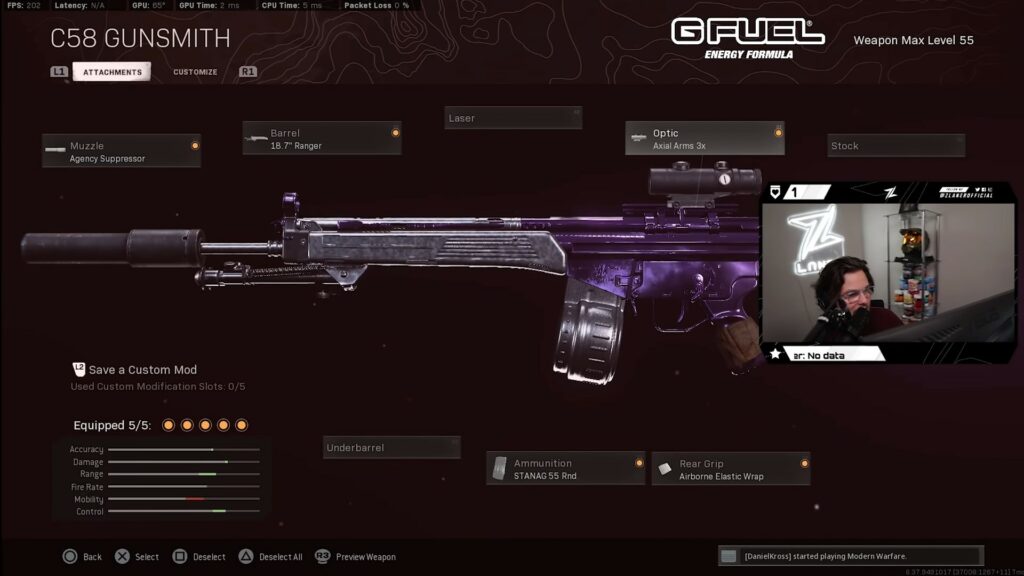 Here are the details of ZLaner's C58 class in Call of Duty: Warzone:
Muzzle: Agency Suppressor
Barrel: 18.7″ Ranger
Optic: Axial Arms 3x
Ammunition: STANAG 55 Rnd
Rear Grip: Airborne Elastic Wrap
To see Z frag out with the C58 assault rifle, check out his official video down below:
READ MORE: Is Cloakzy's LC10 class the most underrated SMG build in Warzone?