Streamer Tyler "TeeP" Polchow delivered the most insane highlight from the Twitch Rivals Call of Duty: Warzone Showdown NA.
Here's how TeeP slayed in the final minute of Warzone Showdown NA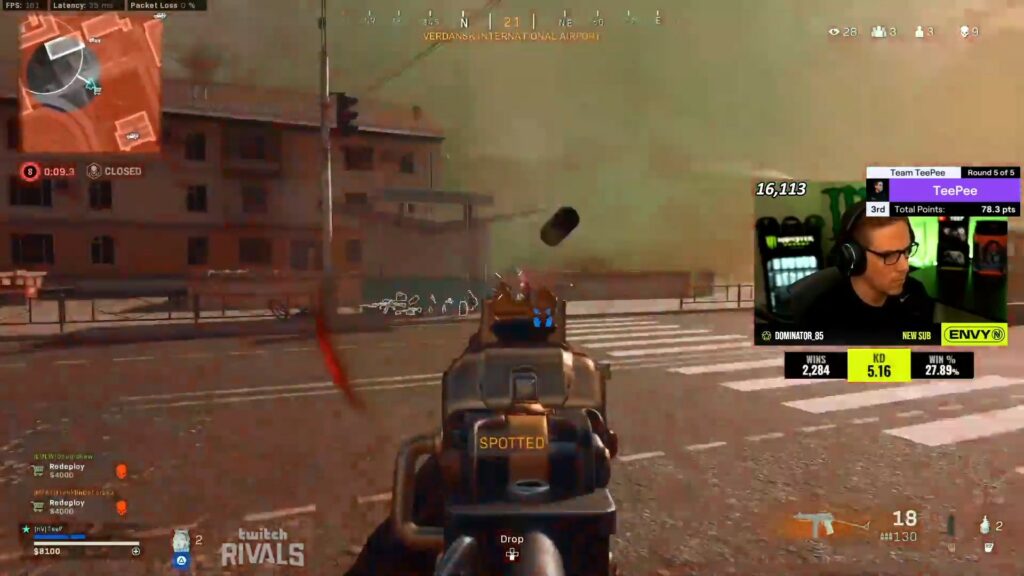 In a do-or-die final match, the streamer went on a 60-second killing spree around the grounds of Verdansk International Airport.
Despite being the last survivor of his team, TeeP wasn't afraid of frying opponents up close. The Envy streamer hopped out of an apartment building and snagged a double kill while taking fire.
---
---
TeeP added to his body count at the car dealership. Down to only 11 bullets in his OTs 9 submachine gun, the streamer was quick on his feet and managed to down an enemy operator at a doorway.
Even with one armor plate left, the looting streamer fought off an avenging teammate and picked up a flashy team wipe.
For his fifth and last kill of Warzone Showdown NA, TeeP went into a three-way standoff against Ean "Booya" Chase and another solo operator. With no choice but to enter the final circle, the streamer threw two hail mary stun grenades to his remaining opponents.
He caught sight of the grounded operator and perfectly sprayed for his fifth kill before getting eliminated by Booya.
His incredible display of skill in Verdansk bumped his team up to second place in the Warzone Showdown NA, claiming a cash prize of US$12,000.
READ MORE: Team Swagg wins Warzone Showdown NA in a nailbiting final game