The ONE Esports Warzone Heroes Showdown was a thrilling display of battle royale action as 17 of Southeast Asia's top streamers duked it out on the brand new Call of Duty map, Caldera.
While Alita Zunic and Tisay Gaming rose as the champions of the two-day Call of Duty Warzone event, the 15 other contenders had standout moments that showcased their skill and creativity on the Pacific map.
Here are the five best plays from the ONE Esports Warzone Heroes Showdown.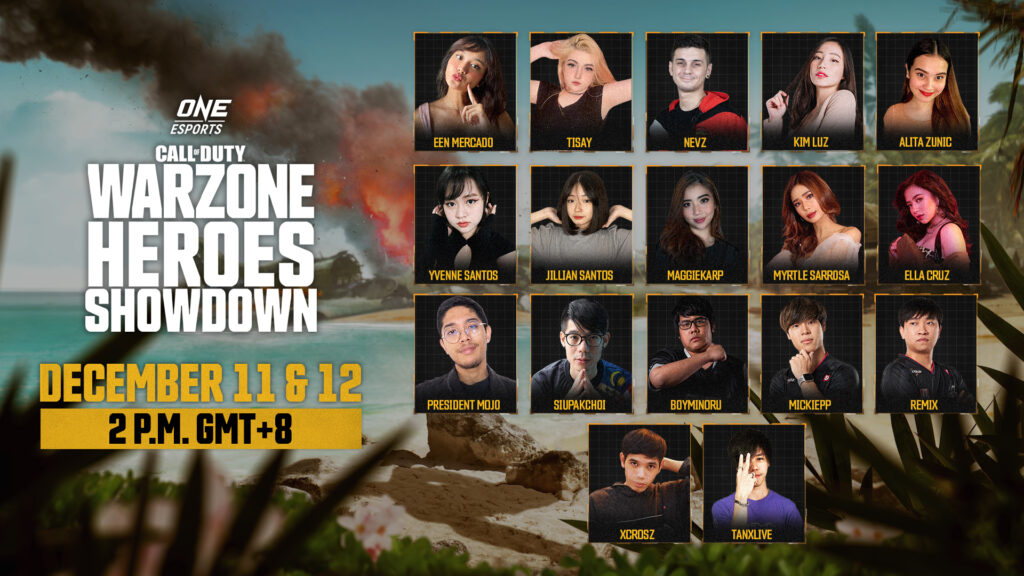 5. Streamer Nevz mounts up for a beam
As a brand new map with a Pacific theme, Caldera might be hard to navigate for Verdansk natives, but Filipino streamer Nevz was already finding the best vantage points.
In one village skirmish, Nevz took to the second floor of a building and mounted his EM2 on the corner of a window. Though a passing enemy hid amongst the foliage, Nevz immediately lit the target up with his Combat Scout perk and beamed them down for the elimination.
4. Jillian Santos takes the final frag for the victory
Streamer Jillian Santos has an eagle eye over Caldera's brighter and scenic landscape.
Looking to pad out her score with a few more kills, Jillian Santos went on the offensive and locked onto an opponent hiding between huts. The longshot elimination was actually the final frag that claimed the Warzone victory for Jillian Santos' squad.
3. Ella Cruz is a Combat Bow expert
Rifles and SMGs are prime choices for Caldera's Call of Duty meta, but how about Combat Bows? In this highlight, Ella Cruz goes full Rambo to avenge her fallen teammate.
Jumping through a window and finding the right angle on a hill, Ella Cruz pulled out her Combat Bow killstreak and landed a pinpoint arrow that destroyed the retreating enemy.
---
---
2. SiuPakChoi finds two live targets at the firing range
Despite being nicknamed the Asian Sniper, Malaysian streamer SiuPakChoi got up close and personal with an enemy duo at a firing range.
Under fire from two different angles, SiuPakChoi charged the first enemy with a spot-on spray and found cover behind the target panels. He then plated up and dueled the enemy teammate for a flashy double kill.
1. Myrtle Sarrosa rocks the Panzerfaust at the ONE Esports Warzone Heroes Showdown
Warzone Showdown veteran Myrtle Sarrosa brought an explosive presence to Caldera. Literally.
During one of her runs, Myrtle found herself in a tense looting situation with an enemy operator. Instead of just eliminating her target with a shotgun, the streamer wanted to frag out in true Vanguard fashion.
Myrtle picked up a Panzerfaust launcher and took point inside the bathroom. As the door opened, Myrtle shot the rocket straight into her target, securing one of the best eliminations in the entire tournament.
Follow ONE Esports on Facebook for more Call of Duty news, guides, and highlights.
READ MORE: Tisay Gaming wins Day 2 of the ONE Esports Warzone Heroes Showdown