Talon Esports RoV's jungler Aum "Happy" Chatchanapong has opened up how he feels about Peerawat "MOOP" Piachart, the newest and youngest player to join the team.
Here's what Talon Esports RoV's Happy has to say about MOOP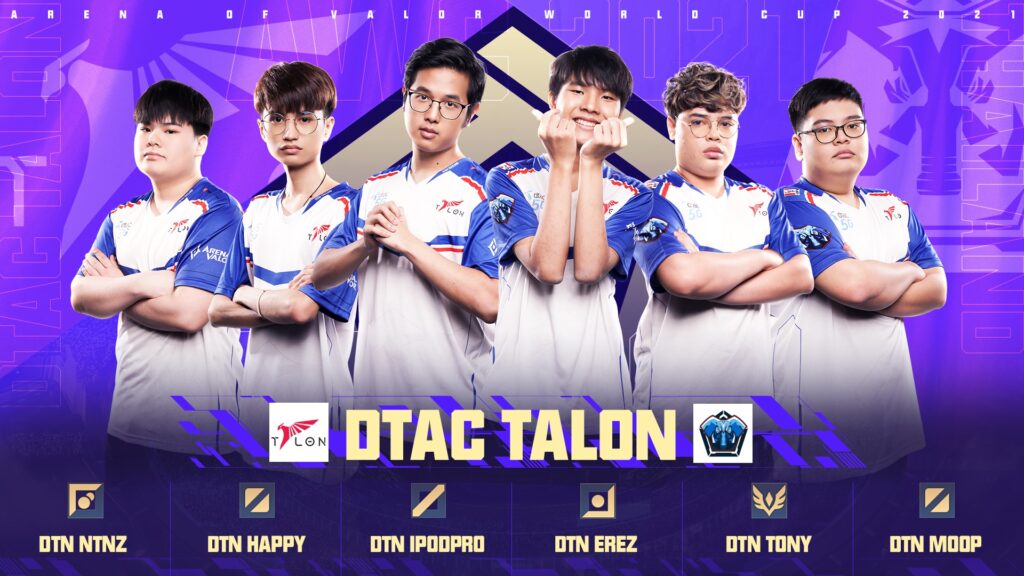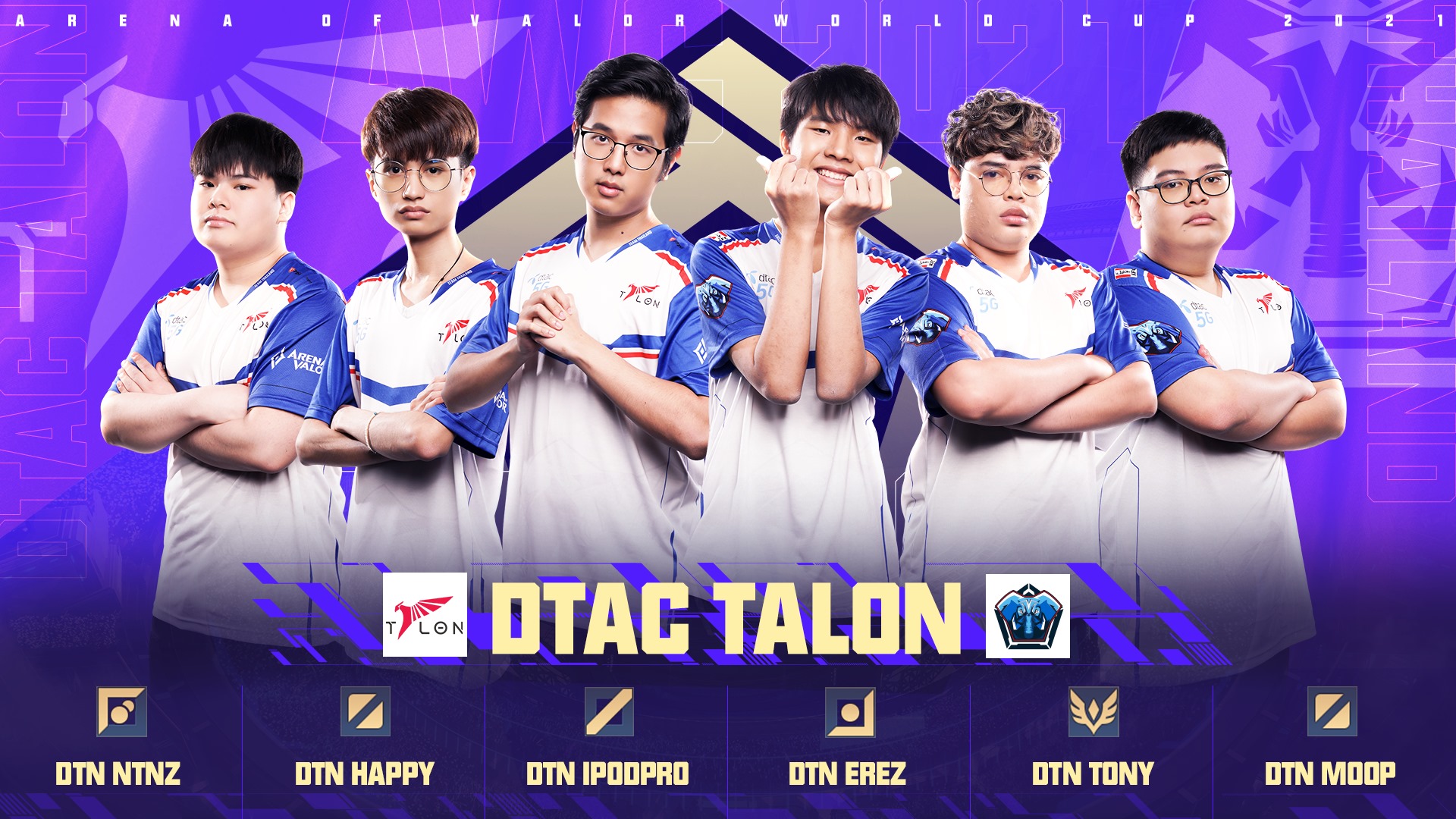 Talon Esports Realm of Valor's (RoV) Happy was unsure about MOOP at first, but he eventually learned to trust the newcomer. The entirety of the Arena of Valor World Cup (AWC 2021) became a turning point for him to build a special bond with his fellow jungler.
When the team started their journey during the AWC 2021 qualifiers, Talon Esports RoV (also known as dtac Talon) already knew how to navigate thje meta. The Thai team dominated the qualifiers and secured the Wildcard slot.
"Coach Linkou would sometimes substitute me for MOOP during the competition," said Happy. "We both did a very good job, which qualified us for AWC."
Talon Esports RoV Happy admitted that he was not used to working with the young player. However, as the two prepared for the big competition, they became closer.
"I'm glad he came to be part of the team," said Happy.
Talon Esports RoV's coach wanted Happy to play more than 75% of the AWC Grand Final series. However, after hearing MOOP's desire to play, Happy himself suggested to equally split the grand final participation with MOOP.
"I decided that I would not play more than three games in the series," shared Talon Esports RoV Happy. "If you have noticed, MOOP took over majority of the games. He did a better job than me at AWC 2021."
Happy also confessed that his form has dropped coming into the competition. He used to play very aggressive, risky heroes back then.
"I feel quite lucky to have him on the team," said Happy. "It's like winning the lottery. He carried a lot throughout the tournament which brought the team to the grand final."
"I'm glad, brother," said Happy to MOOP. "You entered the league for the first time and ended not as a Thai champion, but a world champion. Thank you, MOOP."
---
---
dtac Talon Esports are your AWC 2021 champions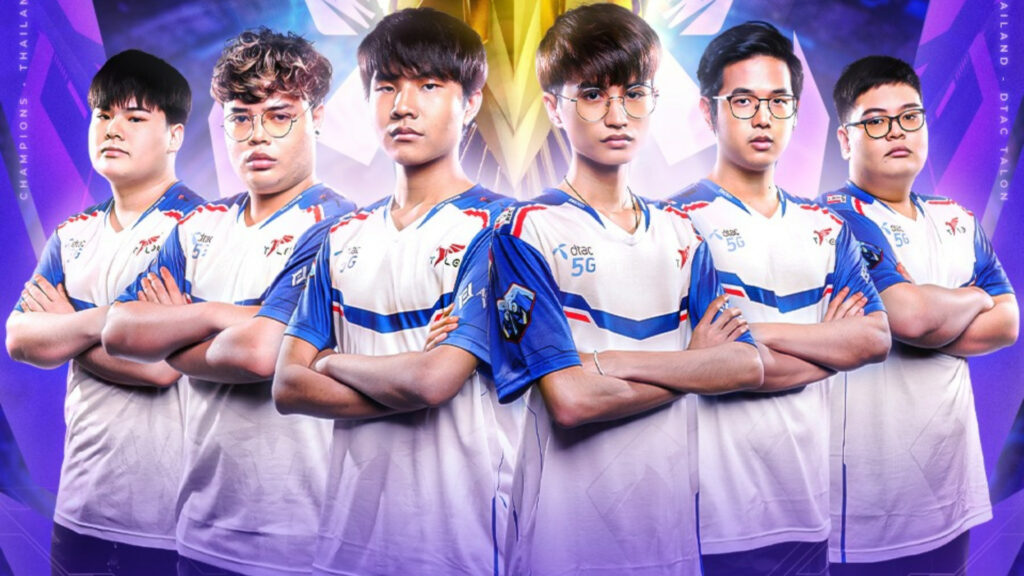 dtac Talon is the first Thai team to be hailed as AWC champions. They faced off Garena Challenger Series (GCS) representatives MOP Team in a best-of-seven Grand Final.
MOOP was highly criticized during the series because of his poor form at the start. However, in the final game, MOOP stole the show by pushing three towers in a row, ending the series with a 4-3 victory.
dtac Talon Esports is also the only team at AWC 2021 that has not lost to anyone, series-wise. They had a near-perfect Group Stage run with five wins and one draw, a flawless Knockout Stage with three wins, and an epic grand final win.
The team will receive US$200,000 (roughly TH฿6.5M).
READ MORE: dtac Talon Esports are your AWC 2021 champions, bags US$200,000