Overclock e-Sports has thanked Arena of Valor fans for their overwhelming support during AWC 2021.
Despite high ping problems, Overclock e-Sports continues to fight
The Arena of Valor World Cup (AWC) this year is played online, which poses a huge problem for Brazilian team Overclock e-Sports, the only team based outside of Asia. The team has been playing in a high-ping environment, experiencing extreme lag up to 500 ms.
Overclock e-Sports lost all their series in the Group Stage, including their record-breaking match against dtac Talon where the latter finished Game 2 in less than five minutes.
---
---
Fans began to sympathize with Overclock after their back-to-back losses, leaving the hashtags #RespectforBrazil and #RespectOC on the team's social media posts.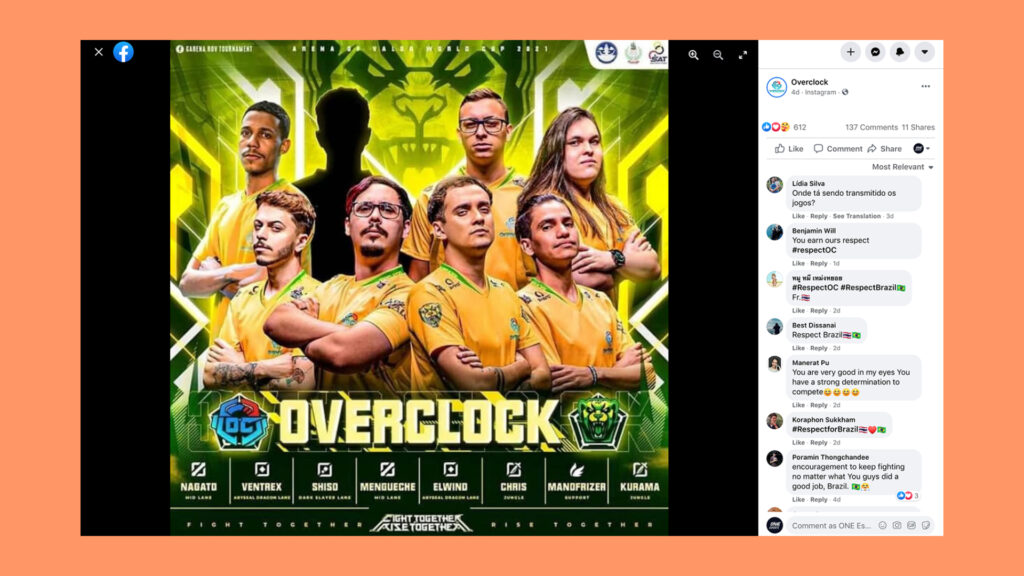 The admins responded to the influx of positive comments by posting a short message of gratitude to all Arena of Valor fans.
"Thank you for the support of all the regions that understand and follow our difficulty during the game," Overclock commented on their Facebook post. "We appreciate the support and affection on behalf of Brazil, the fight does not stop and we will keep fighting. If we fall we will fall hitting."
During the 2020 Arena of Valor International Championship (AIC), the Brazilian team experienced a different kind of technical difficulty even before the competition started. The team was forced to withdraw from the tournament due to travel issues under the COVID-19 pandemic.
READ MORE: Former EXO member and Chinese singer Z.Tao is now an esports co-CEO