With schools around the world gradually reopening from COVID-19 lockdown, students everywhere are once again forced to don their school uniforms as they head to class.
With this in mind, we're taking a closer look at some school-themed skins from Riot Games' multiplayer online battle arena title League of Legends (LoL) and Tencent Games' Arena of Valor (AoV) to remind you that uniforms don't always have to be about studying hard.
---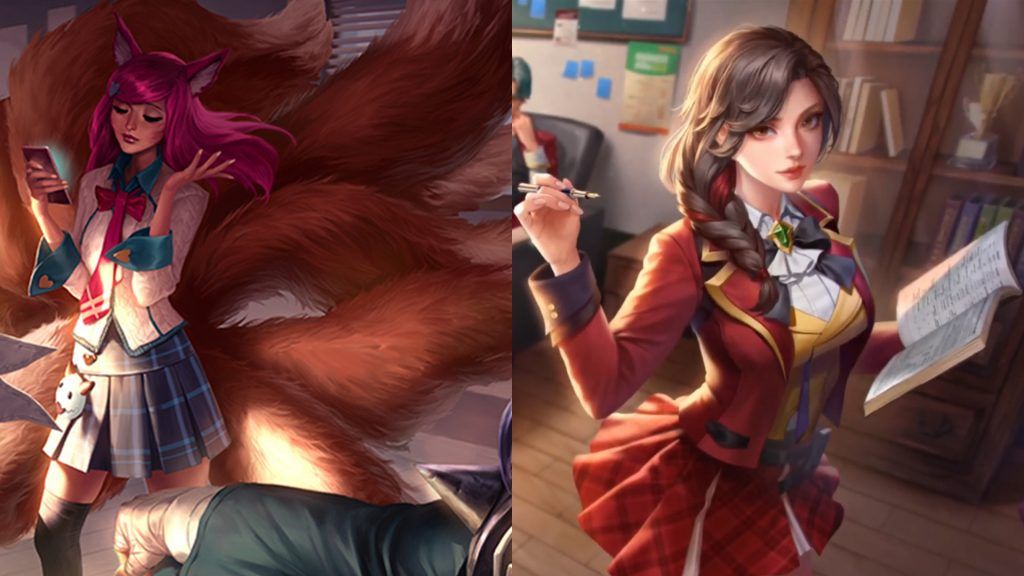 Academy Ahri (LoL) vs Treasurer Astrid (AoV)
Yes, the charming nine-tailed fox Ahri goes to school! She is quite the rebellious student, however, as she sports a bright pink hair and uses her mobile phone even during classes. Can she charm her way out of detention?
Meanwhile, the warrior Astrid looks meek and timid in her school getup. Her red and gold uniform really suits her, and her braided black hair (with a small section dyed to red) adds up to her image as a disciplined student. Astrid takes care of the student body's finances by day, and transforms into a cool swordsman by night.
We totally appreciate your efforts as a member of the student council, Astrid. You get our vote!
Winner: Treasurer Astrid (AoV)
---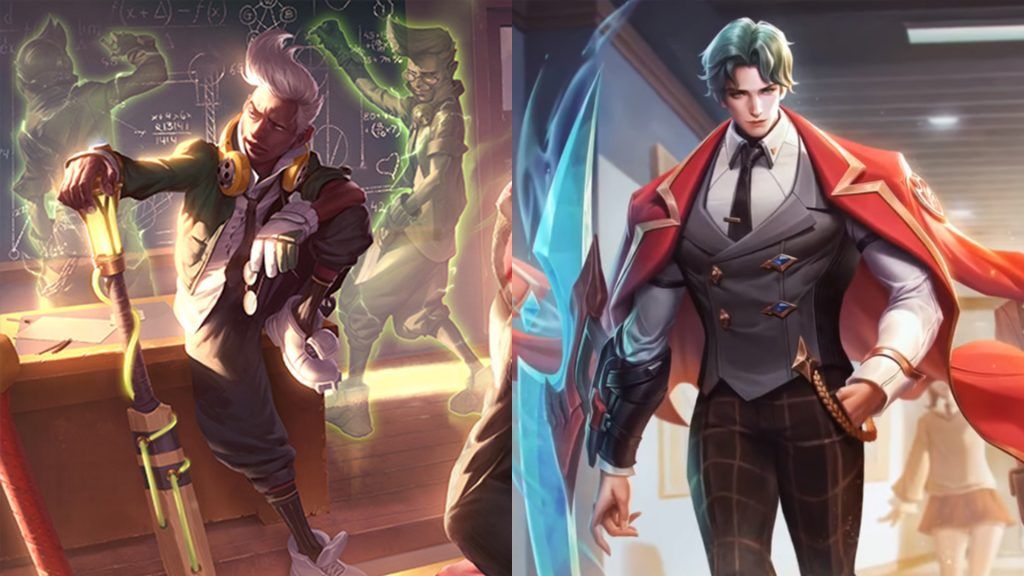 Academy Ekko (LoL) vs Student President Quillen (AoV)
The time-traveling Ekko looks like a fresh student with hip tastes, opting to pair white rubber shoes with his uniform. It also seems like he listens to music a lot with his yellow headphones dangling from his neck. Despite being a genius boy, Ekko sure spends a lot of his time creating mischief through vandalism on the blackboard.
His total opposite, Quillen, looks prim and proper in his attire. As the student president, a part of the school looks up to him to lead and represent the student body. If there are lawbreakers in the hall, let's just say they'll get a taste of Quillen's purifying blade.
Ekko's getup somehow says school is cool, and we're totally digging it!
Winner: Academy Ekko (LoL)
---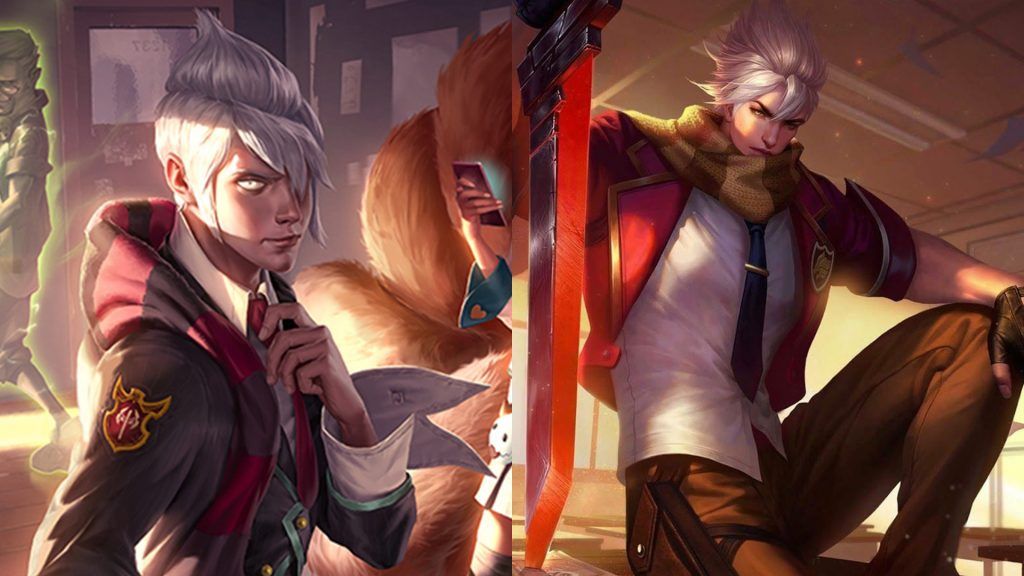 Academy Vladimir (LoL) vs Prep School Murad (AoV)
The Crimson Reaper, Vladimir, has been transformed into a pale-looking boy who looks like he spent all his morning preparations with his hair gel. His striped red and black scarf makes his silver hair stand out even in the middle of a busy cafeteria during recess.
Meanwhile, the wandering hero Murad ditches his face mask and wears a look very much similar to Vladimir — a yellow and brown striped scarf, with tons of gel to hold up his hair.
Our verdict? Murad and his hair styling product takes this round!
Winner: Prep School Murad (AoV)
---
---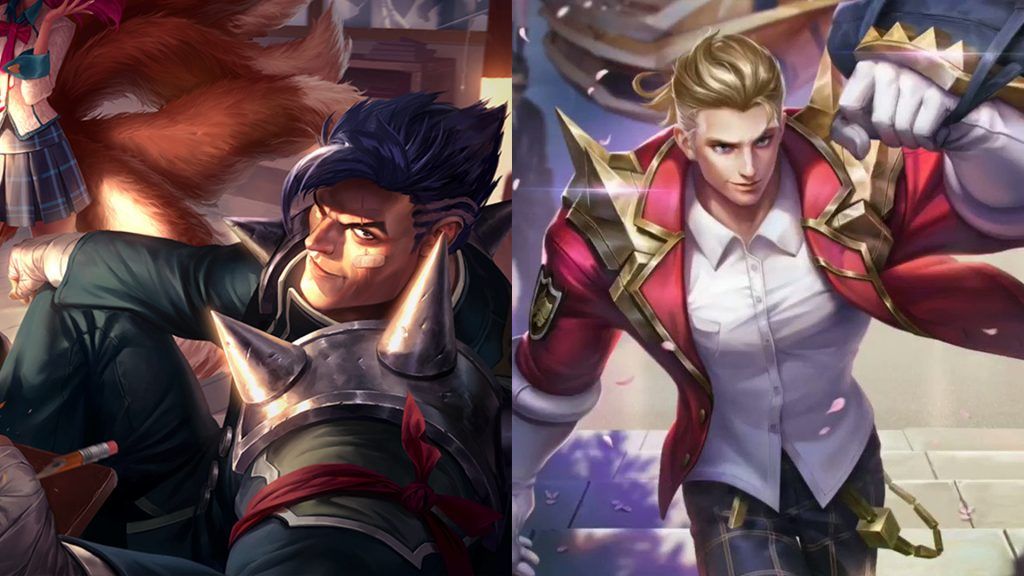 Academy Darius (LoL) vs Upper Class Gildur (AoV)
Are spiked shoulder pads allowed in schools?
The Noxian warrior Darius looks tough and buffed in his navy blue hair with a playful undercut on the side. The adhesive bandage on his left cheek tells us that he is either involved in multiple fights or he's just experiencing some unwanted teenage acne.
On the contrary, old man Gildur looks youthful, spotless, and sleek with his golden hair brushed up. It matches the color of his spikes as well as the knuckle rings attached on each of his fists. Shouldn't those be confiscated?
We are totally against violence and bullying in school, but Gildur absolutely rules the jockland with his getup.
Winner: Upper Class Gildur (AoV)
---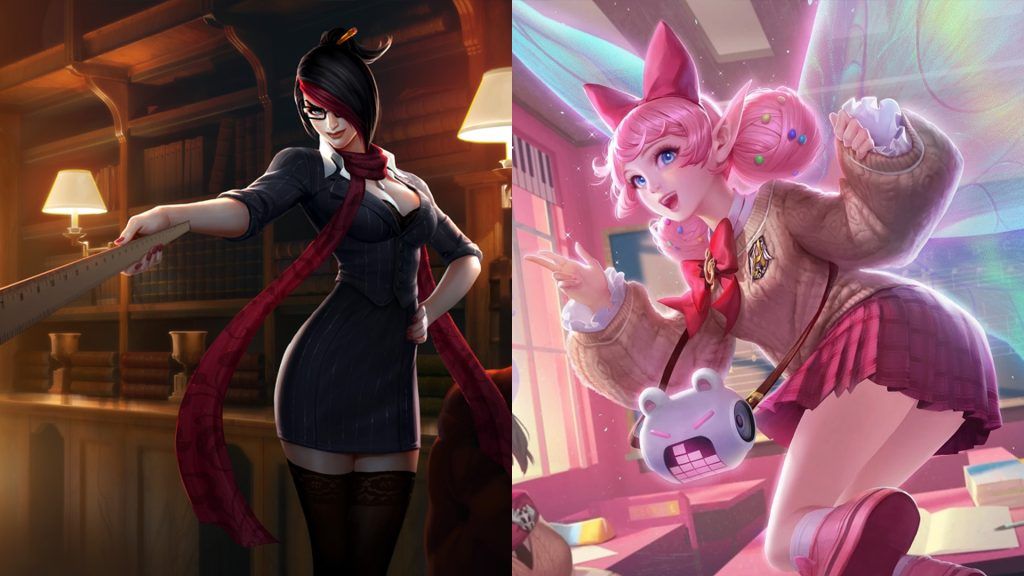 Headmistress Fiora (LoL) vs Class Skipper Krixi (AoV)
Troublemakers will surely tremble at the sight of Headmistress Fiora, the one in charge of upholding the school's code of conduct. Everything about her spells terror, including her intimidating red scarf paired with a section of her hair in the same color. Headmistress Fiora's weapon of choice for inflicting discipline? A meter stick.
Meanwhile, the frisky Krixi might look adorable in her beige pullover on top of her uniform, but really she is ready to go out and have some fun outside the campus! Where will her wings take her?
Unfortunately, no one gets past Headmistress Fiora's sight, especially a class-skipping pixie.
Winner: Headmistress Fiora (LoL)
---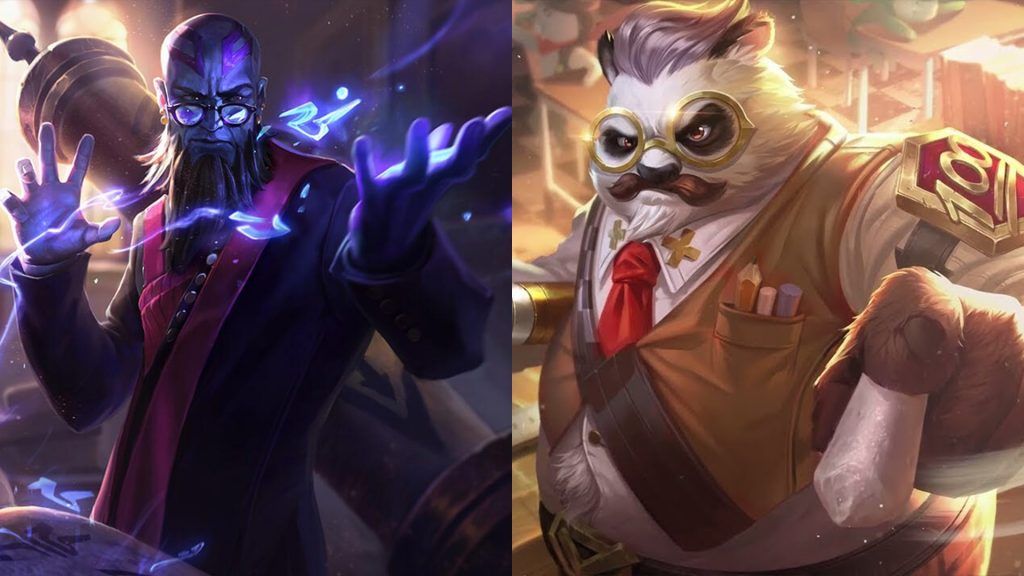 Professor Ryze (LoL) vs Principanda Zuka (AoV)
It's a battle between school heads in our last round!
Professor Ryze stands proud in a red and black suit while carrying his iconic giant scroll on his back. He teaches a course on magic titled Runic Sigils 101, and has published a recent edition of his coursebook named "Runic Sigils & Hidden Magic [17th edition]."
Meanwhile, Principanda Zuka rules the students and school staff with a giant pen at his disposal. He also wears golden spectacles that emphasizes his dark panda eyes, a sign of restless nights in preparing academic presentations and school documents perhaps?
Professor Ryze and his new coursebook is our winner, hands down!
Winner: Professor Ryze (Lol)
Final score: LoL 3 – 3 AoV
READ MORE: Ranking every skin in League of Legends' new Spirit Blossom line