Taiwanese team Flash Wolves has just bagged the Arena of Valor Premier League (APL) 2020 Championship defeating Buriram United Esports in the grand final.
The best-of-seven global ban pick game ended in a nailbiting 4-3 score with Flash Wolves mid laner, Yu-Yan "Gaduo" Su, in tears after the intense match.
"I would like to thank my teammates and also the coach Lantur, and also the staffs, and all the fans," said Gaduo during the APL Award Ceremony.
---
---
Game 1
Fans witnessed a close opening match between the two teams, with Sanpett "F1" Marat's Lindis taking the first blood. Buriram United Esports' draft was better suited for the late game, and Watchranun "Summer" Thaworn's Omen attested to this by performing a quadra kill around the 15-minute mark. Flash Wolves tried to defend their base but the Thailand team was just unstoppable at this point. Buriram United Esports grab the first score 1-0.
Game 2
Buriram United Esports entered a winning streak and absolutely stomped Flash Wolves. The former took down five towers before destroying the latter's core in just 12 minutes.
Game 3
Flash Wolves began to pick up their pace in game three, with jungler Tseng-Yung "Kato" Chun's Nakroth leading the team to victory. The team also snagged three abyssal dragons which greatly helped them push for Buriram United Esports' base.
Game 4
The Taiwanese team became even more aggressive and merciless in game 4 as they tore down all of Buriram United Esports' nine towers. Flash Wolves finished the match with a huge 10,000 gold lead to tie the series with a 2-2 standing.
Game 5
Buriram United Esports decided to pull out Summer and send in Siwa "JOMMy" Noomai as the Abyssal Dragon lane player for the fifth match. This change immediately provided good results for the team as they took the lead again after game 5. JOMMy's Roxie pick was hailed as the most valuable player (MVP) of the game.
Game 6
Flash Wolves' mid laner Chi-Kang "XiXi" Chuang scored the first blood using the hero Ignis. Then they proceeded to kill the Dark Slayer on the top lane.
While a fight was brewing on the mid lane by the 22-minute mark, Hsing-Cheng "Heroes" Lu's Qi made a run for Buriram United Esports' exposed nexus. His successful backdoor granted Flash Wolves a win and tied the game 3-3.
Game 7
For the last game, Buriram United Esports swapped out JOMMy and brought back Summer. It resulted to very close match between the two teams, but Flash Wolves' decisive play style earned them the APL 2020 championship title.
This was the first AOV championship for the Flash Wolves, taking home US$160,000 (TH฿5 million) for their international win after defeating 13 other teams. Heroes bagged US$5,000 (TH฿160,000) for being the FMVP of the tournament.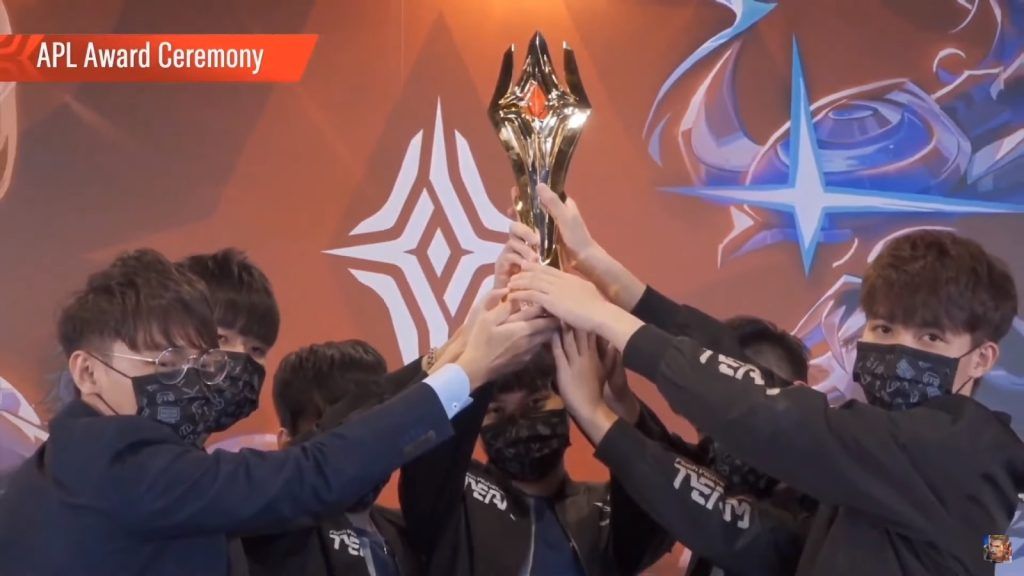 READ MORE: Arena of Valor Beginner's Guide: Tips and strategies everyone should know