Summer is upon us and even the characters from Arena of Valor (AoV) are taking the opportunity to soak up some sun rays at this year's Summer Bash event. As it turns out the two most powerful mages in the game, Lauriel and Annette have wasted no time at all to don their unique outfits to mark the occasion.
The mage/assassin Lauriel will be rocking a stunning new mermaid-inspired swimsuit this year. She is on fire this year with fiery red hair complemented by an elegant seashell bikini. Even her trademark wings have undergone a makeover, looking more fin-like in appearance.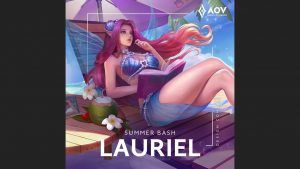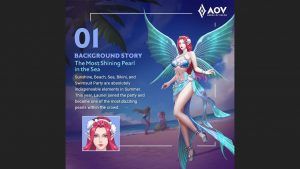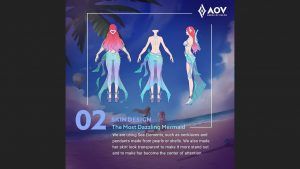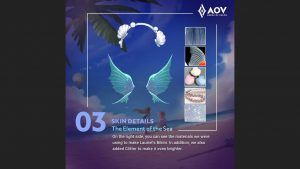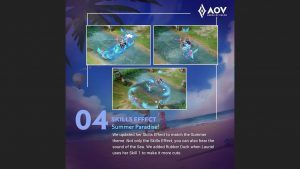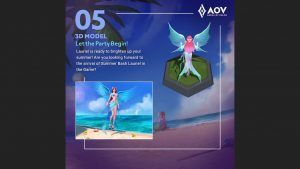 But don't let her appearance fool you, this beauty is deadly on the battlefield. Highly mobile and able to deal damage to foes, Lauriel's Divine Punishment, passive ability is stackable and deals a lot of damage when triggered. She is also very durable as the same ability regularly restores life the more she applies marks on her foes.
Her skill effects have also been updated to match her summer theme. Hear the roar of the ocean whenever she casts spells. Also, hear your opponents groan in despair when she unleashes her cute rubber duck upon them.
---
---
The support mage Annette is also sporting a cute yellow and green swimsuit for this year's Summer Bash event. There is no doubt that she is a big fan of rubber ducks as her staff features a massive yellow duck while her pigtails are also braided with two adorable ducklings.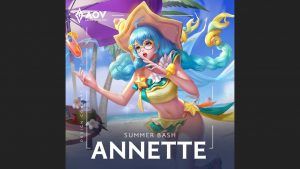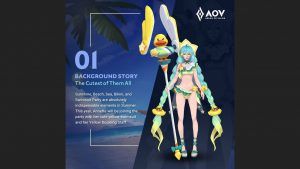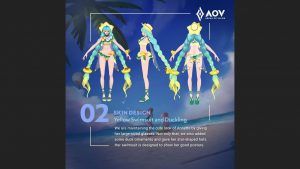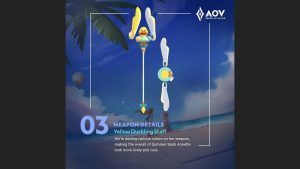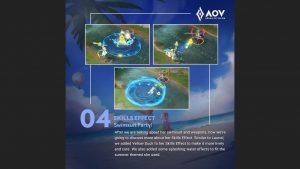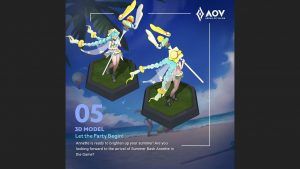 Though Annette is not a heavy damage dealer like Lauriel, she excels at controlling enemies, obstructing their movement and making them vulnerable for her teammates to sweep in for the kill. She is also very versatile, as her wind mage abilities allow her to switch between different roles on the fly.
Abilities like her passive Whisperwind, make her invaluable during team fights as she can restore health to herself and nearby allies when their HP falls below 70%. At the same time, her second skill Wind Cuffs is the main skill to slow enemies down. This works both offensively when aiding a teammate to score a kill or defensively when she needs to escape.
She is cute as she is deadly with cool skill effects that reflect the summer theme. Nearly all her skills feature water effects followed by a torrent of yellow rubber ducks that lay waste to anything in their path.
So what do you think of Lauriel and Annette's new summer outfits? Look out for them when AoV's Codex Season 20 kicks off.
READ MORE: Arena of Valor's Valhein hits the waves with new Shark Tamer skin