After receiving an overwhelmingly positive response from both fans of Tencent's mobile MOBA game Arena of Valor and the massively popular animated series Sword Art Online, the two franchises have announced that they are having another exciting collaboration. 
This time, the collaborative event will present various exclusive in-game items based on Sword Art Online's fourth main arc, Alicization – War of Underworld, such as Kirito and Asuna skins, emojis, player icons, and even dance animations.
Players will be seeing the latest Kirito and Asuna skins from Sword Art Online: Alicization – War of Underworld series to AoV. Both "Kirito" and "Stacia Asuna" skins will be coming soon.
The Stacia Asuna skin shows the main heroine of the series dressed as her avatar Stacia, the Goddess of Creation. Here she wears the same color palette, red and white, but with a longer skirt and a more regal look.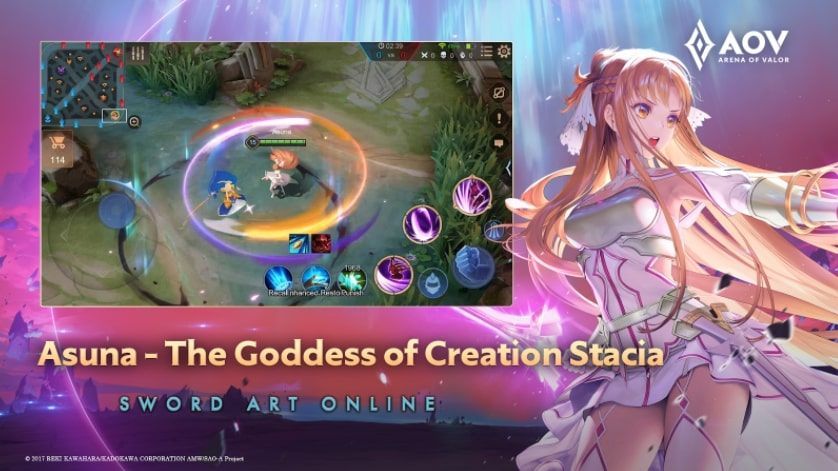 ---
---
In SAO Alicization, as soon as he defeated the Administrator, Kirito's mind became trapped inside a void after receiving a mysterious attack while communicating from the virtual world to the real world. 
Fortunately, he was able to recover with the help of his friends. With a stronger mind and a tougher heart, Kirito was able to change the course of the battle that previously seemed like a big disadvantage in the beginning.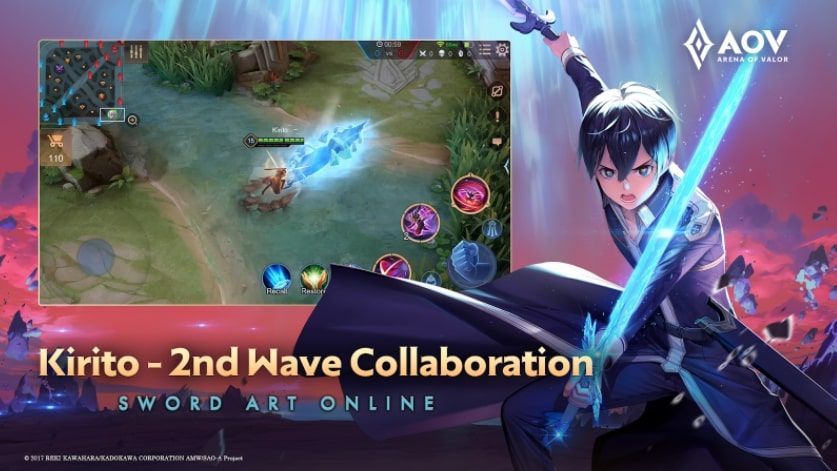 In this 2nd Wave Collaboration skin, Kirito's original skill "Starburst Stream" received a cooler look and design. If Kirito uses the Death at Sunset skill followed by the Starburst Stream skill using his two newest swords (Night Sky Sword and Blue Rose Sword), players will be able to see the beautiful blue light effect changes on his last sword slash.
The first AOV x Sword Art Online collaboration last June featured two skins "The Black Swordsman Kirito" and "Asuna's Lightning Flash" for heroes Allain and Butterfly.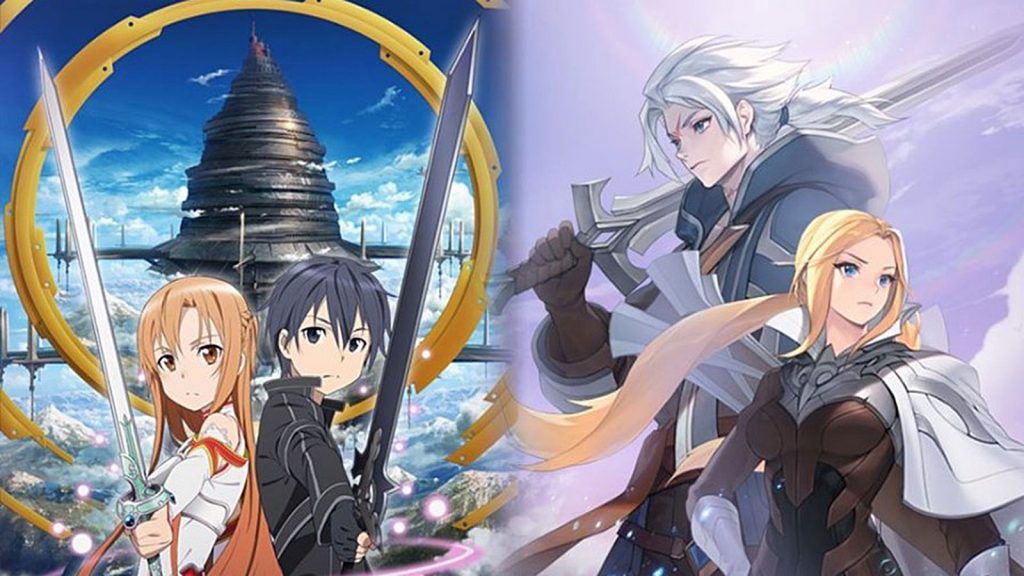 Maloch, the king of darkness, doesn't want to be left behind to celebrate the latest AoV x Sword Art Online Alicization collaboration. To add excitement to the limited-time event, all players can get the Maloch Sweet Dreams skin for free by completing missions in the game.
Arena of Valor's Sword Art Online Alicization event is now live on the Baratayuda server as well as on other Southeast Asian servers.
READ MORE: Arena of Valor International Championship 2020: Everything you need to know