Blizzard has revealed detailed plans for major changes coming to the Overwatch League next season.
Instead of just two divisions, the league will instead be split into two conferences, with each conference having two divisions: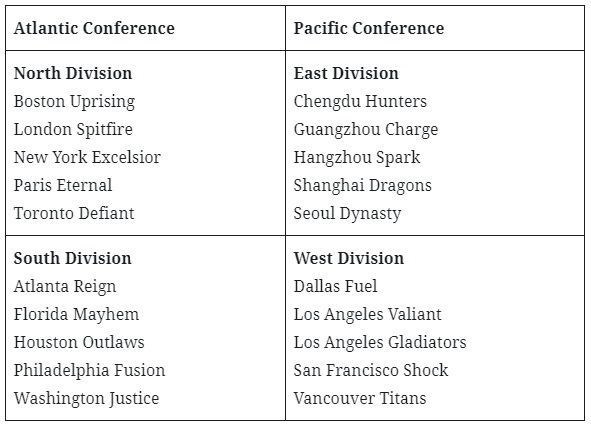 The main reason for this is to facilitate the league's new traveling format.
The Overwatch League will no longer be hosted at the Blizzard Arena in Burbank, California. Instead, each team will host two Homestands at their home arena, with the rest of the teams in their division, as well as some out of division guests, traveling there for the weekend. Teams in each division will also collectively host three additional regular-season events in their home territories.
This means that league games will be played in at least six different countries and across three continents next season.
The season will still be played from February until August, and each team will still play 28 games, but there will no longer be individual stages or stage playoffs. There will still be a short mid-season break for the All-Star game.
You can read Blizzard's full update on the 2020 changes here.
READ MORE: Redemption: How the Shanghai Dragons went from 0-40 to Stage 3 champions