In the final match of the MPL SG/MY Season 5 regular season, EVOS SG upset Resurgence in a thrilling best-of-3 series, shattering their hopes for a perfect season.
With an 8-1 record, Resurgence still remain at the top of the table, followed by Geek Fam and EVOS SG.
Coming in fourth is Team Bosskurr, who climbed up two spots after going 3-0 this week.
---
Week 5 results
Orange Esports Reborn 0 – 2 Geek Fam
Todak 2 – 0 Axis Esports
Team SMG 1 – 2 Todak
Orange Esports Reborn 1 – 2 Team Bosskurr
Team Bosskurr 2 – 0 Notorious Villains
Axis Esports 0 – 2 Resurgence
Orange Esports Reborn 2 – 1 Siren Clan
Resurgence 2 – 0 Notorious Villains
Geek Fam 2 – 0 Notorious Villains
Team Bosskurr 2 – 0 Siren Clan
Todak 1 – 2 Orange Esports Reborn
Resurgence 1 – 2 EVOS SG
---
Match of the week: Resurgence vs EVOS SG
With both RSG and EVOS SG locked into first and third place seeds, the final clash in the regular season between these two Singaporean teams was a matter of old rivalries and pride.
Heated exchanges began in the draft phase. After EVOS first picked Carmilla on blue side, RSG immediately responded by locking in Cecilion to deny the power of the lovers duo.
RSG also denied Fossa's trademark hero, Karrie, and surprisingly, threw Esmeralda in their line up as well.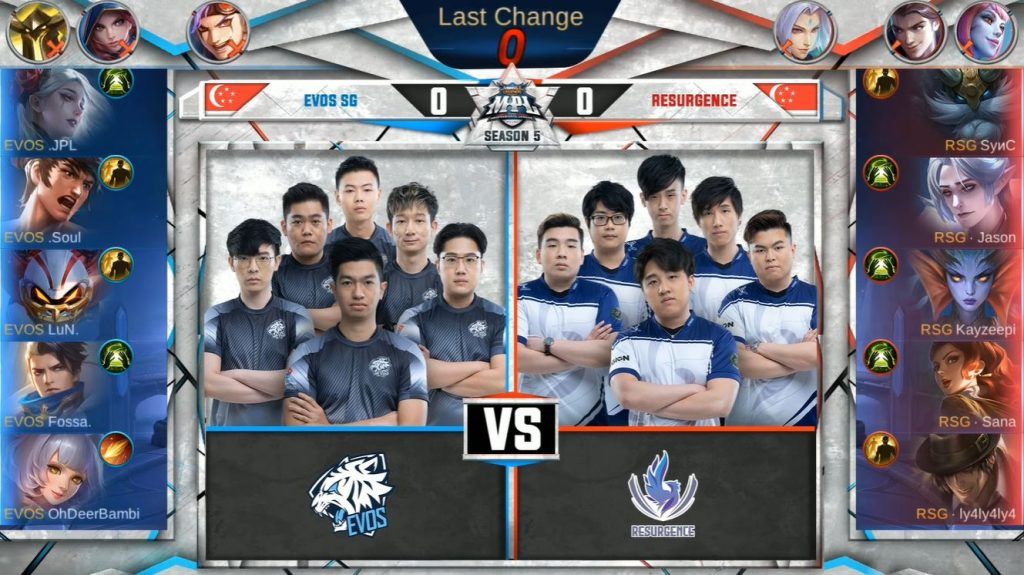 As RSG opted for a scaling team composition, EVOS SG wasted no time in the early game. After finding picks off single members of RSG, they downed turrets all the way to RSG's base in the top lane.
Even under the turret, Sana on Grock was not safe. Not expecting the 3v1, he went down quickly. Knowing that EVOS had invested three on the top side, RSG responded immediately with three kills of their own in the river.
Nonetheless, EVOS SG held onto their gold lead by taking every Turtle away from RSG, and outnumbering them in turrets. In team fights, RSG were simply out-damaged, falling hard to Fossa's 3/1/3 Granger.
By catching out Sync in the river, EVOS found a sweet opening that pushed them to victory. Together with Lord, they walked into RSG's base to end game one in 15 minutes.
---
---
Changing things up, RSG started game two afresh by first picking their undefeated off lane Uranus that EVOS SG chose not to ban. They continued to win the draft at every stage, banking on Aurora to punish Karrie and Pharsa if they misposition.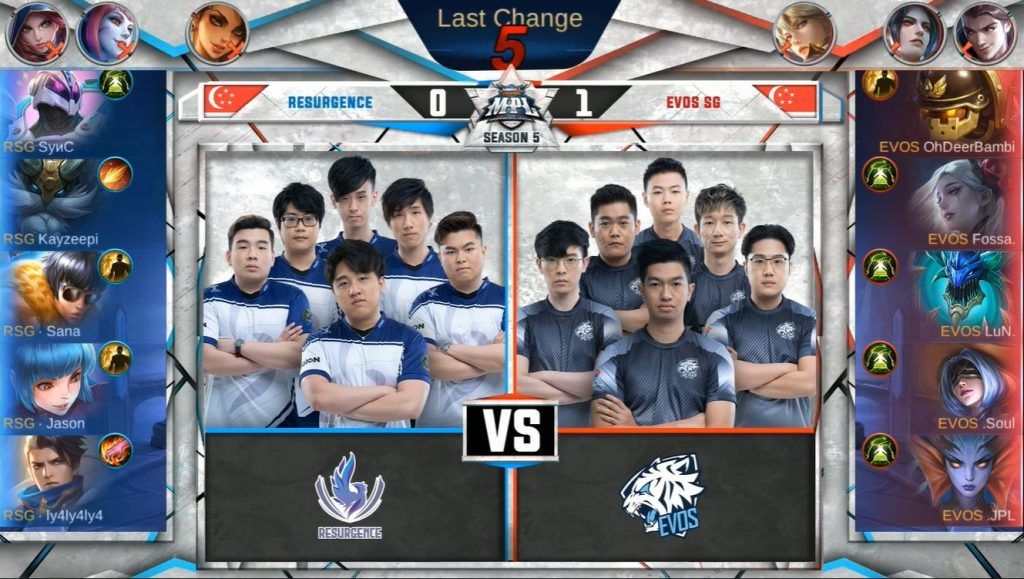 RSG were the ones who stepped on the pedal this time around, grouping as four and pushing EVOS SG out of their jungle to steal away blue buff.
After trading kills across the map, RSG continued to keep the pressure on EVOS SG, and stole away red buff and secured the first Turtle. Jason's Aurora was involved in every step of the way with three assists, contributing 100% to RSG's early kills.
Not to be outdone, EVOS SG set a trap by hiding in the bush near blue buff. Catching RSG by surprise, EVOS foiled their plans to invade and traded four kills for one, with Fossa's Karrie earning a Mega Kill.
Trading blow for blow from mid to late game, victory was entirely dependent on which marksmen could come out on top. Unfortunately for Fossa, despite racking up 13 kills on Karrie, his one positional mistake allowed Jason's Aurora to nuke him, giving RSG the win.
Going into game three, RSG picked up Uranus and managed to get their hands on the lovers duo on red side. Falling back to a similar draft in game one with Karrie as their choice of marksmen, they needed time to farm up items on their carries.
EVOS SG wanted none of that, and for most the game, read RSG like an open book. In the largest swing of the game, JPL on Grock found RSG's back line around Turtle, giving EVOS SG a solid seven kill lead to two.
Out-rotating their opponents, EVOS SG didn't allow RSG to take a breather. They capitalized on every movement on the map so effectively that with Lord, EVOS SG ended game three in under 13 minutes with OhDeerBambi picking up the MVP on Nana.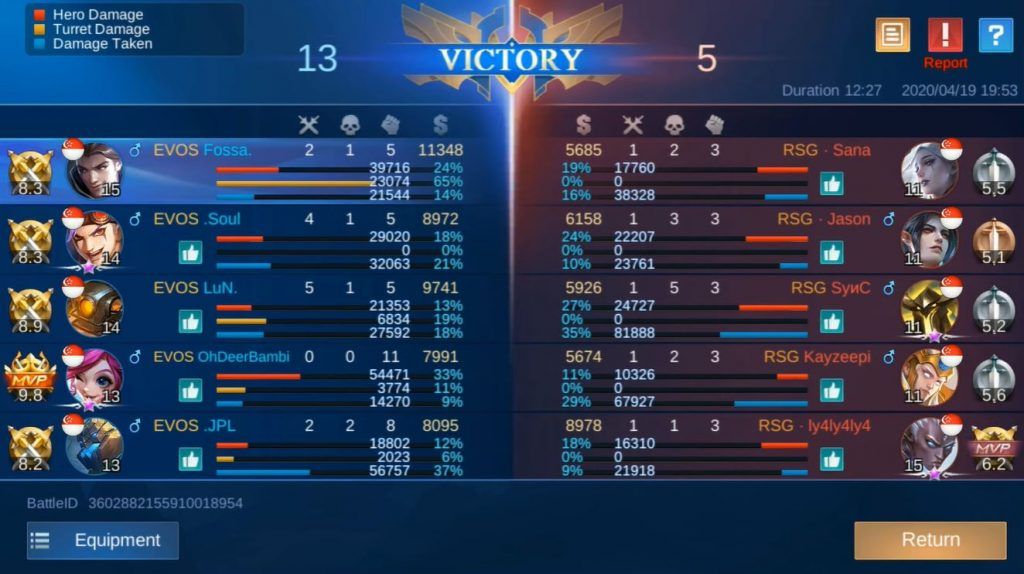 ---
Final standings (playoff teams in bold)
1. Resurgence (8-1)
2. Geek Fam (8-1)
3. EVOS SG (7-2)
4. Team Bosskurr (5-4)
5. Orange Esports Reborn (4-5)
6. Todak (4-5)
7. Team SMG (4-5)
8. Axis Esports (2-7)
9. Siren Clan (2-7)
10. Notorious Villains (1-8)
READ MORE: Teams and schedule set for MPL Season 5 SG/MY Playoffs