The state of League of Legends reworked champions this year has been a little hit or miss, with the Volibear rework definitely falling into the latter camp.
Hovering at a 39% to 42% win rate in high ELO, he is currently the worst-performing top laner and jungler in the game.
According to official lore, Volibear is many things. He is the Relentless Storm, the Thunder's Roar, and part of the demigod kin, with brother Ornn, who formed the land where Freljord is.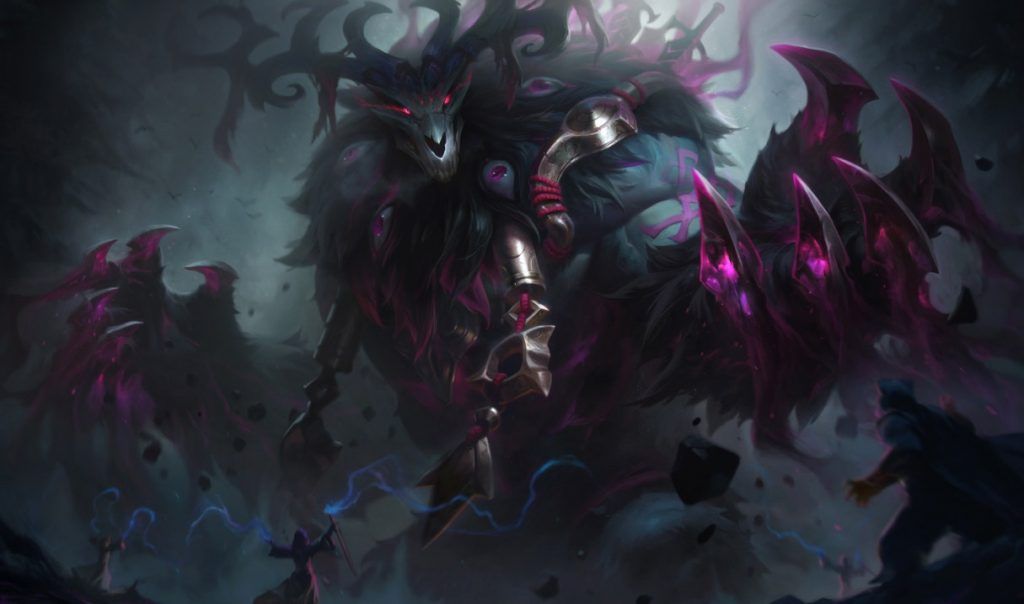 Even though the special ARAM event to usher in his rework was super cool — where a large version of Volibear popped up in the middle of the bridge — his rework has not matched his size or stature.
This is how playing Volibear feels like: It feels like you want attack speed, but also attack damage, defensive items, more health, more lifesteal, more health regeneration and more cooldown reduction.
No one item feels optimal on Volibear because every single one of his abilities scale with different attributes.
His passive, The Relentless Storm, builds on attack speed. Thundering Smash (Q) scales with bonus AD. Frenzied Maul (W) scales with bonus health. Sky Splitter's (E) shield scales with his maximum health and AP. His ultimate, Stormbringer scales primarily off bonus AD.
---
---
It's no surprise then that most professional players have been running Conqueror and building Trinity Force as a core item, but what comes after is anyone's guess and is highly situational.
Unable to trade with the majority of top lane champions, his base stats do not give him much to work with in the laning phase. Compared with meta fighters like Wukong or Renekton, he completely loses out on the damage front.
So far, he only wins the trade war against low damage tanks like Maokai or Shen, who aren't meant to win lane anyway since their kit revolves around locking down targets for team mates during team fights.
What's more, using all three abilities reduces his mana pool to a third. Even though Sky Splitter's shield is decent and helps with trades, it costs 60 mana and has a long 15 second cooldown.
He doesn't have wave clear either, for the Lightning Claws passive – which cause his basic attacks to deal on-hit bonus magic damage to the target and the closest four – doesn't do enough damage compared to an actual AoE spell.
This means that if he wants to survive in lane, he'll need to allow the wave to push in, last hit under tower, and give up lane priority, which impacts the rest of the map.
While it's a good idea to run Teleport, Volibear is not a great initiator due to the nature of his kit. The old Volibear relied on running up or flashing into an enemy champion and flipping him or her into his team.
Reworked Volibear still relies on Q to open fights by running towards a target and stunning them for one second. He can also initiate with his ultimate, but it doesn't mean he should.
Stormbringer causes him to shortly leap and impact the ground after a one second delay, dealing damage and slowing enemies by 50%, but only for a second which is really short.
Even though the animation will make you feel powerful, the distance bridged of 700 isn't that much compared to Malphite's Unstoppable Force which has a 1000 range and hard CC.
The bonus health his ultimate gives also isn't enough for Volibear to soak up damage. Right now he is better as a secondary initiator or even peel for his back line, which wasn't his intended champion design.
Overall, his initiating ability is very lackluster. Would you choose a 50% one second AoE slow over Cyclone's double knock up, or The Show Stopper's surpression?
Unlike Sett, he can't be flexed to support either because he's not inherently tanky enough, nor does building pure tank warrant choosing him for his toolkit.
Hopefully, the upcoming buffs in 10.12 will help Volibear regain some of his thunder. For now, the bear that mauled Leonardo DiCaprio in The Revenant is more powerful than this demigod.
READ MORE: Here's everything you need to know about the reworked Volibear