The Kastov-74U absolutely melts opponents in Modern Warfare 2, and it doesn't fail to maintain its edge in Warzone 2.0 either.
The assault rifle and SMG hybrid packs a deadly combination of good range and fast mobility, and you'll want to have one on hand for close-quarters engagements in Al Mazrah. It works best when paired with a longer-range weapon, such as a sniper rifle or LMG, so you can pull it out in a pinch when you're being pushed.
Here's a look at the best Kastov-74U loadout for Warzone 2.0, according to stats guru TrueGameData.
---
---
The best Kastov-74U loadout and weapon tuning for Warzone 2.0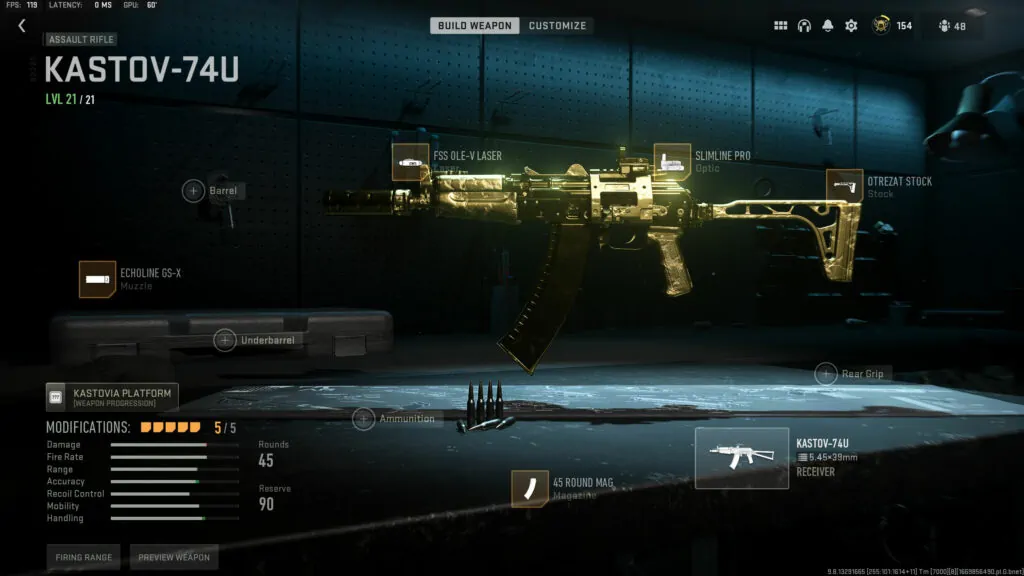 | | | |
| --- | --- | --- |
| SLOT | ATTACHMENT | TUNING |
| Muzzle | Echoline GS-X | -0.63 oz (Vertical), +0.52 in (Horizontal) |
| Laser | FSS OLE-V Laser | Tuning not available |
| Optic | Slimline Pro | -0.89 oz (Vertical), +2.40 in (Horizontal) |
| Stock | Otrezat Stock | -0.90 oz (Vertical), -0.62 in (Horizontal) |
| Magazine | 45 Round Mag | Tuning not available |
The build prioritizes building the Kastov-74U like an SMG, leaning into its mobility and agility. So while there are attachments that boost damage range even further, which would appear to be helpful in Al Mazrah, they have been passed over in favor of attachments that let you move around and engage more quickly.
The Echoline GS-X is the only muzzle that does not reduce aim down sight speed, while also offering sound suppression benefits.
It does reduce your damage range slightly, but if you pair it with an LMG like the RPK, you can simply fall back on the longer-range weapon if you need to engage with opponents who are farther off.
Next up is the FSS OLE-V Laser, the best laser in the game. It improves ADS and sprint to fire speed, significantly boosting handling. The laser is visible in ADS, but that hardly matters if you're running circles around enemy squads.
The Otrezat Stock is the stock with the fewest downsides. For faster aim walking speed and sprint speed, you only give up aiming stability, which is negligible. Some of you might prefer the Markeev R7 Stock for the additional ADS speed boost, but it comes at the expense of recoil control.
Finally, the 45 Round Mag will come in handy with Warzone 2.0's longer time-to-kill compared to multiplayer. With some luck, you might be able to take down two opponents before having to reload.
Learn more about the best landing spots in Al Mazrah.
READ MORE: The best ammo type in Warzone and Modern Warfare 2