Apex Legends is about to kick off its first limited-time mode (LTM) event of the new decade, and you're invited to the fancy affair. The Grand Soirée Arcade Event takes place on January 14-28 and will feature seven rotating game modes, along with plenty of prizes to be won.
The Grand Soirée Arcade Event will offer a different LTM every two days, ranging from familiar game modes to exciting new additions:
Gold Rush Duos
LIVE.DIE.LIVE
Third-Person Mode
Always Be Closing
Armed and Dangerous: World's Edge
King's Canyon After Dark
DUMMIEs Big Day
The event also overhauls previous event challenges, replacing them with a new prize track system. Players now have more ways to earn rewards by completing challenges to earn points.
Each LTM will feature three new challenges that, when completed, gives players a total of 1000 points. While players don't need to play every single day throughout the Grand Soirée, those who are able to try out every mode will receive a special badge.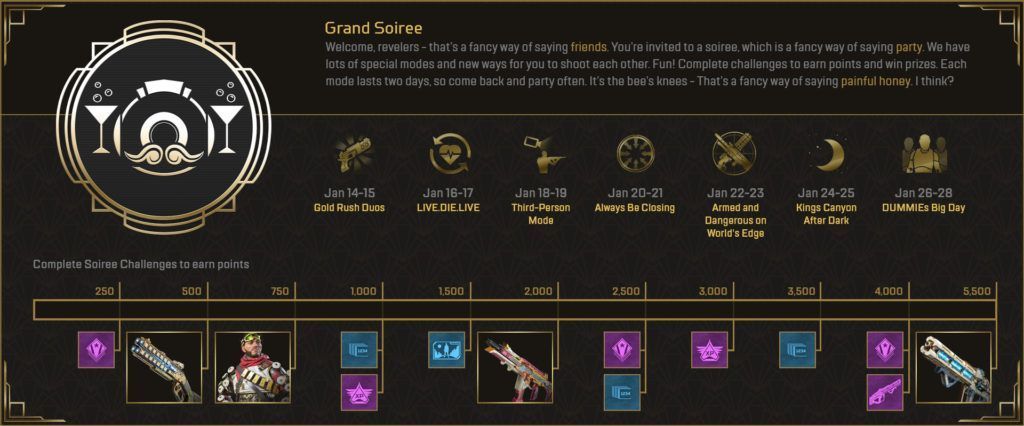 Battle Pass challenges can also be completed throughout the event.
Apex Legends' Grand Soirée will also feature a Bonus Scoring Weekend on January 17-20. During this period, an additional set of event-specific challenges worth 500 points will be made available.
---
---
Six new Legendary skins will be added to the core loot pool at the start of the event. These can crafted, obtained from Apex Packs, or directly purchased during the event.
Similar to Apex Legends' previous themed events, the Grand Soirée will have a direct purchase shop that will include a rotation of legendary skins and other Art Deco-inspired cosmetics for US$5 a pop.
For more details, watch the video below:
READ MORE: The Apex Legends 2020 Global Series will have a US$3M prize pool