The MPL SG/MY S5 final saw first seed Singaporean team Resurgence battle against second seed Malaysian team Geek Fam in a cross-border rivalry.
Resurgence dropped to the lower bracket after being wiped 0-2 by Geek Fam in the semifinal, before climbing back up to defeat their rivals 3-1 in the grand final to claim the MPL MY/SG Season 5 championship.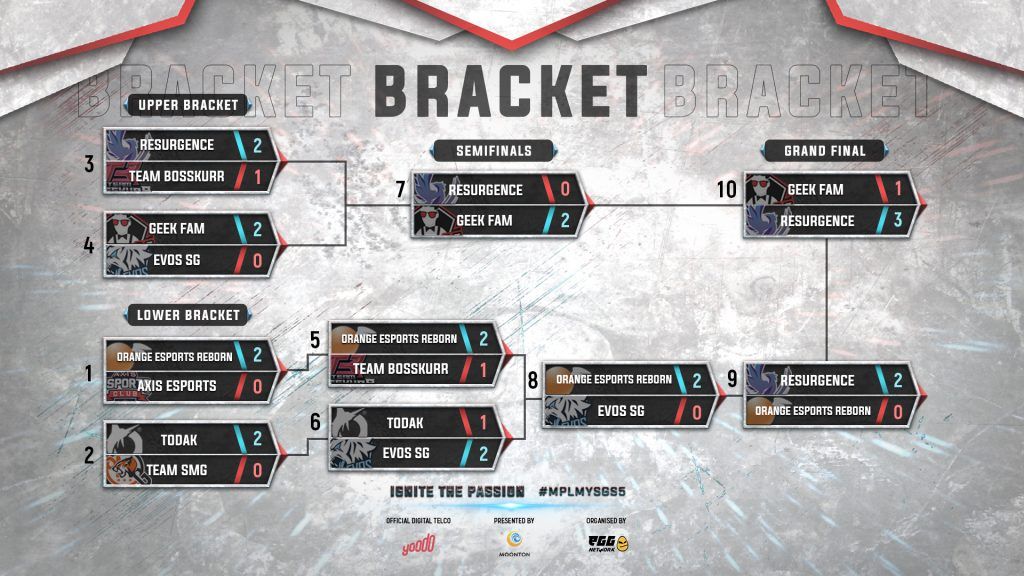 Heading into the Grand Final, Geek Fam were on a perfect run, sailing through the first two rounds of the playoffs without dropping a single game. RSG also had momentum on their side after a 2-0 victory over Orange Esports Reborn in the Lower Bracket Final.
---
Game one
Having played against each other in the regular season, and again in the semifinal, both teams were familiar with each other's tendencies. Tension started to build during the drafting phase as both teams dived deep into discussions.
Right off the bat, Geek Fam denied Uranus from RSG – a hero they have a 100% win rate on. They also fell back on a favorite, Diggie, to deal with the crowd control that RSG were planning to pile on.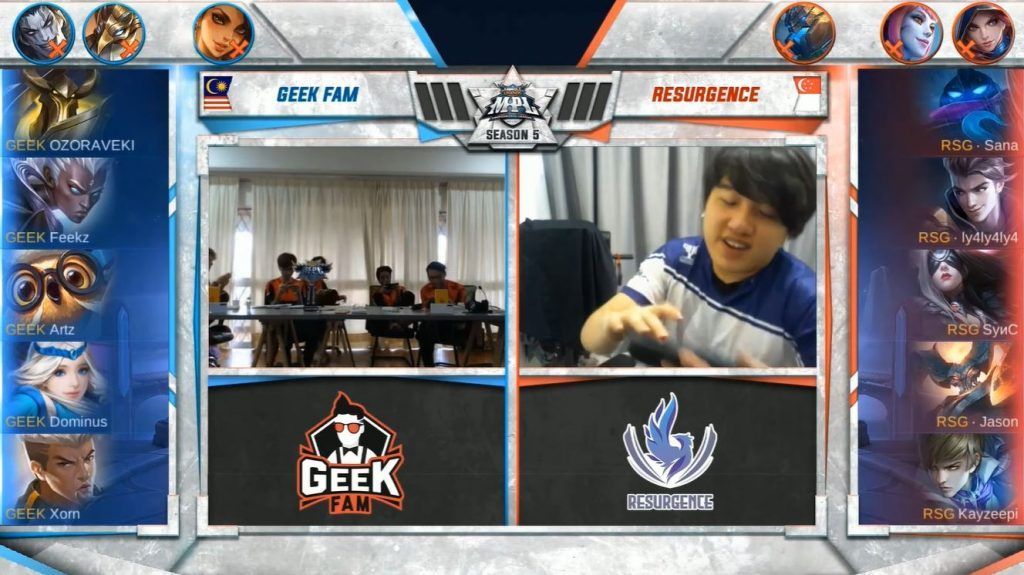 Holding onto last pick on red side, RSG took a risk with Gusion, an assassin who could guarantee kills onto Geek Fam's backline even when Flicker was off cooldown.
Starting the series strong, Geek Fam opened with two kills, but RSG responded quickly, returning the favor with two kills of their own. Out rotating Geek Fam, RSG extended their lead with more kills, towers, and gold.
At the sixth minute, Eugene "Kayzeepi" Kong on Atlas found a huge opportunity to lock up three members of Geek Fam using Fatal Links with Flicker under their own turret. Standing out of vision in the bush, Geek Fam were completely unprepared for the Ocean Gladiator to appear from the side.
Accelerating the pace, RSG pulled ahead by more than 10,000 gold and ran away with the game. Even though there was a glimmer of hope for Geek Fam as they took their last stand, killing four, Koh "Jason" Wei Hao Jason on Pharsa still had a healthy HP bar to finish off their base.
---
Game two
In a curious turn of events, RSG first picked Natalia in game two. She is a hero that Geek Fam excelled on in the regular season, but is completely uncharacteristic of RSG's play style.
Nonetheless, RSG clearly had a game plan, for they locked in Silvanna and Hylos to round off their all-in draft. On the opposite side, Geek Fam got their hands on Atlas, and last picked Terizla, a strong early to mid game hero.
Action started at level one when Jason made a very risky move by maneuvering past three members of Geek Fam. Miraculously, he got out alive, and his team secured first blood in return.
Rotating Jason on Natalia and Loh "Sana" Siang Ming Brandon on Jawhead, their 2v2 power was paramount. Confident in executing their draft, RSG decided to pile pressure onto Geek Fam's off laner, Artz.
In that moment, OzoraVeki swiftly teleported from the top side of the map to the bottom. Catching out RSG in between two turrets with Penalty Zone, Geek Fam punished RSG for going in too deep, and swung the game around.
Later in the game, another clutch Penalty Zone by OzoraVeki turned the tides for Geek Fam. By shutting down RSG once more, it disallowed them to scale as Geek Fam closed in 19 minutes to even up the series.
---
---
Game three
Queuing up the winning pieces of a typical RSG draft was the plan for game three. Geek Fam prioritized Khufra, which allowed RSG to choose Claude, followed by Uranus and Pharsa.
In a repeat of game two, only with the roles reversed, this time it was OzoraVeki who dived too deep onto RSG's offlaner, Ho "SynC" Eehong in bot lane.
Biting off more than he could chew, his teammates were one pace behind. A well-timed Guardian's Barrier by Kayzeepi on Grock prevented Xorn's escape, putting RSG up four kills to one.
Despite the early tempo advantage, it wasn't a clean game for RSG, who gave away leads in the mid game. Despite having positional advantage on the Turtle, SynC on Uranus got caught by pushing too far up in lane, which gave Geek Fam the numbers advantage and the objective.
OzoraVeki showed up big again this game by pulling off a 3-man knock up on Chou in the midst of a team fight around Lord. Even though Geek Fam lost the objective, they held onto their gold lead and began pounding on RSG's last wave of turrets.
When it came down to who made more mistakes however, Geek Fam as a team fumbled towards the late game. It started when Xorn on Khufra dived too deep past a summoned Lord in the top lane, and got cut off from his team mates.
Sandwiching Geek Fam, RSG not only found four kills but also managed to keep Lord alive, who helped down two turrets. A huge momentum swing, RSG wiped out Geek Fam in one last team fight for the win.
---
Game four
In game four, Geek Fam quickly took Uranus away from RSG again as they did in game one. They also took inspiration from RRQ Hoshi by locking in a non-meta hero, Minsitthar, who forces opponents to commit to fights with King's Calling.
When all was on the line, game four boiled down to who could make the least mistakes. When RSG challenged GeekFam at Turtle, they not only took down Artz on Chou, but also stole the objective away.
Even though Jason on Khufra had to retreat with just a silver of health, RSG positioned to peel and protect him. Taking turns to tank the enemy's damage, their communication, spacing, and teamwork was golden.
Not long after, RSG turned a 2v3 skirmish around in the top lane. Playing around Silvanna's crowd control, Lim "Ly4ly4ly4" Yang on Granger was left untouched in the backline, allowing him to dish out maximum damage.
Crumbling under pressure, Geek Fam never recovered from RSG's early onslaught. All subsequent fights in the short eleven-minute game went in the way of RSG, who nabbed 20 kills to four.
As winners of MPL SG/MY S5, first-time champions Resurgence were rewarded with US$25,000 in prize money, while second place Geek Fam took away US$12,000.
For his outstanding performances on marksmen in the grand final, Lim "Ly4ly4ly4" Yang was awarded the well-deserved MVP.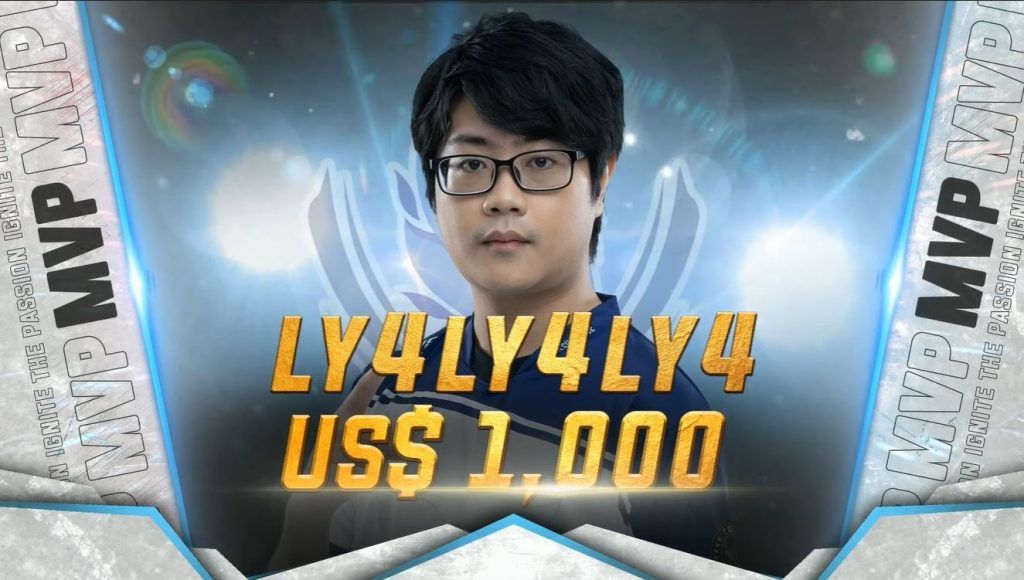 READ MORE: ONE Esports Mobile Legends: Bang Bang Invitational