The Group Stage matches for Mobile Legends: Bang Bang at SEA Games 2019 are officially in the books.

In the Group Stage, the nine participating countries were split into two groups for round-robin format matches to determine placement in the playoffs. The final standings in each group were determined by the total win-loss records throughout the day.

Here's how the teams placed: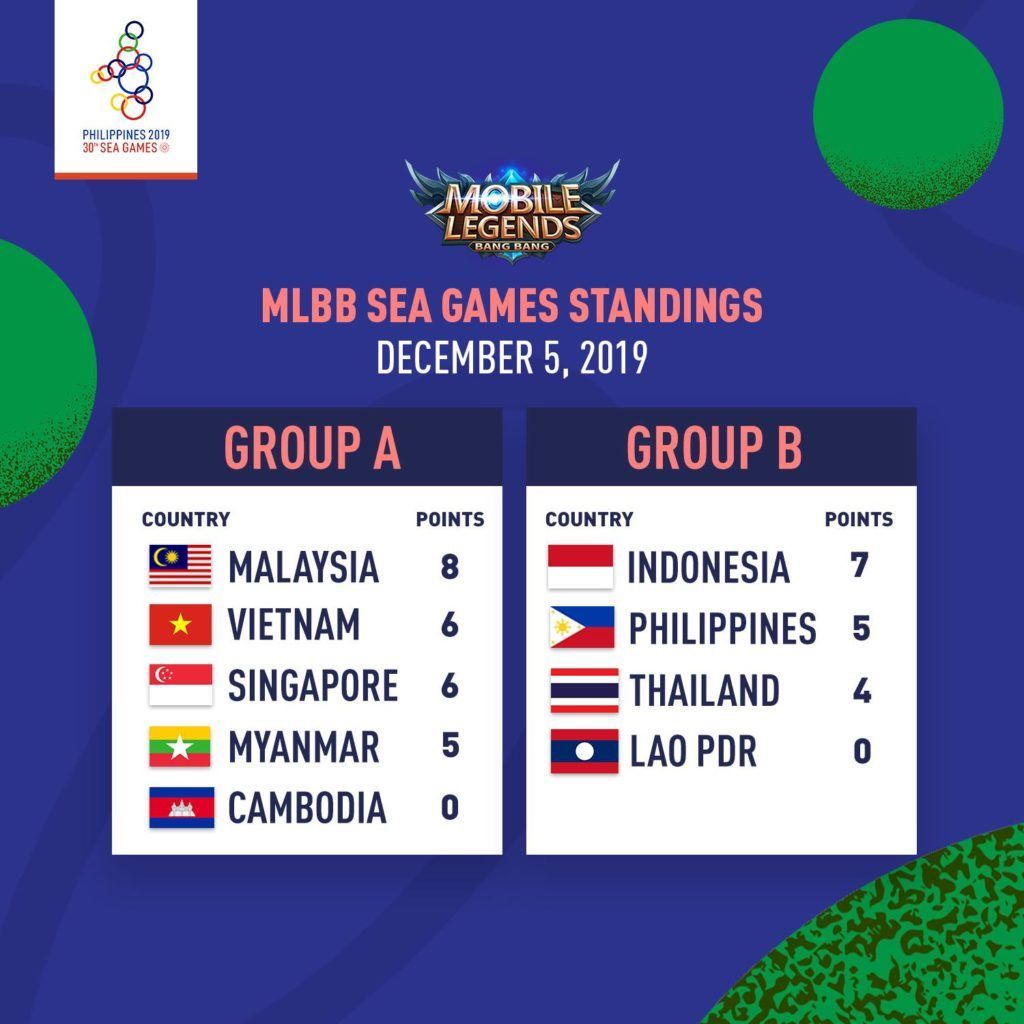 ---
Group A
Malaysia — 6 wins, 2 losses (8 points)

Malaysia got off to a lukewarm start to the day, splitting their first match against Vietnam, 1-1. However, with two 2-0 sweeps against Cambodia and Myanmar, along with another draw against Singapore, they tallied a 6-2 card, leading Group A with eight points.

Vietnam — 5 wins, 3 losses (6 points)

Vietnam swept Cambodia, 2-0, but finished with draws against Malaysia, Myanmar, and Singapore. With six points out of their 5-3 win-loss record, they ended Day 1 tied with Singapore for second place in Group A.

Singapore — 5 wins, 3 losses (6 points)

Like Vietnam, Singapore finished Day 1 with a 5-3 record, picking up six points for their Group Stage campaign and earning a tie in second place in Group A. Their only sweep of the day also came at the expense of Team Cambodia.

Myanmar — 4 wins, 4 losses (5 points)

Myanmar was in the running for a top-two finish heading into their last match of the day. By that point they had a solid 4-2 record. However, they fell 0-2 to a strong Malaysia squad, dropping their final tally to four wins and four losses, effectively eliminating them from playoff contention.

Cambodia — 0 wins, 8 losses (0 points)

It was a rough day for Team Cambodia as their MLBB squad suffered straight 0-2 sweeps in every game.

---
---
Group B
Indonesia — 5 wins, 1 loss (7 points)

Indonesia's MLBB squad asserted dominance all day, finishing with 2-0 sweeps against Thailand and Lao PDR and getting a draw against fierce rival, the Philippines. They finished 5-1 in the Group Stage, good for seven points and the top spot in Group B.

Philippines — 4 wins, 2 losses (5 points)

Host country Philippines earned second place in Group B with five points, and a 4-2 record. Going 1-1 against Indonesia and Thailand, they put in a dominating 2-0 performance against Lao PDR to secure their spot in the MLBB tournament playoffs.

Thailand — 3 wins, 3 losses (4 points)

Thailand hit the ground running with a 2-0 sweep against Lao PDR, but lost their momentum in their next matchup against powerhouse Indonesia. Taking a 2-2 record into their final match against the Philippines, the Thais tried to rally for a top-two finish, but fell short when they could only manage a draw against the host nation's squad.

Lao PDR — 0 wins, 6 losses (0 points)

Lao PDR's MLBB contingent also had a difficult day, finishing winless and at the bottom of Group B.

You can watch the highlights of the day here:
---
Schedule of Day 2
Day 2 started early to settle Group A's second-place tie between Singapore and Vietnam with a single-game elimination match.
Team Vietnam overpowered Singapore in this rematch, claiming a dominant victory in under 13 minutes.

Witjh the win, Vietnam claimed Group A's second-place slot, securing a matchup against Group B's second-seeded Philippine squad.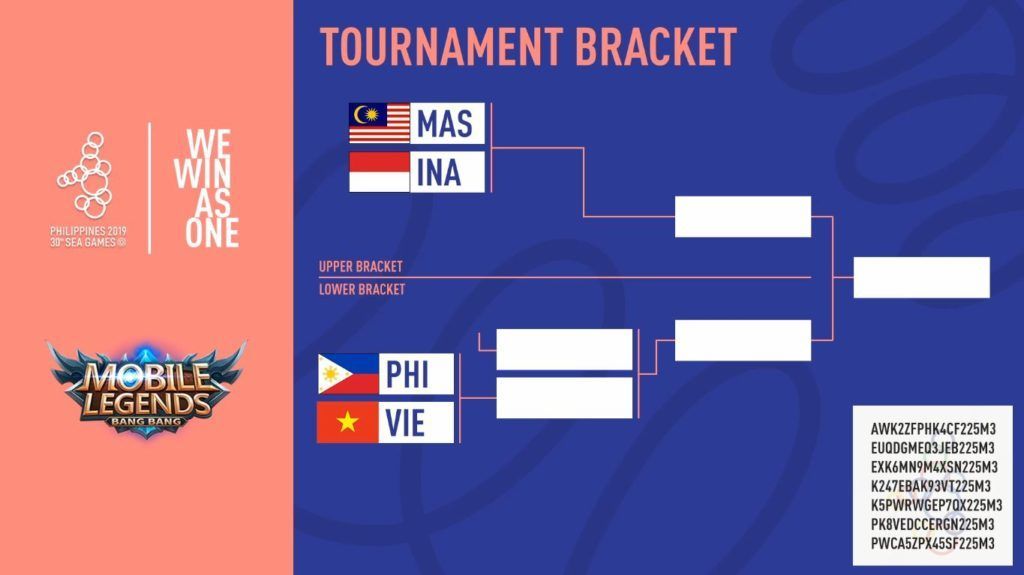 Today's playoff schedule is as follows:

Upper Bracket Finals: Malaysia vs Indonesia — 5:00 p.m. GMT+8
Lower Bracket Semifinals: Philippines vs Vietnam — 7:00 p.m. GMT+8
The matches will be streamed live on the Mobile Legends Esports Facebook page.

READ MORE: Esports at SEA Games 2019: Everything you need to know