Top Esports and FunPlus Phoenix have advanced to the LPL Spring semifinals after securing 3-1 victories in their respective quarterfinal matchups against eighth seed Team WE and sixth seed Edward Gaming.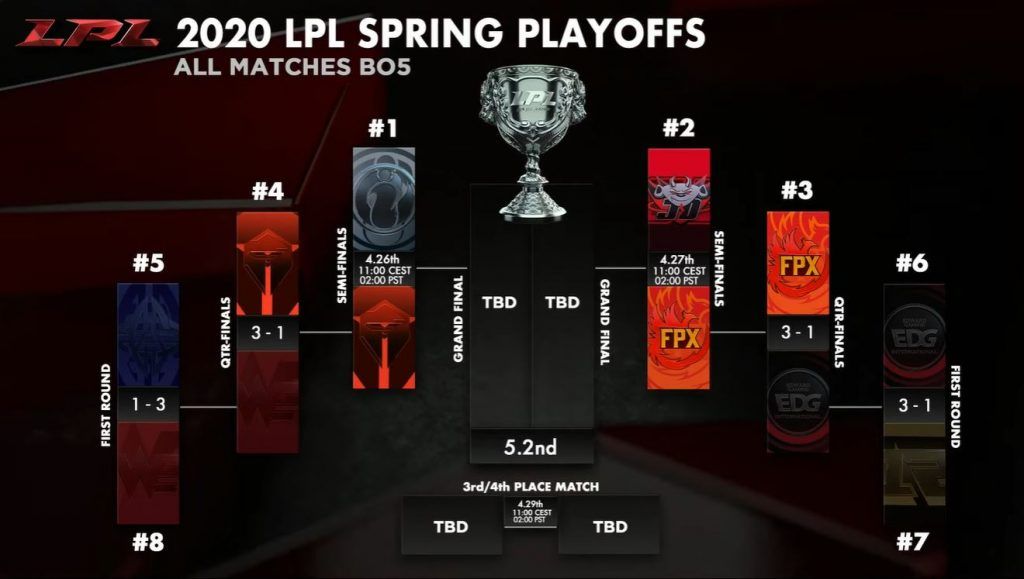 ---
Top Esports vs Team WE
The gold difference graph of game one says it all. In a truly back and forth game, TES were in a good spot all the way until mid game when macro calls cost them their lives and objectives.
Even with Blitzcrank, they were not able to find picks on desired targets. From mid to late game, TES were also highly dependent on Kennen flanking with teleport, which meant winning team fights were highly conditional.
In their last stand at the Nexus, Bai "369" Jia-Hao's Slicing Maelstrom was completely denied by Jiang "beishang" Zhi-Peng's Dragon's Rage, putting WE up one game.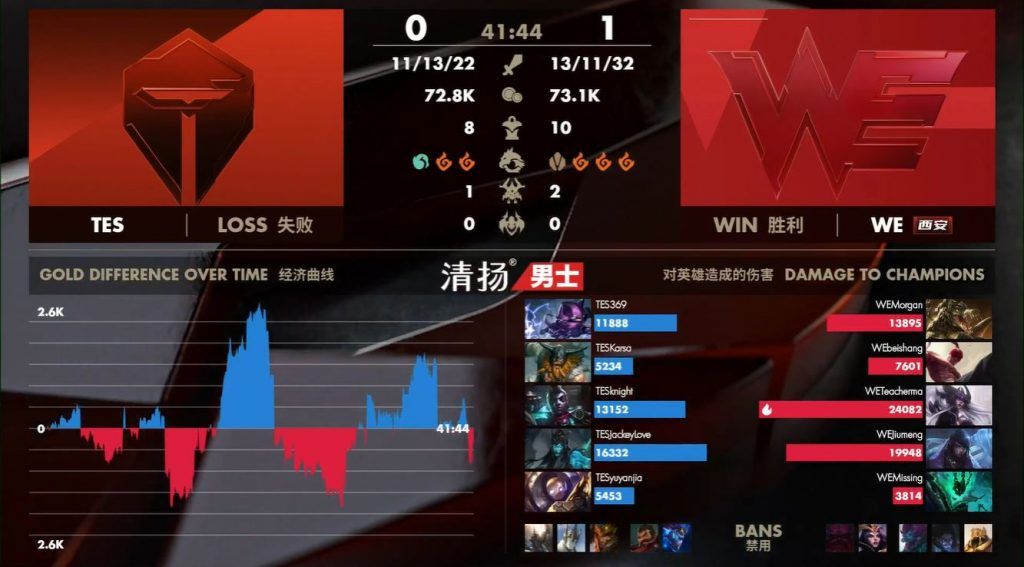 TES relied on strong lanes and comfort picks in game two, drafting Syndra for Zhuo "knight" Ding, Lee Sin for Hung "Karsa" Hao-Hsuan and Varus for Yu "JackeyLove" Wen-Bo.
Even though Jiang "Teacherma" Chen pulled out his signature Aurelion Sol again, knight had more lane control and impact on the map. Taking control in the mid game, TES turned the game around through top lane.
Utilizing both teleports on their AP and AD carries, 369 lived long enough for his team to collapse. From zero to three kills, TES ran away with the game in just under 23 minutes. By the end, knight even gained the full 25 stacks on Mejai's with a perfect 5/0/10 KDA.
TES chose to build their draft around the same winning pieces of Syndra, Lee Sin, and Varus in game three. Though the plan did not play out as smoothly as in game two, they managed to secure four mountain dragons and Mountain Soul that boosted their magic and armor resistances which were extremely valuable stats for 369 on Ornn.
Moving as one unit, TES showed patience in team fights and were able to find the openings they needed to tip the game in their favor. They closed it out in 39 minutes.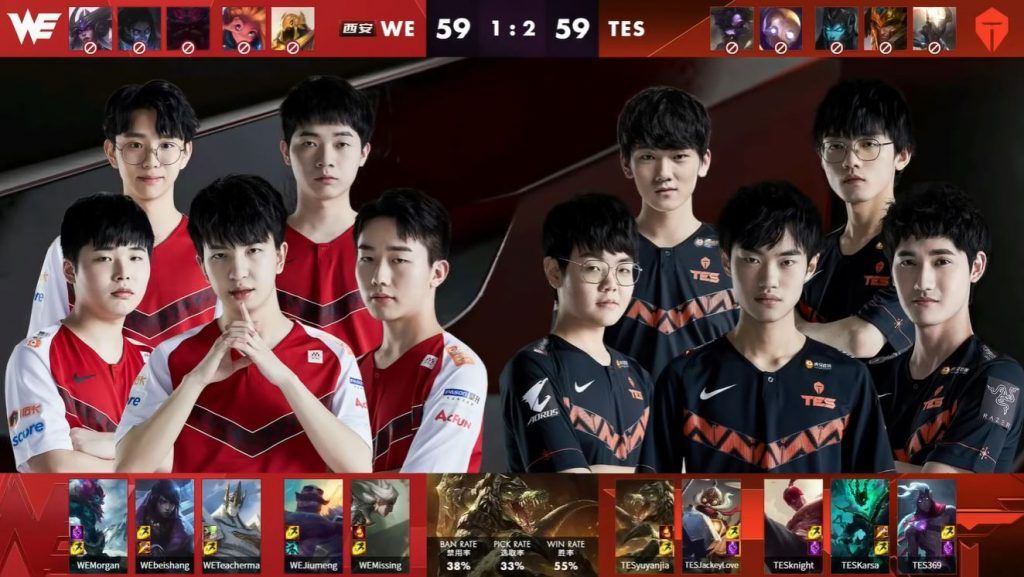 WE put their foot down in game four, banning Syndra and Ornn on blue side. Relying on what worked in their first round playoffs series against eStar, they chose Gailo mid before rounding off their team composition with Camille, a champion who facilitates Hero's Entrance.
In an unusually tense game that saw no kills for the first 12 minutes, TES eventually got first blood off Teacherma, but at the cost of four lives. WE picked up the pace and were in the driver's seat until disaster struck at Baron.
Reviving in the nick of time, JackeyLove teleported in and stole Baron with a single Piercing Arrow. Together with knight's Corki, they forced WE to retreat, taking three down in the process to secure the series win.
Top Esports will go up against first seed Invictus Gaming in the semifinals today.
---
---
FunPlus Phoenix vs Edward Gaming
This entire series was defined by FunPlus Phoenix's superior macro play.
FPX's drafts supported this intentional play style, as Kim "Doinb" Tae-sang chose Twisted Fate to go up against Syndra in game one. Alongside Aatrox top, FPX opted for 1-3-1 instead of facing EDG's team fighting composition head on.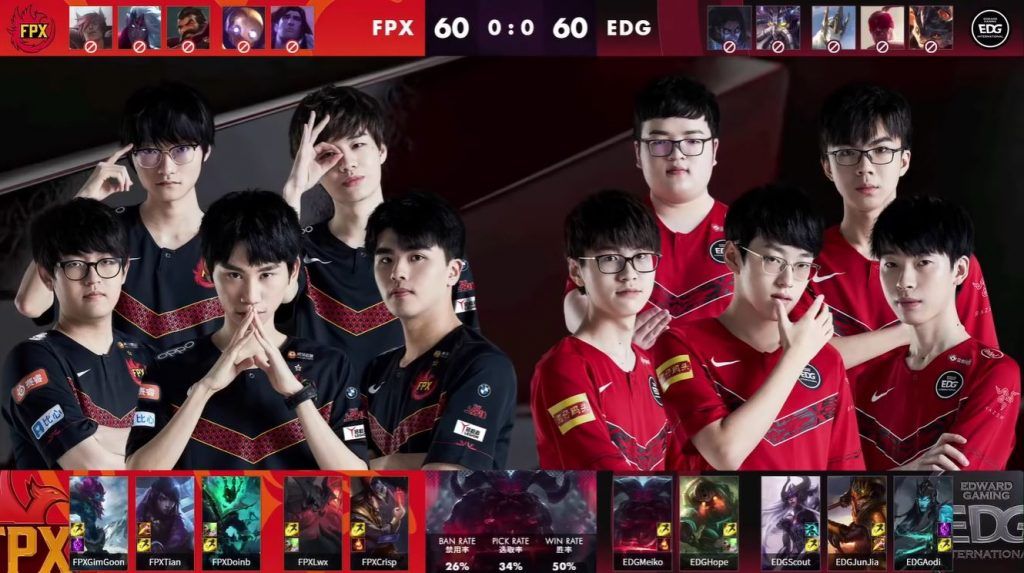 As both teams clashed around objectives in the mid game, EDG struggled to deal with Kim "GimGoon" Han-saem's flanks on Aatrox as he tore their back line apart.
One saving grace that came through for EDG was Zhao "Aodi" Ao-Di's miracle Baron steal — the second time he's pulled this off in the playoffs with Smite. In their last series against Royal Never Give Up, he did the exact same thing with Unsealed Spellbook on Ornn.
Nonetheless, one last fight at dragon helped FPX end the game. Even though EDG as a team turned around to deal with Aatrox in the back line, it was too late, for Lin "Lwx" Wei-Xiang Aphelios' was online.
To the fans' delight, Doinb pulled out his signature Ryze in game two, a champion he has not played or won with since the first week of the regular season. But while FPX built into the same 1-3-1 strategy, things did not go as smoothly for them as compared to game one.
EDG knew what FPX wanted to do with their draft, so they actively made early game moves to shut them down. Despite leading 6-2 in kills, FPX traded in objectives to keep the gold dead even.
The turning point for FPX came at 22 minutes. Despite getting caught out, Liu "Crisp" Qing-Song's early Quicksilver Sash on Tahm Kench saved his life and swung the fight in FPX's favor. Even with low HP, Lwx contributed to the fight by standing back and casting Piercing Arrow at long range.
Riding on the momentum, Gao "Tian" Tian-Liang went on to steal Mountain Dragon that denied Soul Point from EDG. In that brawl, Doinb even got a pentakill, wiping out EDG for the game win.
Unfazed, EDG looked unrecognizable in game three — but in a positive way. During drafts, they banned Tahm Kench and baited FPX into picking Varus. Without Devour's protection, EDG rotated their entire team to bot side to shut down FPX's duo twice over.
Even though FPX tried to trade across the map, EDG were up in kills, turrets and objectives, reaching Soul Point in just 17 minutes. Reading FPX like a book, EDG camped their outer top lane turret, killed three, secured Baron, and finished the game in 24 minutes.
After noticing EDG's priority on Kalista and Lee Sin during picks and bans in game four, FPX keenly opted for Poppy top with the intention of utilizing Steadfast Presence to interrupt jumps.
EDG on the other hand, last picked a heavy scaling champion, Kassadin, for Lee "Scout" Ye-chan on red side which unfortunately did not pay off.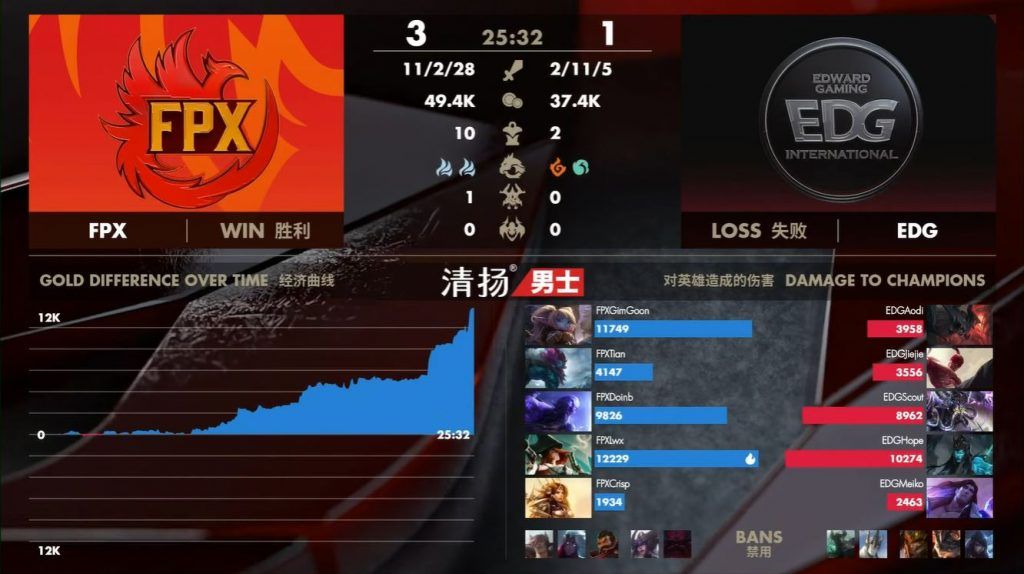 In the last game of the series, FPX played highly methodical game play that demonstrated how much they've leveled up since Worlds 2019. Their draft not only dissuaded EDG from diving under turrets, but also gave them lane priority which they translated to jungle control and objectives.
Executing immaculate macro, FPX downed EDG's base mid turret before 20 minutes and ended the game not long after with a 12k gold lead.
FunPlus Phoenix will meet JD Gaming in the semifinals on April 27.
READ MORE: Team WE and Edward Gaming advance to LPL Spring quarterfinals