SK Telecom is going even bigger on esports in Korea.
Besides signing a deal with Riot Games to become the official sponsor of League of Legends Champions Korea (LCK) until next year, South Korea's largest carrier has also obtained the rights to stream matches on its own platform, Oksusu, the carrier's online video streaming service and app that mainly features Korean reality shows and dramas.
The deal will see all LCK marketing promotions donning SK Telecoms's "5GX" logo for its 5G network service, while also working on virtual reality and augmented reality content — with plans to also stream the 2019 LCK Summer Split in VR.
Also in the plans are a VR match replay, one-on-one AR games with a professional gamer as well as virtual fan meetings for viewers.
"Esports is one of the key areas where 5G can truly make a difference," said Ryu Young-Sang, Executive Vice President and head of MNO Business of SK Telecom.
"SK Telecom will realize a new level of customer experience by combining its 5G-based immersive media technologies with LoL, one of the most popular games in the world."
SK Telecom isn't a stranger to esports, the carrier owns a championship team in League of Legends, SK Telecom T1, the only team to win three World Championships, and has recently partnered with Comcast Spectator to create an Apex Legends squad, T1 Esports.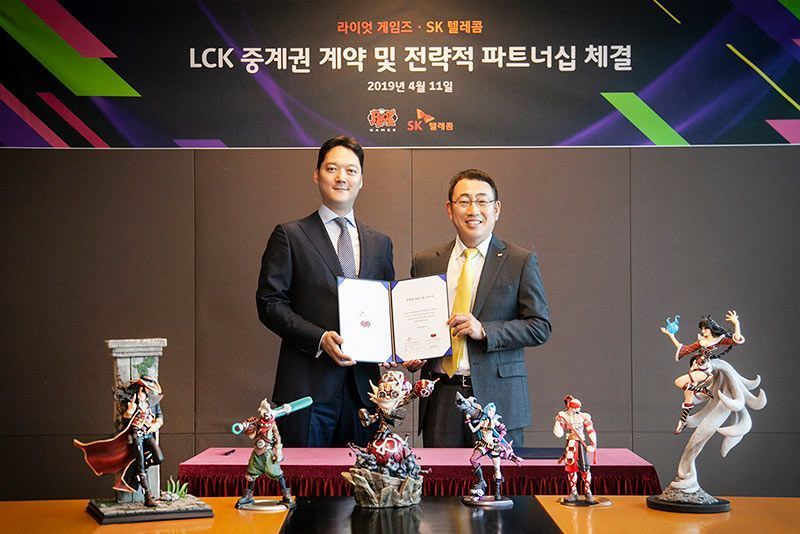 "Riot Games will continue our efforts to build a better LCK moving forward based on this partnership," said Jaysen Park, Riot Games Korea's country manager.

SK Telecom is planning to broadcast the 2019 LCK Spring Finals this April 13 on Oksusu.