Edited 20 May: We have learned that the second team from Vietnam participating will be GAM Esports, and not EVOS Esports.
Get ready for an overdose of League of Legends action to close out May as Riot Games has the Mid-Season Streamathon.
The two-day, non-stop, global marathon live stream will feature exciting exhibition matches and tournaments from all of League of Legends' 12 top-tier professional leagues: LEC (Europe), LPL (China), LCK (Korea), LCS (North America), PCS (Taiwan/ Hong Kong / Macau/ Southeast Asia), VCS (Vietnam), LCL (CIS), TCS (Turkey), CBLOL (Brazil), LLA (Latin America), LJL (Japan), and OPL (Oceania).
Southeast Asian fans can look forward to the Mid-Season Showdown finals featuring Talon Esports and Machi Esports from the PCS and Team Flash and GAM Esports from the VCS.
Meanwhile, China and Korea will battle head-on in the 2020 Mid-Season Cup (MSC), with its semifinals and finals included in the Mid-Season Streamathon schedule. The cup will feature the top four teams from the LPL and the LCK, including 2020 Spring Split Champions JD Gaming and T1.
---
---
Mid-Season Streamathon will continuously run for 48 hours from May 30 until June 1. It will kick off on Saturday at 8:00 a.m. (GMT+8) and will end on Sunday at 11:00 a.m. (GMT+8). It will serve as one of the events that Riot Games has prepared to replace the canceled 2020 Mid-Season Invitational (MSI).
The Mid-Season Streamathon will also give Summoners a chance to make a donation in light of the victims of the COVID-19 pandemic. The proceeds of this charity stream will be distributed by the Riot Games Social Impact Fund to different organizations, taking into consideration the medical workers and front-line health care professionals during these trying times.
Last March, Riot Games made a donation of US$1.5 million to help their hometown of Los Angeles battle COVID-19.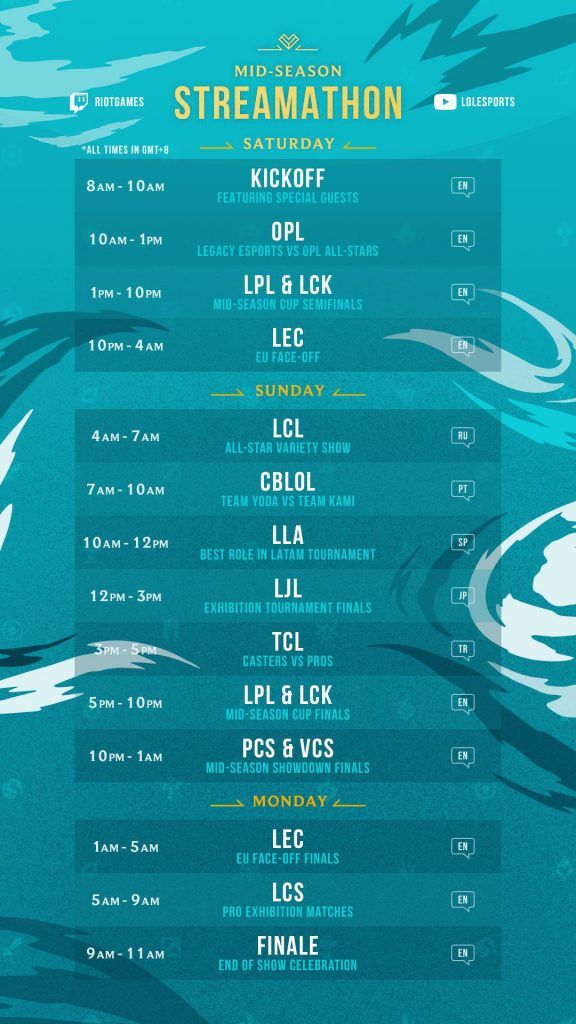 Fans can watch the Mid-Season Streamathon on the Riot Games Twitch channel and the LoL Esports YouTube channel starting May 30.
READ MORE: 5 K-pop idols and their League of Legends counterparts