This article is part of "Code COVID", a series on how the gaming and esports industry is responding to the COVID-19 coronavirus pandemic.
While the inaugural season of the Pacific Championship Series was already being played online, the COVID-19 outbreak still heavily impacted logistics for teams, casters, and production groups alike.
PCS is the first professional League of Legends esports league that had to be played fully online because it involved teams from six different countries: Taiwan, Hong Kong, Thailand, Philippines, Malaysia, and Singapore. It is also broadcast in three languages — English, Mandarin, and Thai.
Unlike other professional leagues like the LEC, LCS, and LCK — where teams are located in the same city and travel to Riot's official studio to compete — or the LPL — where teams either compete in their city or travel to another team's home base within China — PCS teams are located beyond national boundaries. Due to geographical differences, they also play on localized Garena servers within their respective countries.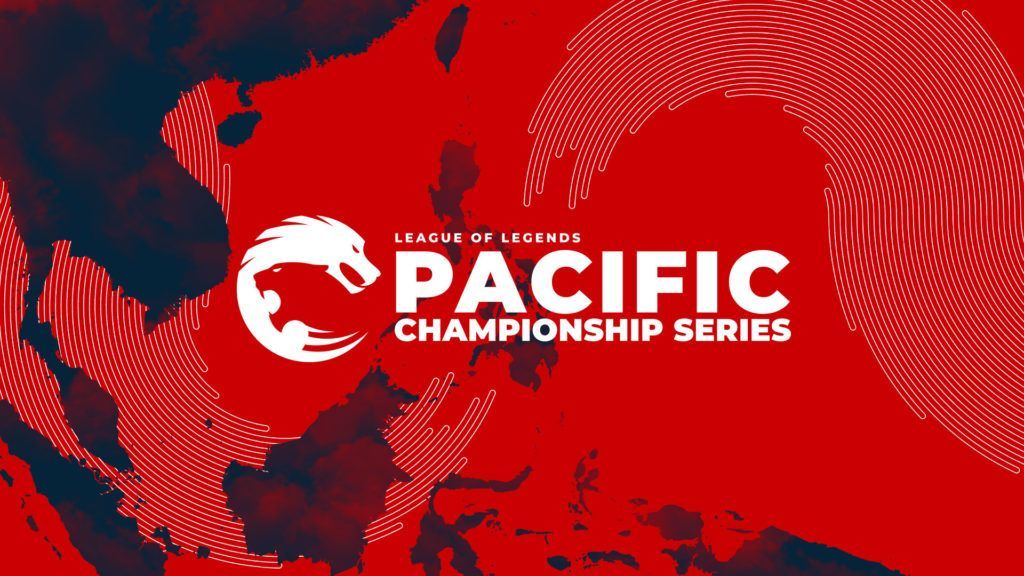 "The PCS is the first truly regional league, and we leaned into that. Online play is the only format that allows true regional representation. As we evolve and grow, we'll explore new ways to bring teams closer to their fans in the region," Chris Tran, Head of Southeast Asia Esports at Riot Games, told ONE Esports.
Before the coronavirus outbreak, production was headquartered in Thailand. PCS teams had to travel to an official designated venue in their city to compete, usually a LAN shop or studio. Competing on Riot Games' Tournament Realm, ping issues were kept "under control with a regional network of servers" that are used exclusively for professional play.
Official referees were deployed to these locations to uphold the integrity of the competition and to serve as the main point of contact between players, team managers, and production.
The league's online structure turned out to be a blessing in disguise. When other professional leagues were forced to move online due to the COVID-19 pandemic, PCS's online refereeing methods and lessons learned from troubleshooting network and connectivity issues became best practices that were shared within Riot internally to keep their global league operational policies constantly updated.
PCS operations still faced initial difficulties, however, especially when each country implemented changing regulations that varied from city to city, curbing player movements, and venue operations. During Week 5 of the regular season, Philippine-based team Liyab could not compete at all due to logistical issues. They instead had to play four games in a row in Week 6.
Nonetheless, the show could still go on because one of Riot's criteria for all professional teams is that they must provide a dedicated training facility, which became back-up match day venues for teams that could not travel.
"Even when we started to see continually stricter lockdowns due to COVID-19, our teams already had access to their own gaming PCs, ensuring minimal disruptions to their training and ability to play matches online," said Chris.
---
---
Production, too, had to adapt to the changing circumstances. Rikki "RikuCasts" Quiapon first moved to Thailand early this year to prepare for the inaugural season. Her mom accompanied her for the first two weeks to help her settle in before flying back to the Philippines.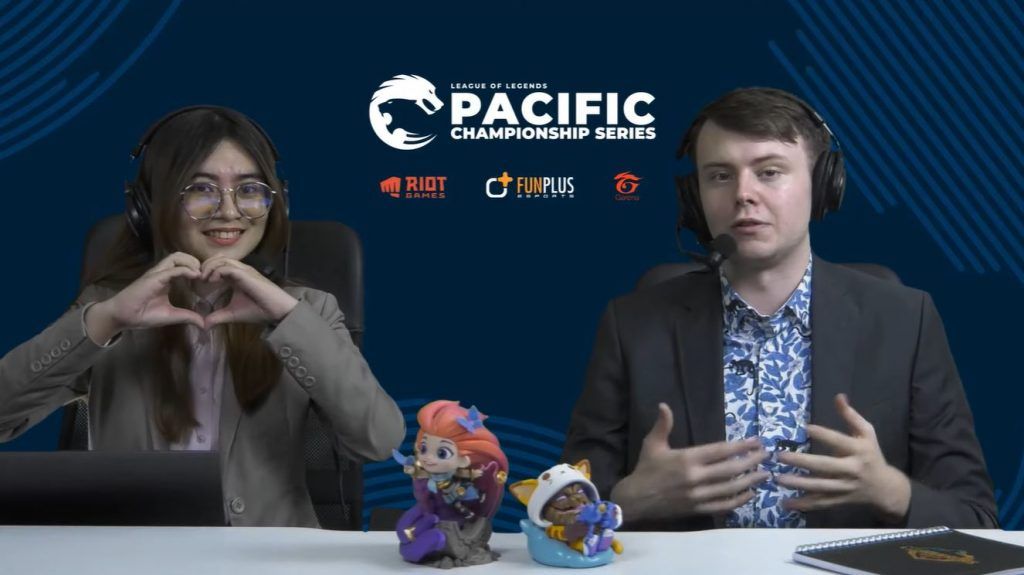 When the situation worsened, Riku and fellow caster and English broadcast producer Alex "OpalCasts" Archambault had to come up with unique solutions so that they could continue casting every weekend while also prioritizing their health and well-being.
As news on the situation in Thailand and the Philippines developed, Riku felt an insurmountable worry that would not go away. Concerned about her family back in the Philippines and news about the country's strict lockdown measures, she felt like she really needed to be with her family during these tough times, and flew back home.
Grateful that she can still shoutcast from home, Riku continues to practice caution even while living under the same roof as her family.
"We're all pretty much just staying in our own rooms and not spending time together as a family. Communication is done through the family chat where we share memes," said Riku.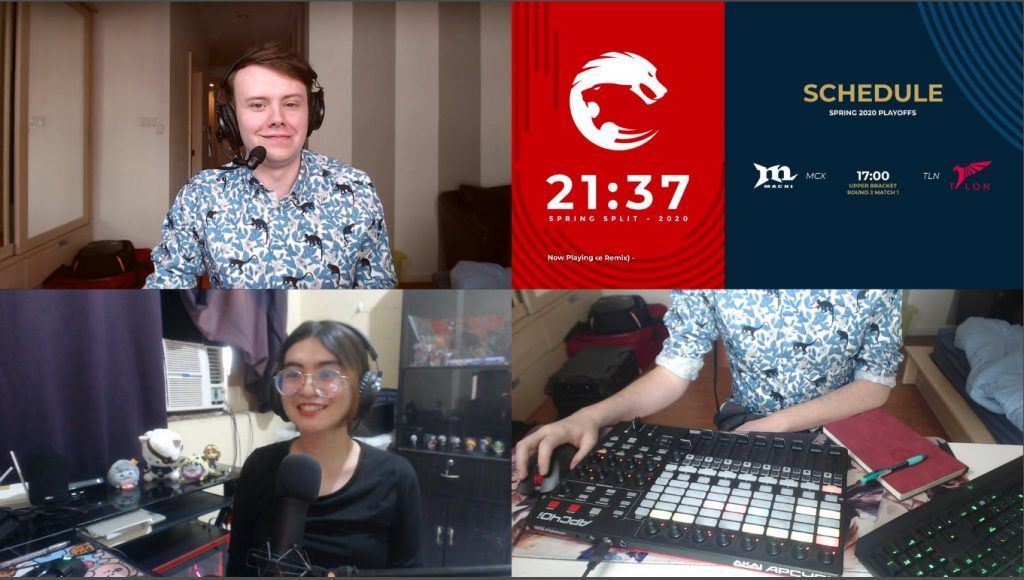 Opal on the other hand, remained in Thailand to continue broadcasting and casting the PCS. The advantage for him is that the English broadcast was already set up as a flexible mobile solution at the Bangkok studio, so it was easier to shift to a home production.
Primarily driven by a system that could run off newer gaming rigs, Opal only had to transport a computer, some monitors, and a light stand to his apartment.
"The one thing that was a bit scary was my home Internet, as I had never really stressed it with traffic like a PCS show would. After a day-long stress test, everything seemed to hold up, including Riku's connection to the production, so we were pretty confident heading into Week 4," Opal told ONE Esports.
While he misses his walks to the Bangkok studio and getting street food along the way, working from home has allowed him to sleep in on some days. The show setup is also less intensive compared to the in-studio workflow.
Since broadcast is done live from his apartment, viewers are able to see inside his home, which Opal has kept looking presentable. He did reveal however, that there are usually piles of clothing hidden away from the camera's view because PCS games happen over the weekend — and his laundry day is on Monday.
So far, despite the long hours of commentating every weekend, his neighbors and landlord have not complained, and he's thankful that the concrete walls of his building has been able to keep the sound in.
"The main pain point [in] working from my apartment was lighting, which was solved with one light unit and facing my at-home setup out towards my balcony, which allowed in more natural lighting," said Opal.
"I have seen one person across from my complex watch me cast but I can't blame them. I'd be trying to find something interesting to watch from my balcony if I didn't have work myself!"
READ MORE: Finding my voice – by shoutcaster Riku