Eight teams have qualified for the inaugural Pacific Championship 2020 Spring Playoffs.
The winner of PCS 2020 Spring will move on to represent the region in the upcoming Mid-Season Invitational in July.
---
Schedule
All matches in Round 1 are best-of-threes. Matches in the lower bracket will continue with best-of-threes until the Semifinals, which will be a best-of-five.
Matches in the upper bracket from Round 2 onward will be best-of-fives all through to the Finals, where the winner will be crowned PCS 2020 Spring champions and move onto MSI.
The Spring Playoffs format follows the footsteps of LCS and LEC that changed their format this year from single to double elimination.
Matches played from April 10 – 19 will begin at 5 p.m. GMT+8.
Round 3 and the lower bracket Semifinals on May 2 will begin at 3 p.m., while the Finals on May 3 will start at 5 p.m. GMT+8.
---
Teams
After an intense two month double round-robin regular season, the top eight teams have earned a spot in the playoffs.
Machi Esports (15-3)
ahq eSports Club (14-4)
Talon Esports (13-5)
Berjaya Dragons (10-8)
Alpha Esports (8-10)
Nova Esports (7-11)
J Team (6-12)
Hong Kong Attitude (6-12)
Liyab Esports (6-12)
Resurgence (5-13)
---
Machi Esports
Machi's only losses were to Talon, ahq, and Alpha in the first two weeks of the season. Since then, they have racked up an incredible 12-game win streak.
In the preseason power rankings, most casters ranked Machi in fourth place, so they've definitely exceeded expectations with their first place finish.
Keep your eyes on former G-Rex bot laner Chiu "Bruce" Chih-Chun, who dished out a whopping 30% total damage for his team over the course of the regular season. Together with Chen "Mission" Hsiao-Hsien, they are the two main carries.
Will Machi's perfect streak continue to the finals?
---
---
Alpha Esports
Finishing in seventh place in LMS Spring and Summer 2019, Alpha Esports refreshed its roster for PCS.
They've had an up and down season, defeating Talon twice and Machi once, but gave up unnecessary losses to other teams.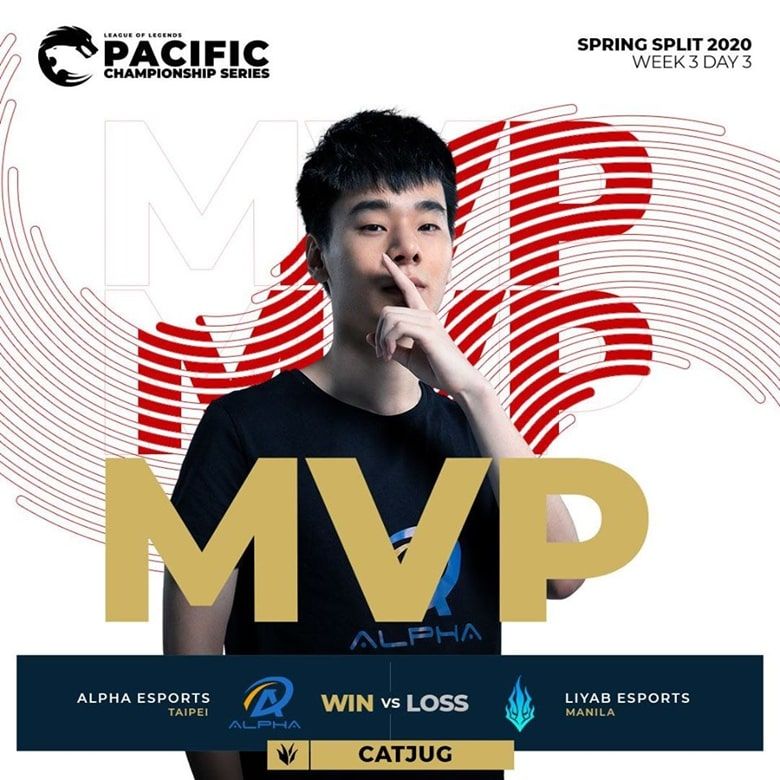 Alpha's star player, Chen "Catjug" Yi-Jie, played in China's League of Legends Development League for the last two years before moving over to the PCS. Boasting a 66.7% kill participation in the regular season, he showed stellar performances on Gragas and Rek'sai in Week 3.
His former teammate from Legend Esport Gaming in the LDL, Zhou "Assassin" Yi-Xiang, works alongside him. Assassin cumulatively dished out the most damage on his team and unsurprisingly, is known for his skills on LeBlanc and Kassadin.
Alpha will face Berjaya Dragons in Round 1 of the upper bracket on April 10.
---
Nova Esports
Sixth place team, Nova Esports, houses familiar names. Atit "Rockky" Phaomuang, Nuttapong "G4" Menkasikan and Ha "PoP" Min-wook competed with MEGA at MSI and Worlds 2019.
A team that dares to experiment in drafts, they have one of the highest unique picks in the PCS. Taking such risks hasn't always worked out however, as individual mistakes continue to plague them in the laning phase.
The outcome of their games depends largely on whether Rockky can put on a solid performance in the top lane. With 24.2% gold share, the highest on his team, we'll have to see if he can make his international competitive experience count when it matters.
Nova are up against Talon in the Round 1 of the Spring Playoffs.
Find out more about ahq eSports Club, Talon Esports and Berjaya Dragons in our PCS Spring Split round one recap.
READ MORE: Here's what happened in the Pacific Championship Series Spring Split round one