This article is part of "Pro Player Perspectives" an ongoing series of articles written by pro players, coaches, and esports talent.
---
Hi! I'm Rikki "RikuCasts" Quiapon, one of the few female shoutcasters in Southeast Asia. I started casting in college back in 2014 and have been doing it for the past six years now.
You may have seen me shoutcasting recently on the inaugural season of the Pacific Championship Series Spring 2020 broadcast. I'm also a voice actor, streamer, and content creator.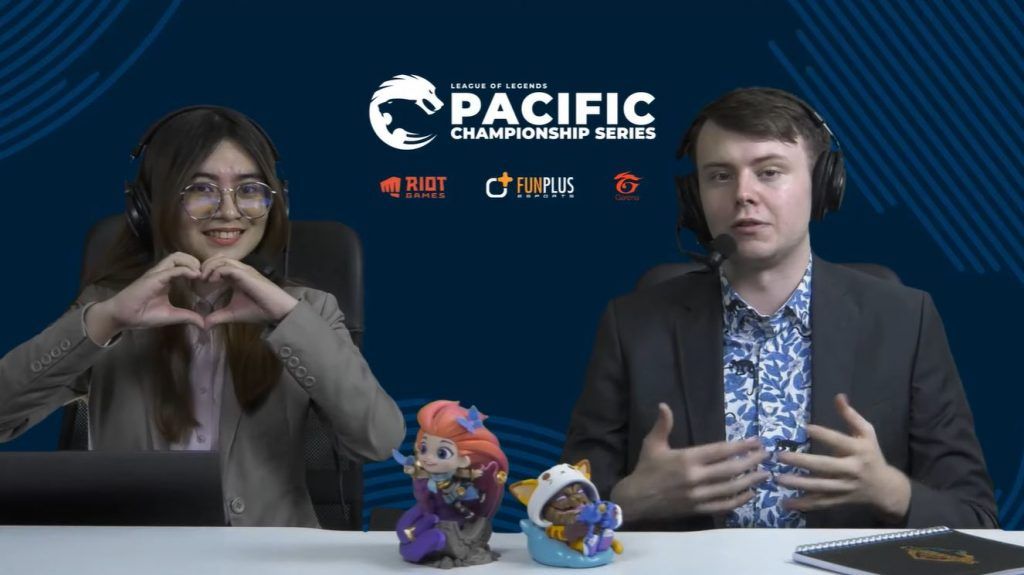 As one of the only female shoutcasters in esports, I often get asked how I got into the esports industry in the first place.
Well, like many people, my esports journey started with League of Legends.
It was a game that took over my life. Literally.
---
Level 1-6: Talking the talk, walking the walk
During my college days, I didn't own a computer that could run LoL, so I had to go to internet cafes just to play it, squeezing in time between classes of my four-year Bachelor of Science, Major in Information Technology course.
I was planning to develop a career in the game development industry and this was the most related course in college where I could learn about software development, databases, programming, computer systems, and web design.
Eventually, I earned enough money through voice acting to purchase a PC for myself. I went to a few computer stores and asked specifically, "Can this PC build and package run League of Legends?"
As I got more and more into LoL, I started watching more esports and came upon streams of the European League Championship Series (EU LCS) and the North American League Championship Series (NA LCS). Back then, the schedule of LoL esports livestreams was different. When I woke up in the morning, I could watch EU and NA LoL esports matches back-to-back over breakfast. It became a routine, and I couldn't get enough of it.
My love for LoL and esports exploded from there. I wanted to be more involved, not just as a content creator, but also as a part of the community.
In short, I really wanted a job in League of Legends.
---
Level 7-12: Talking shop
Not knowing where to start, I hopped on social media and followed every esports organization and internet cafe in the Philippines in hopes of hearing of a job opening.
Keeping my eyes and ears peeled, I spotted an advertisement by Garena Philippines who were holding casting auditions for the League of Legends Pro Gaming Series. As someone who really loved working with the mic and having watched a ton of esports, my immediate reaction was, "Oh! I can totally do this!"
And so, I applied.
When I received the news that I got in, it felt like a dream. There was a total of six successful candidates.
Right off the bat, I dived straight into the deep end doing play-by-play shoutcasting for LoL esports. One of the first casts I remember doing was a match between Saigon Fantastic 5 and Mineski in Garena Premiere League in 2015.
It was a hugely hyped match at that time, as the rivalry between Philippines and Vietnam intensified. Even though they were trailing at first, Mineski managed to turn the game around for the win.
The game got me all excited, but at the same time, I was still very new to casting. I peeked at the chat after the cast and saw a barrage of mean comments flooding chat – all directed at me:
"Her voice hurts my ears…"
"Her voice is too high and pitchy."
"Who the hell is this girl?"
It really hurt.
I can't describe how painful it was reading those criticisms, especially for a newbie. Those comments have stuck with me ever since then, and made me very conscious of my voice. The experience caused me to develop a specific voice only for casting, especially during high energy points.
Luckily, my co-workers and fellow staff were very supportive so I didn't fall into despair. The more I casted, the more I practiced, the more experience I gained, the less such harsh comments popped up. As I built myself up, the community also got to know me better.
Not everything was negative either. From time to time, I would receive personal messages from fans saying that I inspire them to be a caster or pursue gaming. Reading messages like that really means a lot and it makes me happy.
---
Level 13-18: Talking a good game
After gaining more confidence, I wanted to switch roles and try color casting instead.
I had a few reasons for this. Firstly I wanted to focus more on analysis and learn more from that angle. Secondly, it was honestly because I was still a little too conscious of my play-by-play voice. At that time, comments about my "high pitched" voice still affected me even though some time had passed.
My fellow color casters were kind enough to teach me the basics and practice casting with me. I'm thankful that I had colleagues who were very supportive of the switch.
The best thing was that the demand for analysts at that time surged, and it coincided with my desire to pick up this new skill. Being able to do color casting gave me an advantage, as it opened me up to more casting opportunities as I was considered a "flex" in the talent pool.
Nowadays I don't pay too much attention to chat during live broadcasts. Instead, I've learned to focus more on myself and the games, and turn to my peers for feedback. They point out if I miscall an analysis or a play, and will let me know if there's anything I can work on. I'm incredibly lucky to have friends like that.
Through the years as a caster in the PGS, I managed to develop my own voice, confidence, and identity.
---
Beyond the Rift: Real talk as a female caster
As a female caster in the industry, I always have this constant fear that my work will be judged because of my gender. Instead of being critical of my casting skills, I am afraid that people will say mean things just because I am a woman.
Similarly, I have concerns of being hired for the desk just because of my gender, that they want to showcase diversity, and not because of what I can bring to the table.
Despite these fears that exist at the back of my mind, I can say that I am happy where I am right now. Looking back, I'm incredibly proud that I managed to juggle casting, my on-the-job training for college, my thesis, and my degree in BSIT.
Another thing I picked up was learning to do my own makeup back in 2017. My world was pretty small when I first started out, so I didn't really pay much attention to how I looked. I relied on my voice, my broadcast content, my delivery, and tone to keep my confidence levels up, and focused my efforts there.
But when esports tournaments started to become more frequent, I desired to look more presentable in LAN tournaments and on stream. Some of my peers suggested that I put on contacts, but to be frank, I am so used to the way I look with glasses that I can't imagine otherwise. I've been wearing glasses since grade school, so to me, my face looks and feels empty without them.
Besides these, I was also given the chance to work on Garena's esports website, producing content and curating stats for the local league. My amazing friends and the expert analysts I approached on Twitter had helped me to build an excel sheet.
In the pockets of free time, I even picked up live streaming my ranked games when I was in the Garena office.
---
My advice to other women wanting a job in esports
The first step is always the hardest and the scariest. This may sound cliche, but the important thing for women who want to pursue a career in esports is to follow your passion and see where it takes you.
There are many amazing women in esports working in front of the camera and behind-the-scenes. I know how it feels to love a game or a scene so much that you just want to be involved in any way that you can, but also feel equally afraid of making mistakes and worrying what other people might say.
Trust me, most of that goes away after you take the leap! Mistakes are part of the growing process. If you're laser-focused on something already, keep going. If not, it's totally fine if you haven't figured out what you specifically want to do in the industry yet. It's a trial and error process.
For aspiring casters (both female and male), my advice on where to start is this: Practice casting games of your friends for fun, and watch esports to learn the different styles of casting. From there, you'll be able to figure out your own approach to casting. Be proactive by following casters and esports organizations on Twitter. There's always a chance that they'll post caster calls or auditions.
My personal favorite practice is reading articles and comics out loud to train enunciation and tone. By doing so, you might end up discovering your very own "broadcast voice"!
---
Riku is currently casting the VCS/PCS Mid-Season Showdown for the League of Legends Mid-Season Streamathon.
For more of Riku, follow her on Facebook and or DM her on Twitter.