What happens when you combine League of Legends' Program, Astronaut, Odyssey, and Cats Versus Dogs skin lines?
The Space Groove skin line is born!
Step right up into a trendy new world that dresses up League of Legends champions Blitzcrank, Lux, Lulu, Nasus, Nunu & Willump, Rumble, and Samira to a spacey, retro vibe that makes them look like they are about to start quoting lines from The Breakfast Club and begin grooving to Whitney Houston's "I Wanna Dance With Somebody."
In Space Groove's official skin lore, it would seem like most of these champions are interconnected by Lissandra — an "evil" and "boring" witch that will grace the skin line soon.
---
7. Space Groove Lulu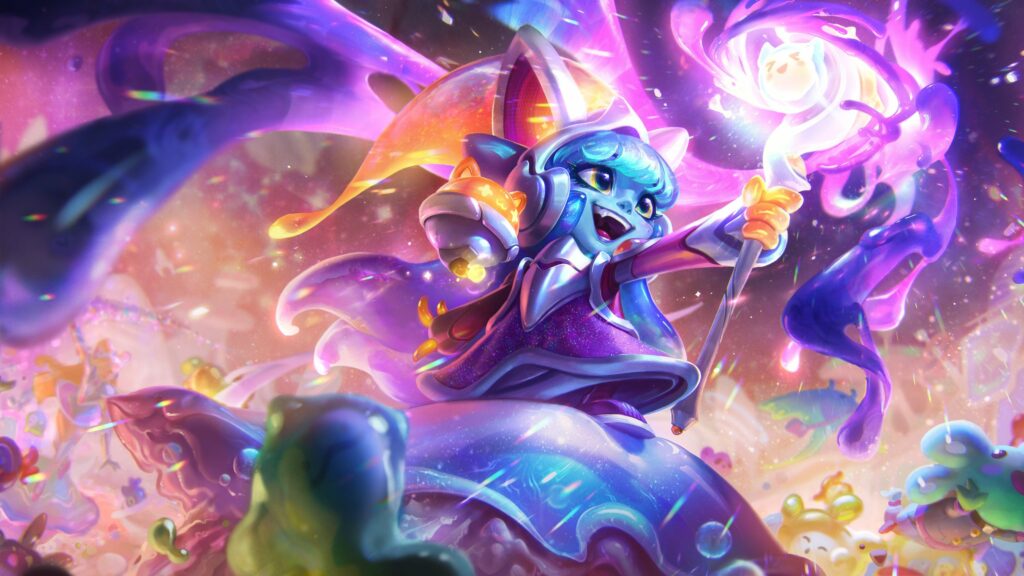 Aside from her eye-catching costume color palette and Pix in a pod (pun intended), Lulu looks pretty normal in her Space Groove form. The Fae Sorceress needs more sparkly effects if she plans to go on a dance showdown against the other champions on this list.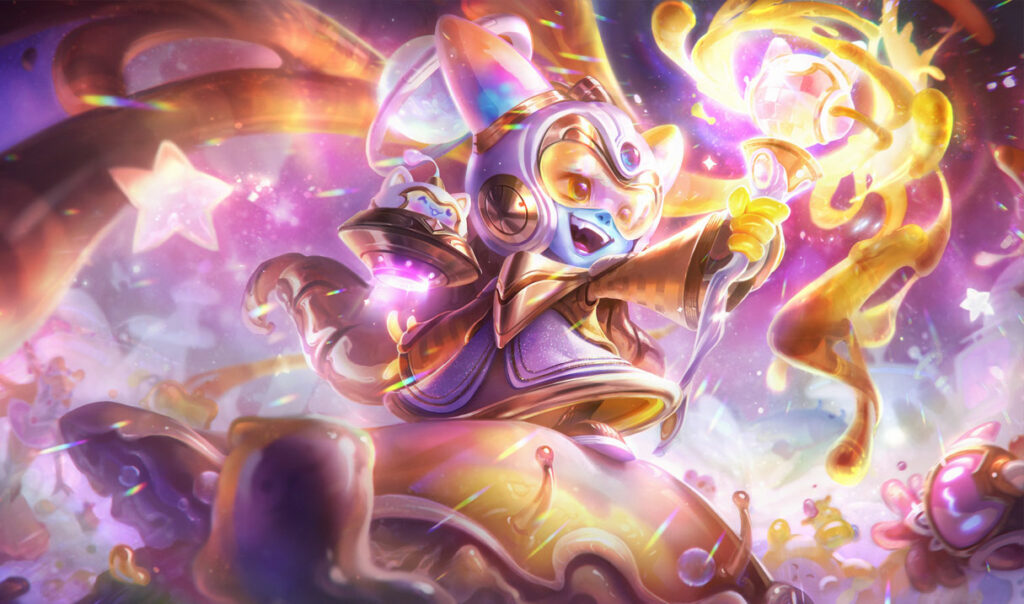 Prestige Space Groove Lulu is actually quite better than its base since it combines lovely shades of baby pink and gold in its particle effects.
---
6. Space Groove Lux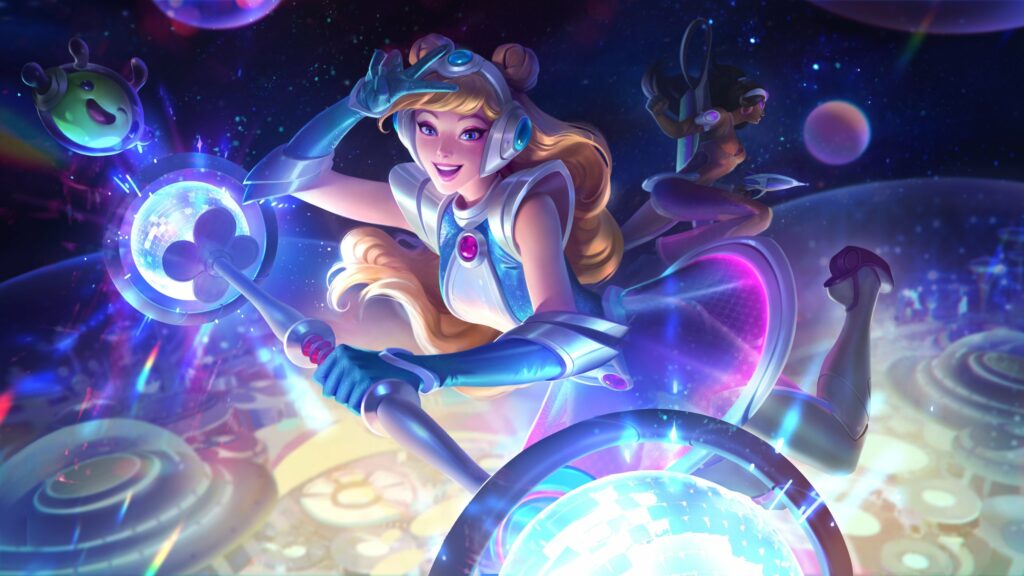 Lux again?
Space Groove is actually Lux's 13th League of Legends skin and it shows her in a refreshing concept where she appears to be a real doll with her Barbie-like hair color, a hair style that screams Sailor Moon, and a glowing wand with mini disco balls on each end.
Go ahead and spread bubbliness on the bot lane together with her canon protector, Samira.
---
5. Space Groove Samira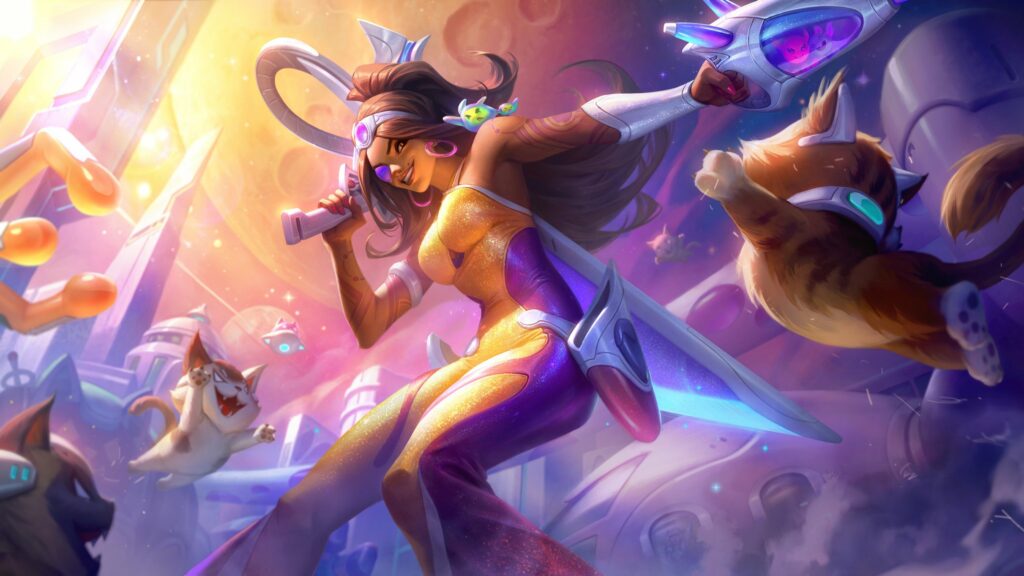 Make way for the space pirate Samira, who just happens to be wearing flare pants and rollerblades to pull off an impressive retro look from the 80s. In her skin lore, Space Groove Samira is apparently Space Groove Lux's bodyguard, carrying her deadly pair of weapons.
With a pair of rollerblades as a part of her outfit, Samira's ultimate ability Inferno Trigger now makes more sense as she spins around and wreaks havoc on all nearby enemies.
---
4. Space Groove Rumble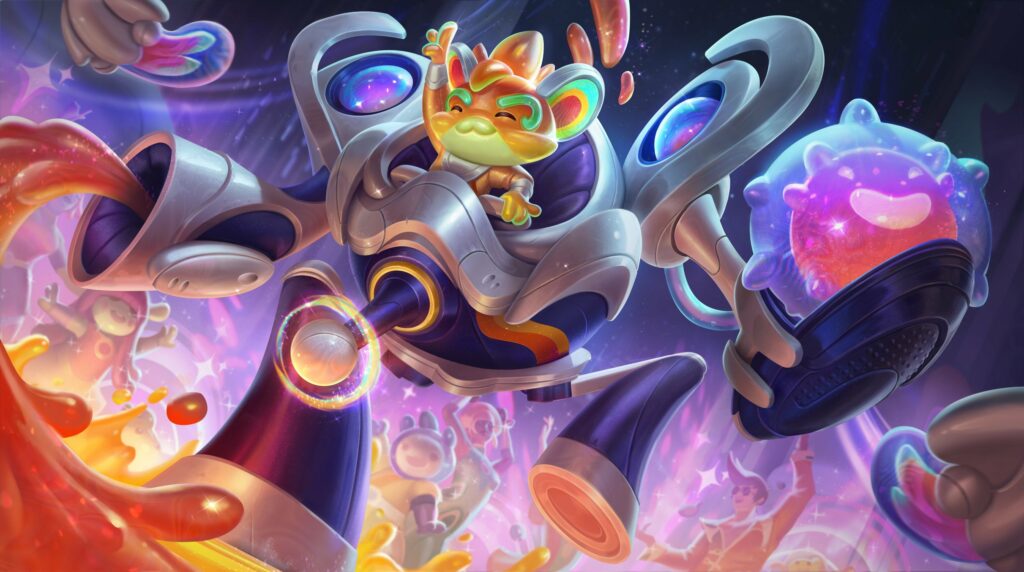 Space Groove Rumble has got to be one of the young inventor's most charming skin with a plain white mech that shoots rainbow flames against enemies. His Equalizer skill even plays a special theme to ensure only good vibes around his lane.
---
---
3. Space Groove Nunu & Willump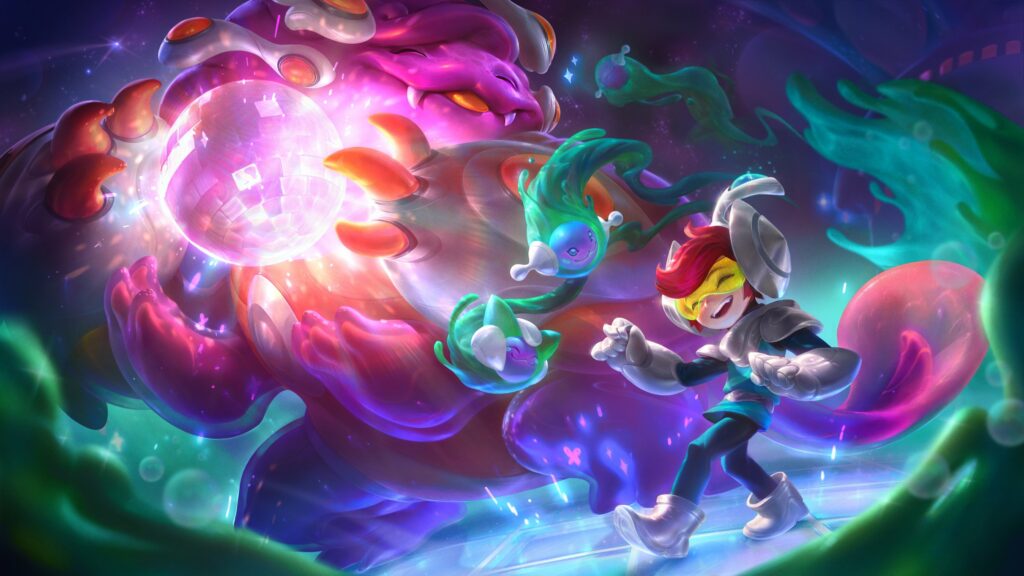 After six years, Riot Games has finally made the Disco Nunu meme a reality with the Space Groove Nunu & Willump skin. Disco Nunu was created by League of Legends player PornstarZilean7 back in 2015 where he built items and Summoner Spells like Clairvoyance and Sweeping Lens to provide a makeshift disco ball light to the pair.
With this new Space Groove skin, Nunu & Willump don't even have to worry about creating their own mini dance floor as the Riot Games skins team cleverly converted Willump's huge snowball into a funky disco ball. From the skin's basic attacks right down to their ultimate skill, every move just feels like Nunu & Willump dancing and grooving to the beat. Watch out for their flashy moves!
---
2. Space Groove Nasus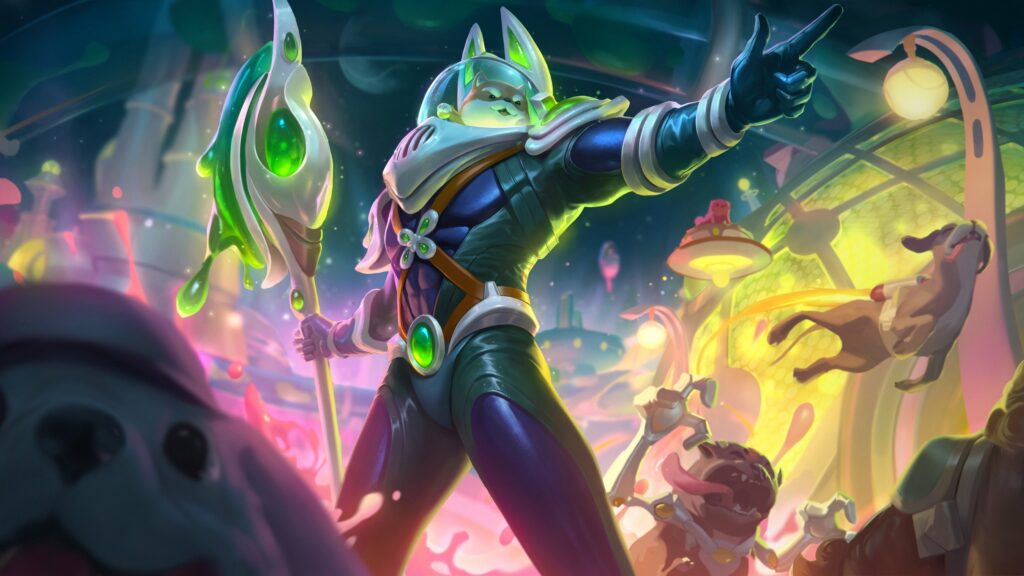 The terrifying champion Nasus takes on a new form as a corgi DJ controlling a large human body in a spacesuit. Upon closer look at our minuscule pilot, you'll see how his tiny paws are controlling joysticks and pressing buttons inside his control room — it's like looking at a puppy play a game at the arcades!
The cutest thing in this Space Groove Nasus skin is his Spirit Fire skill, which has been transformed to look like a giant vinyl record with his corgi form at the center hole. It gets better when he casts his Fury of the Sands skill with popping colors of purple and magenta and floating teal blobs reminiscent of lava lamps back in the 80s.
---
1. Space Groove Blitzcrank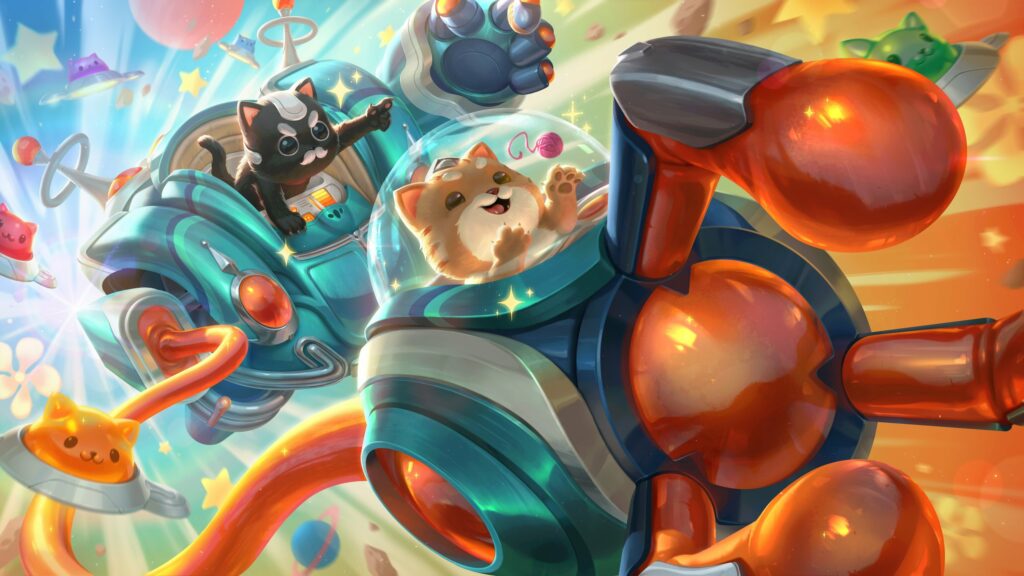 Without a doubt, Space Groove Blitzcrank is the funkiest, grooviest skin in this skin line.
If you think the Cats Versus Dogs skin line carries the cutest skins in League of Legends like Corgi Corki and Pug'Maw, wait till you see Space Groove Blitzcrank which carries two adorable cats named Blitz and Crank piloting their teal mech, Blitzcrank.
The skin's recall animation shows a total of five of the most adorable kittens you will ever see on the Summoner's Rift, merrily dancing and wagging off their tails along with their unmanned mech. It just melts our hearts for a full ten seconds.
If you love seeing cats dancing to retro music, this League of Legends skin is the one for you.
With its comical particle effects, special voiceovers, and lots of fresh animations, Space Groove Blitzcrank will take you to infinity and beyond (the Rift).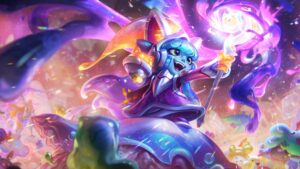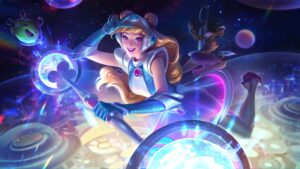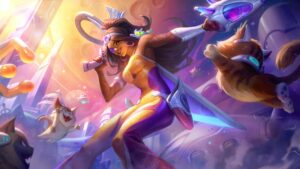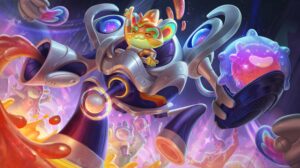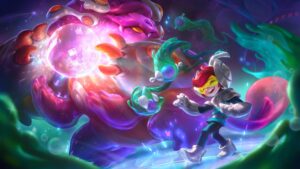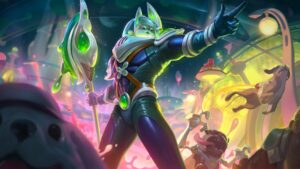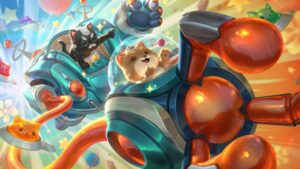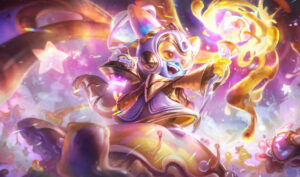 Riot Games has not yet announced an official release date for these Space Groove skins but they will soon be available on the Public Beta Environment (PBE) for testing.
READ MORE: League of Legends Esports Spring 2021 results and standings as of March 15