T1 Faker has won the Esports PC Player of the Year award at Esports Awards 2023, which took place on November 30 at Resorts World Las Vegas in Nevada, United States.
The Esports PC Player of the Year category recognizes a top-tier competitor who excelled primarily on PC in the past 12 months. The award considers both the achievements and skill level of the individual. Factors like shaping the game's meta, building a substantial fan base, or consistently outperforming opponents contribute to their recognition.
---
---
T1 Faker bags Esports PC Player of the Year at Esports Awards 2023
"Even though I am not in Las Vegas to receive the award in person, thank you to all the fans that followed and watched our matches during Worlds," he said in a video posted on X (formerly Twitter). "I will continue to play hard."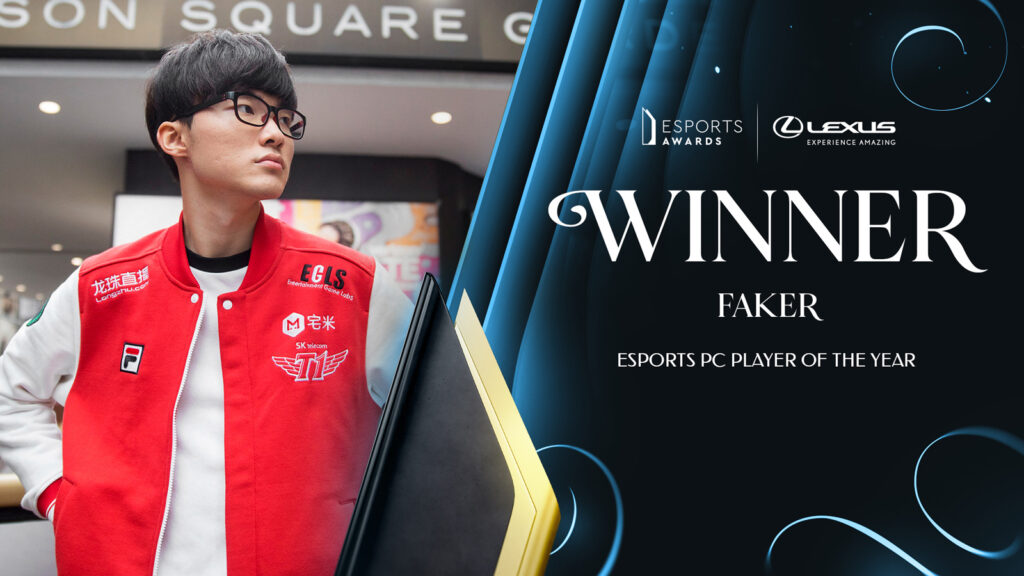 Lee "Faker" Sang-hyeok bested other esports players nominated in the category such as CSGO player Nikola "NiKo" Kovač, Dota 2 player Quinn "Quinn" Callahan, and his fellow LoL players Zhuo "Knight" Ding and Jung "Chovy" Ji-hun.
Additionally, Riot Games' tribute video to his career titled "Faker: A Decade of Greatness" won Esports Content of the Year.
Watch the full video below:
---
---
Faker's team, T1, also won Esports Team of the Year award at Esports Awards 2023. This team is comprised of Choi "Zeus" Woo-je, Mun "Oner" Hyeon-jun, Lee "Gumayusi" Min-hyeong, and Ryu "Keria" Min-seok.
T1 has achieved significant milestones this year, such as securing 2nd place in both the LCK Spring and Summer 2023 championships, achieving a 3rd place finish at MSI 2023, and, ultimately, getting their fourth World Championship title at Worlds 2023. Some players also earned gold at the Asian Games 2022.
The Esports Awards is a yearly event that recognizes and celebrates accomplishments in the esports industry. It includes categories for the community, creative contributions, industry achievements, on-air excellence, and professional competitive scenes.
READ MORE: Complete list of League of Legends players with the most World Championships