This is part of "Esports Heroes", a series that takes a closer look at the stories and origins of some of our favorite esports pros and teams.
The Blizzcon 2019 Hearthstone Global Championship grand finals will go down in esports history, not for what happened during the match — in fact, it was one of the most one-sided finals in history — but because of who won it.

Li "VKLiooon" Xiaomeng's dominant 3-0 victory over Brian "bloodyface" Eason in the grand finals made her not only the first woman and first Chinese player to become Hearthstone world champion, but also the first woman to ever win a major esports title at Blizzcon.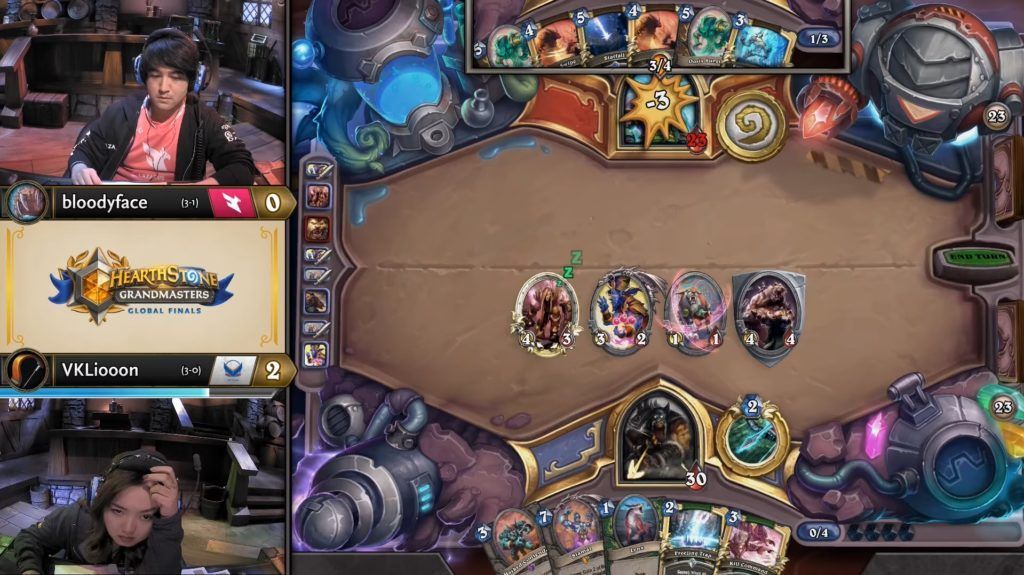 For her victory, VKLiooon took home US$200,000, but just as importantly, validation for her choice to go pro.
After the tournament, she shared with the Blizzcon crowd a story about a major Hearthstone tournament she attended where a male player told her that she was in the wrong queue because "this isn't for you".
"All the girls out there that have a dream for esports competition, forget your gender and go for it," the clearly emotional champion continued.
---
---
VKLiooon was born in Xinjiang, China in 1996. Her parents divorced when she was nine, and she has lived with her mother ever since. In high school, she played Chinese CCG, Legend of the Three Kingdoms, casually but it wasn't until her freshman year as a law student at the Southwest University of Political Science and Law in Chongqing that she first played Hearthstone.
"I loved the visuals of the game so I just kept playing it," VKLiooon told ONE Esports. "But at first, it was hard, because I didn't have enough dust to make certain cards, and I didn't know many people who played the game, so it was tough figuring it out. It took me half a year to get to Legend for the first time."
When she was deciding on her gamertag, VKLiooon didn't think too long about it. "I wanted to have a [gender] neutral ID, and I really love the Girls' Generation song, "Lionheart" so I chose Liooon," she said. The VK part of her name comes from her team, Victory Key.
VKLiooon played Hearthstone casually for about a year before she started watching professional tournaments. She signed up as a part-time admin at Hearthstone's Gold Open tournaments in China to get more exposure to the pro scene, and to start playing against tougher competition.

It was at one of these tournaments that VKLiooon met her boyfriend, Fan "iG.Syf" Yilun, a top Hearthstone pro for China's Invictus Gaming. VKLiooon credits much of her success to Syf, who she says spends a huge amount of time practicing with her before tournaments.
"He is the best Chinese player in my opinion," she said of Syf.
In June 2018, VKLiooon competed in a Gold Open-Pro tournament as a competitor for the first time. While she was nervous at first, she found immediate success on the pro scene. In 2019, she managed to place in the top six of three Masters Group events in China, including a win at the Gold Open Tianjin Master Group to qualify for the Global Championship at Blizzcon.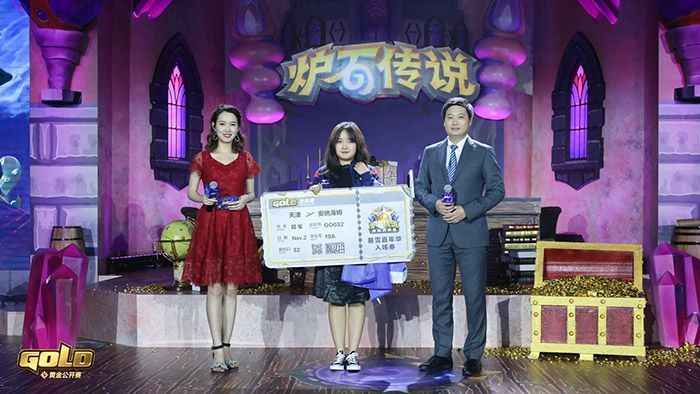 ---
At Blizzcon, VKLiooon started the competition with a 2-0 record, sweeping both 2017 Hearthstone World Champion, Chen "tom60229" Wei Lin, and European GrandMasters Season 1 Champion, Chris "Fenomeno" Tsakopoulos, 2-0 to top Group B.
In the semifinals, she took a nailbiting 3-2 victory over European GrandMasters Season 2 Champion, Kevin "Casie" Eberlein to advance to the grand finals.
"I did in-depth research on all of my opponents' previous games in GrandMasters so I would know how they play and how to counter them," said VKLiooon.
"But I only expected to place somewhere in the top four because all of my opponents are really strong and some of them are my idols, so it was tough to play against them."
If VKLiooon was nervous about playing against her idols on Hearthstone's biggest stage, it didn't show.
In the grand finals, she made quick work of US GrandMasters Season 2 Champion, bloodyface, playing her Evolve Shaman, Quest Druid, and Highlander Hunter decks to perfection.
Halfway through the third round, the writing was already on the wall for bloodyface as VKLiooon's Highlander Hunter raced to a huge life lead over his Quest Druid.
Highlander Hunter is a popular choice in China competitive play but has been questioned by Western players.
"I think because there's very limited interaction between Chinese players and western players, they may not be as familiar with the Chinese meta as we are with the Western meta," said VKLiooon.
---
VKLiooon hopes that her victory will be an inspiration for other aspiring female pro players.
"Female players aren't at any disadvantage playing Hearthstone," said VKLiooon. "So if you really love the game and put in as much effort as the male players, you can be as strong if not stronger than them."
"I want to let all the female gamers out there know that a career in esports comes with a certain amount of risk and difficulty, but if you have the passion and you're willing to put in the effort, then don't worry about the difficulties," she added.
"Just carry on doing what you want."
READ MORE: Hearthstone Battlegrounds: Everything you need to know about Blizzard's auto battler