Want to ride the hype train of the just-released Sonic the Hedgehog movie? Play the Blue Blur as either of his two versions from the live-action movie on Sonic Forces: Speed Battle! Now, Teen Sonic and Baby Sonic are playable characters in the mobile game.
Both versions of Sonic can be unlocked by collecting enough character cards and will come with their own unique abilities. The in-game promotion originally started on January 31 and will end its run on February 24.
Now is a great time to collect your Teen and Baby Sonic character cards, as the community event called "Gold Ring Guardian" is currently underway. The Community Challenge achievements and Prize Goals include:
5x Multiplier for Teen and Baby Sonic character cards
3x Multiplier for Metal Sonic character card
2x Multiplier for Knuckles character card
Teen and Baby Sonic character cards and Red Star Rings when players hit a specific Gold Rings collection milestone:

10x character cards + 5x Red Starts
15x character cards + 5x Red Stars
25x character cards + 5x Red Stars
50x character cards + 10x Red Stars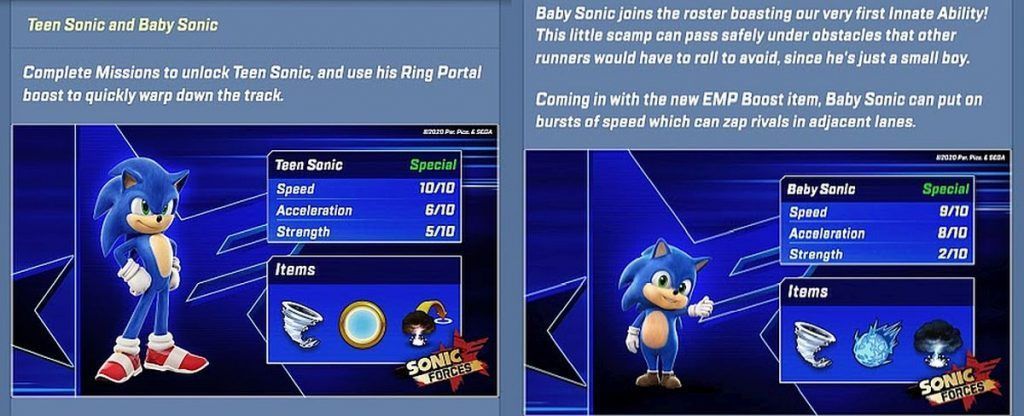 ---
---
Teen Sonic comes with an exclusive Tool Skill called Ring Portal. When engaged, this ability allows Sonic to boost his running speed and gain invulnerability against most obstacles and opponent attacks. However, there is a down-side: players who activate Ring Portal cannot pick up boxes or destroy enemies.
Baby Sonic comes with two exclusive abilities — EMP Boost and the passive skill to run under obstacles without needing to slide/roll/crouch. When gamers fire up Baby Sonic's EMP Boost, it will give him a speed boost and drop an area of effect attack that will zap opponents in the adjacent lanes.
Baby Sonic was an instant smash hit among fans as soon as he was teased in the Sonic movie's final Japanese trailer. The tiny tot was also released as a playable character for Sonic Dash last week.
Both Sonic Forces: Speed Battle and Sonic Dash are available on Android and iOS mobile devices. Follow Sega HARDlight's Twitter and Facebook for more updates on these games.
READ MORE: Puma teamed up with The Shoe Surgeon to make real-life Sonic the Hedgehog sneakers