World of Warcraft fans can't get enough of the new Classic server it seems.
Released last Monday, World of Warcraft Classic has since clocked over 33 million hours watched on Twitch, reported The Esports Observer.
The title had clocked 32.7 million hours watched over Monday to Friday morning, quickly catching up to the 34 million hours of Dota 2 watched over the previous week for The International 2019.
And that's not all when it comes to big numbers and World of Warcraft Classic (WoW Classic). The title garnered 1 million Twitch viewers moments after launch, likely viewers who wanted to play but couldn't due to the insane queues to get in.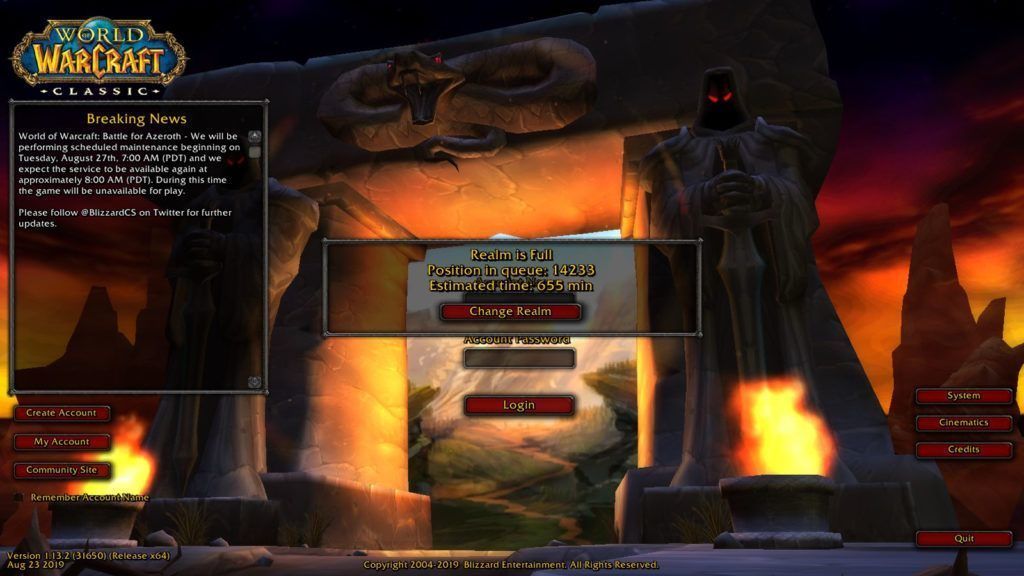 Before this, the only other title that pulled in more than 30 million hours watched in a week was Apex Legends just after its release. 
---
---
With many high-profile streamers switching to the game, it is understandable why WoW Classic is raking up such viewership numbers. Popular Twitch streamers such as Chance "Sodapoppin" Morris and Zack "Asmongold" have also helped spread the word of WoW Classic during the beta test. 
There is also the nostalgia factor playing a big role. WoW was originally released in late 2004, and gamers are likely looking to relive the "good ol' days" of WoW.
While it is unrealistic to think that WoW will maintain this 30-million-hours-plus watched per week record, Blizzard is releasing portions of WoW Classic content in phases, which should help boost numbers when that happens.
READ MORE: World of Warcraft Classic is live, but the server queues are already hours long