Reports are coming out from the Chinese Dota 2 scene that PSG.LGD star players Lu "Somnus丶M" Yao and Xu "fy" Linsen have left the team to join what is looking like the next Chinese superteam.
The reports came after Four Angry Men (4AM), one of the biggest Chinese PlayerUnknown's Battlegrounds (PUBG) organizations, announced their entry into Dota 2 on their official Weibo account.
The caption on the post roughly translates to "A big project is on the way. Stay tuned!" and was made by 4AM manager Sun "Longshenjue" Haoming.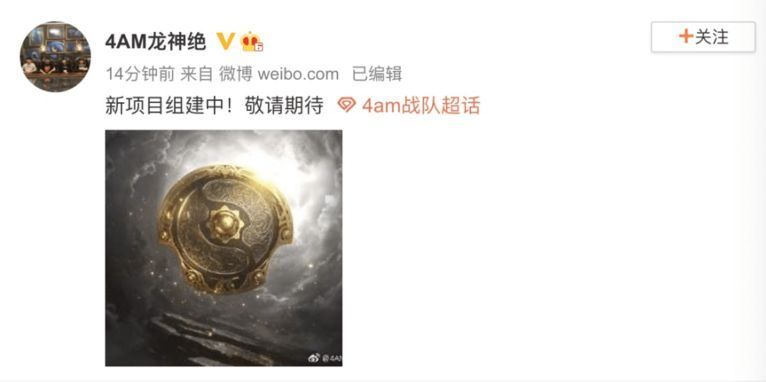 4AM is apparently looking to sign Somnus and fy as the core of a potential superteam once their contracts with PSG.LGD have expired some time this month.
Somnus has been with the LGD organization since 2014 and was reported to have signed a two-year contract in 2018 to remain the team's star midlaner. Meanwhile, fy joined the squad in 2017 to become its captain and position 4 support player.
The two have been a major driving force behind PSG.LGD's dominance over the Chinese Dota scene in the past two years, even leading the team to a second place finish at The International 2018 (TI8) and then a third place finish at TI9.
There seems to be some close ties between the 4AM and LGD organizations, as the former was founded by Wei "GodV" Zhen, who notably played as the midlaner for LGD's League of Legends (LoL) team from 2014 to 2017 before he shifted to PUBG and started his own organization.
---
---
Somnus and fy aren't the only big names on 4AM's list, however, as the organization has also reportedly acquired Vici Gaming carry player Zhang "Eurus" Chengjun, who is more commonly known as "Paparazi."
In an apparent confirmation of those reports, Vici Gaming recently tweeted a photo of their Dota 2 team with Eurus missing with no explanation.
4AM is also reported to be in the hunt for EHOME's Zhang "Faith_bian" Ruida and Zhang "y`" Yiping, who were notably a part of the Wings Gaming lineup that won TI6, to round out their superteam.
There has been no official statements from Somnus, fy, or PSG.LGD yet, as the Chinese Dota scene is currently in a month-long hiatus. Official news on any roster moves are expected to come out once the scene returns to action in September.
READ MORE: Where will SumaiL go next?