Team Philippines made history as the first nation to win a gold medal for Dota 2 at the 30th Southeast Asian Games.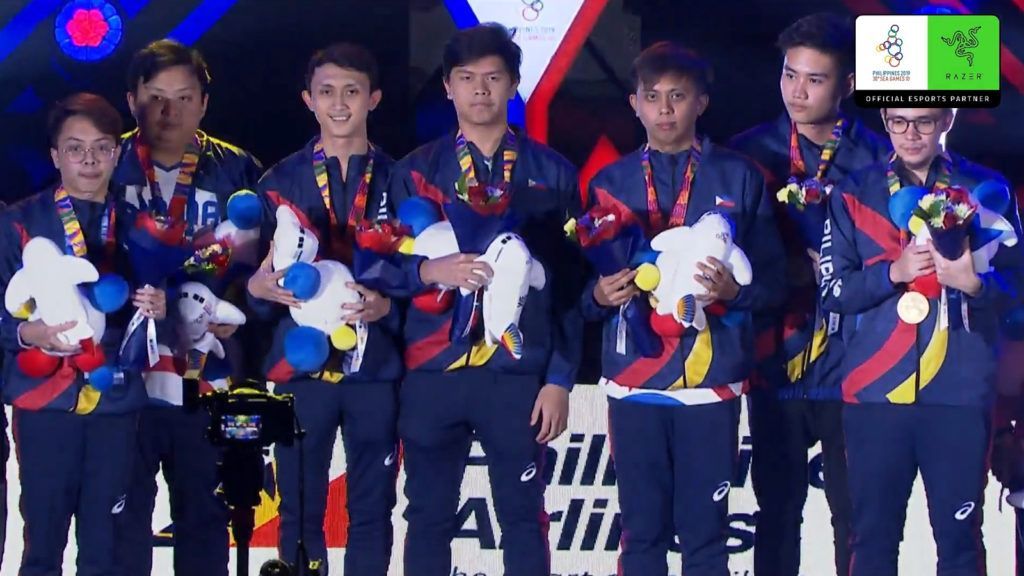 After two days of competition, it was the Philippines' Team Adroit who defeated Team Thailand's mix of pro players in an exciting back-and-forth grand final match.
Team Philippines pulled off two amazing comeback victories during games three and five to take home the gold medal and make their country proud. Here's how it all played out:
---
Game One
The Philippines team tried to set an up-tempo pace to game one by going for the enemy's roaming heroes. Thailand answered back by sending four heroes of their own to make sure they won the early engagements.
Thailand's Poomipat "Fearless" Trisiripant landed a timely Tornado that caught three Radiant heroes.
But, team Philippines' Jun "Bok" Kanehara, who's been destroying enemy teams throughout the competition, came up big again with a clutch Elder Titan Earth Splitter ultimate that gave his team the advantage they needed to win game one.
---
Game Two
To start game two, team Thailand won the laning phase and whenever the Filipino squad grouped up and attempted to claim enemy heroes or objectives, they were quickly shut down by Thailand's Nuengara "23savage" Teeramahanon's Chronosphere ultimate.
Team Thailand dominated the remainder of game two. Team Philippines had no answers for their opponent's Ravage and Chronosphere team ultimates. With their game two victory, team Thailand tied up the series 1-1.
---
Game Three
Team Thailand had another great start where they secured a 7-1 kill lead in the first 10 minutes of the game. But, team Philippines' superior team synergy started to show and they were able to erase the lead their opponents built.
Team Philippines was able to make the proper adjustments in order to win game three. In the previous game, team Thailand secured most of the team fights with their Tidehunter's Ravage. This time, the Filipino's prioritized getting a Black King Bar on MC Nicholson "Mac" Villanueva's Outworld Devourer to make sure he could dish out as much damage.
Team Philippines secured game three after they won a team fight at the Roshan Pit, which gave them the Aegis of the Immortal. The Radiant squad had no way to eliminate Mac's Outworld Devourer twice so they were forced to tap out of game three, which gave their opponents the 2-1 advantage.
---
Game Four
The Philippine team's draft for the fourth game was a bit baffling. They decided to put the Razer on the Radiant safelane and had the Morphling start out in the middle lane where the hero got absolutely destroyed by team Thailand's Viper. This led to a 10-2 hero kill advantage for the Dire team.
Team Philippines continued to excel in their full team rotations and it seemed that they were about to equalize the game yet again.
But, team Thailand's 23savage on the Anti-Mage proved to be too much once he was able to farm his Abyssal Blade and lockdown the Radiant team's Morphling. Team Thailand evens up the series 2-2 and forces a decider match.
---
Game Five
With the gold medal on the line, both teams made minor adjustments to start out game five. For team Philippines, they decided to have Razer play the middle lane, while team Thailand drafted a Drow Ranger to synergize with their — third time picked — Viper.
Yet again, team Thailand dominated the first 10 minutes by securing a 7-0 hero kill score during the laning phase. This is the third time they started with a notable lead during the grand final series.
But similar to the previous games, you can never count out the Philippine team's amazing team fight synergy. They won two game-altering clashes outside the Roshan Pit and took their first gold lead at the 40-minute mark of game five.
Marvin "Boombacs" Rushton landed a momentum-shifting Black Hole ultimate and John Anthony "Natsumi-" Vargas on the Phantom Lancer delt so much damage, he eliminated heroes that bought back and rejoined the team fight.

After Natsumi- was caught isolated, team Thailand tried to rally back and take their own set of Barracks. But, as soon as they were by the Radiant tier 3 Tower, Team Philippines used their own buybacks and eliminated the Dire team.
Team Thailand's Viper and Drow Ranger combo did not scale as well as team Philippines' Phantom Lancer, Razor, and Legion Commander heroes. This was evident during the final push of the game where team Philippines ran into the enemy base and took down the Dire throne.
With their amazing game five comeback victory over Team Thailand, Team Philippines' Team Adroit became the first-ever Dota 2 team to win a Gold Medal in a medal sport during the 2019 Southeast Asian Games. Team Thailand will be taking home the Silver Medal, while team Vietnam bags the Bronze Medal.
Team Philippine's Gold Medal roster:
John Anthony "Natsumi-" Vargas (Team Adroit)
Mc Nicholson "Mac" Villanueva (Team Adroit)
Jun "Bok" Kanehara (Team Adroit)
Marvin "Boombacs" Rushton (Team Adroit)
Bryle "cml" Alviso (Team Adroit)
Erice "Erice" Guerra (Cignal Ultra)
Van Jerico "Van" Manalaysay (Cignal Ultra)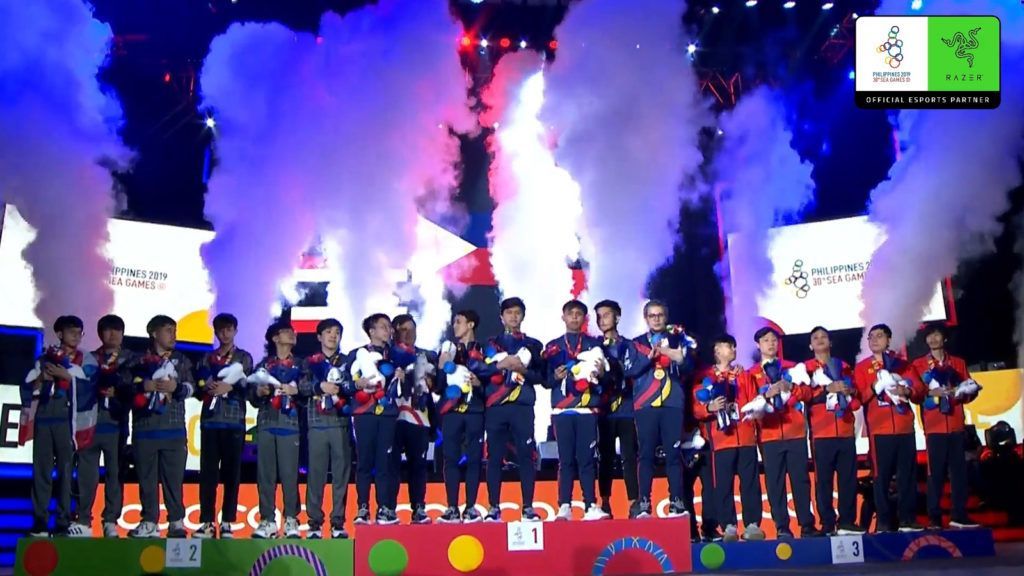 Team Thailand's Silver Medal roster:
Nuengnara "23savage" Teeramahanon (Fnatic)
Poomipat "Fearless" Trisiripanit (Trust Gaming)
Nopparit "Seri" Prugsritanon (MSCerberus)
Anucha "Jabz" Jirawong (Fnatic)
Thanathorn "tnt" Sriiamkoon (MSCerberus)
Pipat "LaKelz" Prariyachat (Trust Gaming)
Anurat "boombell" Praianun (Trust Gaming)
Team Vietnam's Bronze Medal roster:
Trinh "458" Van Tho (496 Gaming)
Nguyen "Vivian" Hoang Lam (496 Gaming)
Nguyen "Red" Tien Phat (496 Gaming)
Nguyen "Yasy" Chau Loi (496 Gaming)
Nguyen "Datbb" Thanh Dat (496 Gaming)
Huynh Huu " Magical" Nghia (496 Gaming)
READ MORE: AoV at SEA Games gold medal match results: Thailand sweeps Indonesia 3-0